Im fast becoming a foodie! It comes with the territory of being owner of a local events planning company, because good food is a big part of any successful corporate conference or event. Austins culinary scene does not disappoint and Im noticing some definite trends on our citys food front: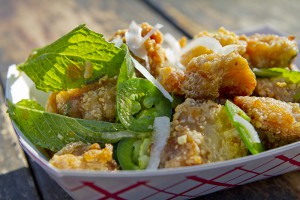 Asian Fusion
Authentic Asian fine dining in Austin has been on a slow and steady simmer but the future promises a full rolling boil!
East Side King
is ruling the domain with Asian-infused classic concepts, herbed rices and savory ramen.
Uchiko
is taking Japanese cuisine to levels before unimagined (see specialized dishes below) while we wait impatiently for the opening of
Wu Chow
the next tantalizing venture from the owners of modern American farm to table hot spot,
Swifts Attic
.
Eat Like a Local Dont be fooled by some of the national food-chains on our main thoroughfare through town- while our city does enjoy the big chain staples, Austin supports its farmers and is all about the farm-to-table mentality. We eat localeverything from Torchys Tacos (inquire about its secret menu,) Chuys (the creamy jalapeno dip is to die for,) and East Side Caf (with its own garden and home grown hens out back.) One of my favorites is Second Bar + Kitchen which offers a seasonal menu and dishes made with produce from local farms.
Specialty Dishes Austin loves, loves, loves specialty dishes. Im always keeping an eye out for spectacular, unique, unconventional concoctions like Swifts Attics Charred Edamame starter snack made with pop rocks (which inspired me to create a pop rocks-themed event complete with pop rock-sprinkled salads and martinis.) While Uchikos Tobacco Cream Chocolate Sorbet may not be for every palate, its a testament to the kind of out-of-the-box creativity youll get at some of Austins most talked-about restaurants.
Austin will continue to be known for its food trailers, barbecue and Tex-Mex, but we are that and so much more. Get out there and try some of the many signature dishes our local chefs are cooking up!
Contributed by Cindy Lo, Event Producer and Strategist