Many meeting and conference attendees turn their trip into an extended vacation. Here's how they can squeeze some of Austin's very best into just three days.
DAY ONE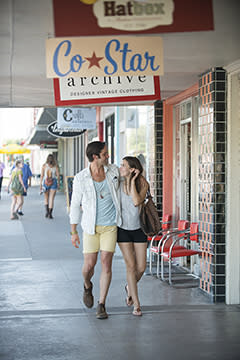 Morning: Tuck into a veggie benedict or Texas eggs in a basket at Arturo's Underground Cafe. Stroll South Congress with a coffee from TOMS Roasting Co. and pop into Uncommon Objects, Monkey See Monkey Do, Creatures Boutique, Parts & Labour, South Congress Books and all spots in between.
Mid-Day: For lunch, snag a turkey and guac burger at Burger Bar, a slice of margherita from Home Slice or the tacos al pastor from Guero's Taco Bar. Fresh air and stunning views beckon from the trail around Lady Bird Lake. Rent a kayak or paddleboard to spy the millions of Mexican free-tail bats that roost under the Congress Bridge April through October.
Evening: Dine and indulge on Rainey Street with decadent butter-seared scallops or mac 'n' cheese from No Va Kitchen & Bar or find stellar Indian specialties at G'Raj Mahal. Stop in at the Container Bar (yes, it's made from shipping containers) for a "Pain Killer" (spiced rum, coconut cream and pineapple juice) or a Rainey Street Mule from Bar 96.
DAY TWO
Morning: Rent a Rocket Electrics bike or a B-cycle and cruise over to Manor Road. Get a honey nut latte from Thunderbird and then walk to Eastside Cafe for delicious blueberry blintzes.
Mid-Day: Head up to North Loop for boutiques like Spring Frost and Atown. Don't forget to geek out at Great Hall Games. Grab vegan tacos (the bean Diablo delivers the heat) at The Vegan Nom food truck or pick up Asian street food from Fresh Off The Truck in Mueller Lake Park where you can stay to either walk the loop trail or relax with a good book.
Evening: Stop in for carne guisada or roasted goat pasilla at Mi Madre's. If you're craving Southern specialties, tuck into the chicken fried steak at Hoover's Cooking. Walk to the casual Butterfly Bar for patio libations or snag a shake at El Sapo for dessert.
DAY THREE
Morning: Magnolia Café's migas or the three alarm taco will fortify and prepare you for a dip in Barton Springs, a 68-degree natural-fed pool in Zilker Park. Lounge and people watch the hours away.
Mid-Day: Lunch on delish French fare, like the salade Nicoise or ratatouille at Hopfields, a gastropub with a stellar beer selection. Then get some culture time in at the Bullock Texas State History Museum, Texas State Capitol or the LBJ Library. Check out the Contemporary Austin or the Blanton Museum.
Evening: Across the interstate, try comfort food with a twist at Hi Hat Public House. Or venture to Takoba for ceviche and a mango habanero marg. Before you call it a night, sneak in some two-steppin' at The White Horse.