On the 12th Day of Christmas the Austin Visitor Center and Gift Shop gave to you a dozen excellent holiday daily specials! To wrap up your seasonal shopping or just spoil yourself, this hidden gem of a shop contains a variety of locally made and Austin-oriented gifts, clothes and items to suit any audience. Stop by this shop any day of the week at 602 E. 4th Street, and be the best gift-giver in town.
12. Soap on a Rope, December 13.
Scrub up with locally-made Texas and bat-shaped soaps, all for 20% off.
11. Texas BBQ Aprons, December 14.
A true Austininite knows that no meal is complete without a side of BBQ sauce, for taste. Buy one Texas BBQ Apron, and get 10% off an Austin Cookbook. You'll be ready to grill and saute all year long!
10. Coffee Mugs, December 15.
Grab a great stocking-stuffer, or your own mug to sip on local brews with this buy one mug, get off one coaster deal.
9. Holiday Cheer! December 16.
Keep things festive with 20% off wine-related merchandise such as bottle stoppers, charms and glasses for you and your friends.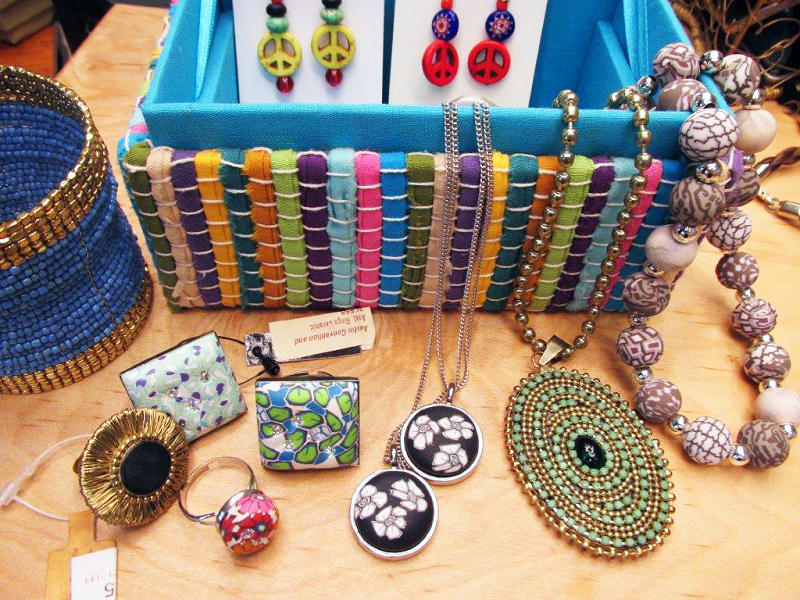 Austin Visitor Center Jewelry Specials
8. Bejeweled, December 17.
Grab some baubles for you and your friends with this 20% off jewelry, all day deal.
7. Christmas Sweets, December 18.
Stuff your face with all-things chocolate, including brownies, Lammes and cookies at 20% off.
6. Great Stocking Stuffers, December 19.
Give the gift that keeps on giving with a 20% discount on make-your-own jewelry kits as quick surprises!
5. Warm for the Holidays, December 20.
Stay toasty during the colder months with a 20% deal off of all adult and childrens sweatshirts in stock.
4. Spice Up the Holidays, December 21.
Eat like a local and stock up on Austin and Texas salsas! Buy 1 jar, and get the second off. We recommend four or five jars, just to be safe.
3. Austin Journals, December 22.
A treat for the creative types, gift an Austin journal in the new year, and get a free Austin pen to share as well.
2. Austin T-Shirts, December 23.
I mustache you to buy an Austin t-shirt for the holidays. Then you'll get a free mustache keychain to gift as well!
1. Music for the Holidays, December 24.
Share the gift of the Live Music Capital of the World, and receive 20% off all music-related merchandise in store. Sing-along to the Austin season, all year round!
What's your favorite Austin holiday gift to share with others? Take a pic and share at #trueaustin!