It's that time of year again! The weather is warm, the skies are clear and that's the perfect excuse to grab your picnic blanket and head to Republic Square Park for Movies in the Park.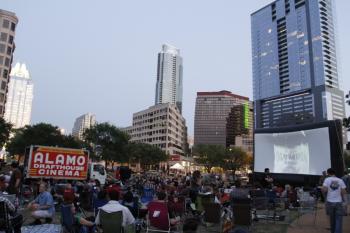 Getting there: To help with traffic and to keep things green, consider hopping on a bike to get to Republic Square. There is bicycle parking on the east side of the park (don't forget your lock!), and be sure to bring lights since it will be dark by the time you head home. Another convenient option is to hail one of many Austin pedicabs. If you prefer public transportation, check out the CapMetro website.
Photo Credit Jack Plunkett.