Presented without comment: An Austin local drink round up to celebrate the New Year. Mazel Tov!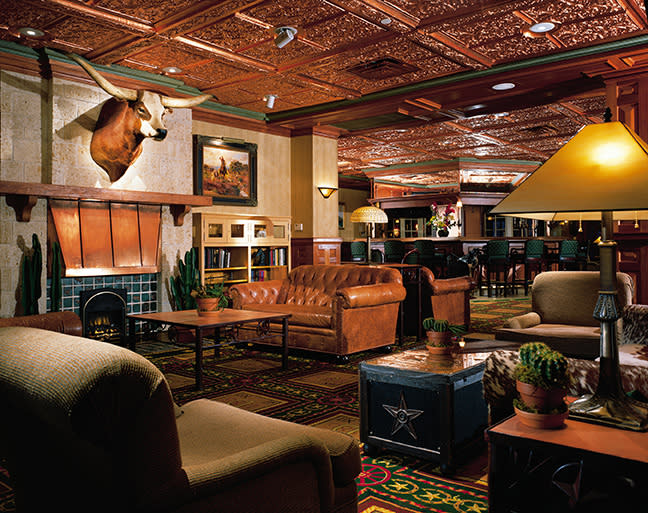 ​The Driskill Bar. Photo courtesy of The Driskill.
First and foremost, this is Austin - so we have to start this list and year off righ t- with margaritas! Head over to one of four Trudy's locations to try their famous House Margaritas voted the best margarita in Texas for two years, y'all (and as a special holiday gift to you, here's a recipe for one of their famous drinks). For more margarita options, check out Do512's Margarita Guide.
Try a delicious Gold Top cider at the East Austin urban cidery, Austin EastCiders. This just-opened spot is perfect for sipping bittersweet brews, and a great way to start your gluten free New Year!
If you're the type that likes to ring in the New Year in swanky style, head on over to The Driskill Bar and try their selection of Local Flair specialty cocktails like The Barton Springs (made with local White Hat Rum) or The Lady Bird (made with local Tequila 512).
Looking for a more laid back vibe to begin the New Year? Stop by AGBG Austin Beer Garden Brewing Co. Grab a hoppy IPA or a German-style Pils, order a snack from their amazing menu (always featuring local Austin partners such as Johnson's Backyard Garden, Antonelli's Cheese Shop and Good Seed). Set up shop at their large community tables, you're sure to make a new friend or two just in time for the clock striking 12!
To ring in the New Year the natural (read: non-alcoholic) way, stop by Whole Foods Market on Lamar and pick up one of Austin's own Sweet Leaf Teas. Try some of their homemade goodness like their delicious coffee-tea blends, fruit teas and lemonades. (And if you bring a date that insists on an adult beverage to finish out your year, just send them over to the full bar in the back of the store).
Another natural and uber-healthy way to start your year off right is with a super tasty Buddah's Brew Kombucha born from the farmers markets of Austin and made at a local microbrewery.
Pick out one (or two *wink*) of the many a phenomenal hand poured cocktails made by craft bartenders in speakeasy charm of the Firehouse Lounge. With a dedication to local ingredients, you will ring in the New Year in old world glamour while sipping some of the best Austin has to offer. You can enter the bar through a hidden entrance behind a bookcase in the lobby - true story.
If you are still in the holiday spirit (pun intended) and want to keep tasting the flavors of the season, try a Toasted Apricot at Frank. Made with their own house-infused toasted almond and cinnamon whiskey, mixed with house-made vanilla simple syrup, then topped with apricot nectar, this one is sure to please even the Grinchiest Grinch!
For those of you with a savory-tooth, check out the Brazos Bloody Mary, mixed up with Austins own world famous Tito's Vodka. Served at El Chile with locations on South First and Manor Road, pair it with the Guacamole Clasico and you've got yourself a great start to a great year. I guarantee it.
Grab some friends and visit the Jester King Brewery to enjoy a truly local beer (made with water from the Jester King well, locally grown and malted grains and native wild yeast) in an authentic Austin setting - a rural farmhouse brewery. Tours are free and open to all ages, and do not require a reservation! Click here you are looking for more spots to drink Austin beer.
Baby, its still cold outside! So, if you are looking to warm up, look no further than the hot libations over at Spider House Patio Bar & Cafe. Spider House offers gourmet hot coffee drinks and specialty warm drinks like the Sailor Jerry Spiced Rum - hot apple cider and whipped cream. The inside bar has tons of nooks and crannies for work or pleasure - and free Wi-Fi till 2 a.m.
If you are looking for an escape from the year, book a stay at the beautiful and relaxing Lakeway Resort and Spa, located just outside of Austin. Spend a weekend ringing in the New Year with spa treatments, sweeping views and by enjoying the onsite restaurant, TR Restaurant Bar & Lounge, where you can order up cocktails made with Austin's finest local liquor. Try the Mango Madness (mixed with Austin's own Treaty Oak Rum) or the Comanche Trail Blazer (featuring Dripping Springs Vodka).
Another great escape for a rejuvenating New Year would be to plan your trip to a Texas Hill Country winery. Vineyards and tasting rooms are bathed in lights, warmth and holiday cheer. Don't know which winery is right for you and yours? Check out Texas Hill Country Wine Trails to help you plan. Details and tickets are available now and for the coming year with trails made for romantic trips for two, fun trips with a group, even Wine & Wildflowers!
If you are the type to plan an evening well in advance, you absolutely must make a reservation at Midnight Cowboy. Considered an Austin institution, this intimate (only 11 feet wide) and somewhat secret (there is no sign, just one incognito door and you must be buzzed in using the secret option emailed to you when you confirm your reservation) cocktail lounge serves up some of the finest bartenders this town has to offer.
Want to start off the year in the most literal local fashion in your own home? Check out this list from Edible Austin for a list of local drinks so you can stock up for the New Year!
Most Importantly: We encourage you to please drink responsibly, and don't drink and drive.
ATX Safer Streets has information and safe, easy options to get you home. Find additional resources below: