Austin film has been a staple of the annual Sundance Film Festival for quite some time, Robert Redford even cites the late Austin filmmaker Eagle Pennell as the inspiration for the festival. Things really got kicking in 1984 when the Austin-filmed Blood Simple launched the careers of Joel & Ethan Coen. A screening of Slacker at Sundance in 1991 introduced the world to Richard Linklater and the next year El Mariachi marked the debut of Robert Rodriguez at the festival.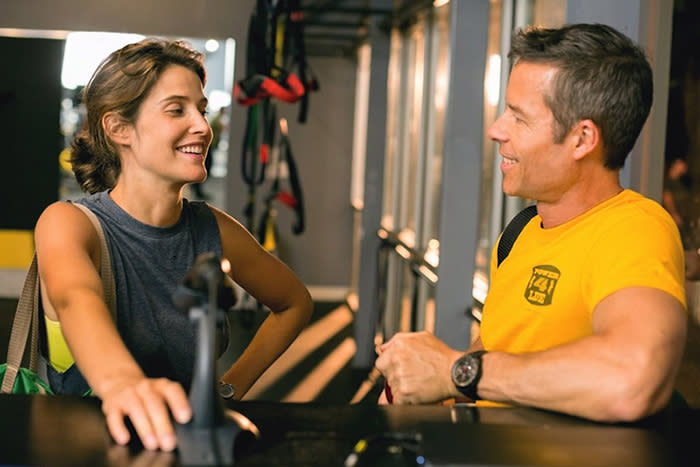 Results with Cobie Smulders and Guy Pearce.
This is just scratching the surface though. Through the years, truly original films from Austin like Lovers of Hate, Pit Stop, Computer Chess and Hellion have all screened to ecstatic response at Sundance. The Sundance Channel has put together a fantastic article showcasing the history of Austin film at the United States' most prestigious independent film festival.
This year, three Austin films, Andrew Bujalskis feature Results; the locally produced documentary, The Beaver Trilogy Part IV; and Entertainment, directed by Rick Alverson, all screen at the festival (Jan. 22nd- Feb. 1st). Results stars Guy Pierce and Cobie Smulders as mismatched personal trainers whose lives are upended by the actions of a new, wealthy client played by always-hilarious Kevin Corrigan. The Beaver Trilogy Part IV focuses on the truly inspired creation of an underground film, the people behind it and the cult status its reached over the past 30 years.Entertainment starringMichael Cera, Tye Sheridan and John C. Reilley, tells the story ofa broken and aging comic, known only as The Comedian, who travels across the Southwestern United States to meet his estranged daughter while attempting to revive his dwindling career.