Preview the fun to come in 2018 and mark your calendar with the city's biggest events, from food to fine arts and of course, live music.
JANUARY
1/1/18-1/8/18 Free Week Red River Cultural District
The first week of January might be the best time for a music fan to visit Austin. Why? Hundreds of Austin bands participate in this annual event that encompasses multiple venues all over Austin.

1/15/18 Martin Luther King March and Festival The University of Texas and Huston-Tillotson University
Join the march from the MLK statue at the University of Texas campus to historic Huston-Tillotson University to celebrate Dr. Martin Luther King, Jr.'s legacy for Austin and the world.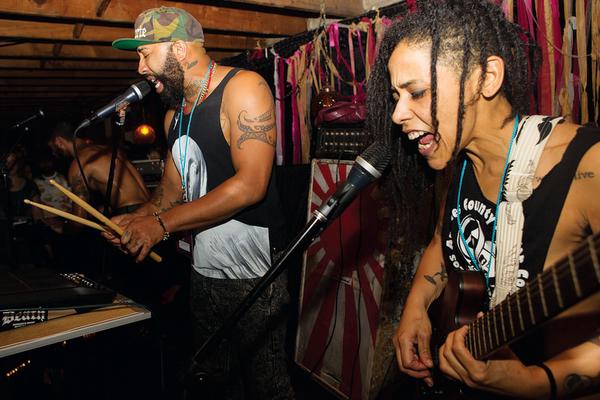 Courtesy of OUTsider Fest.
FEBRUARY
2/10/18 Carnaval Brasileiro Palmer Events Center
This festival will give Austin a taste of Brazil, merging music, dance, and culture into one huge party. Austin's Carnaval is one of the biggest celebrations outside of Brazil (because everything is bigger in Texas) and everyone can participate so bring your best samba and prepare to dance the night away.
2/14/18 - 2/18/18 OUTsider Festival Various Locations
As one of Austin's most progressive festivals, OUTsider brings together Austin's LGBTQI community for five days of creation and inspiration. This multidisciplinary art festival showcases film, performance art, music, visual art and more.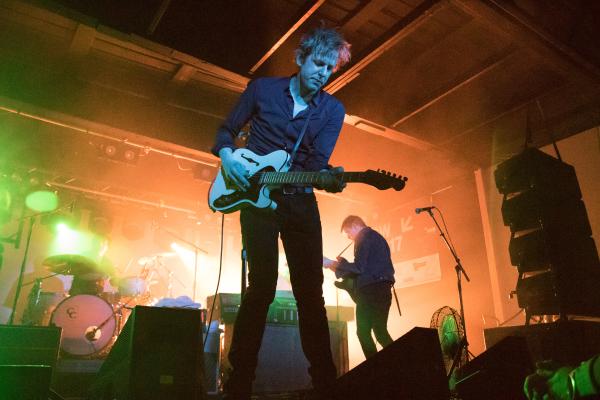 Spoon at SXSW 2017. Credit Benedict Jones, courtesy of SXSW.
MARCH
3/9/18 - 3/18/18 SXSW® Music, Film and Interactive Conferences and Festivals Various Locations
The Austin Convention Center and more than 50 venues host noted filmmakers, musicians, and multimedia artists from around the world. Participants converge in Austin to showcase music, film and interactive media during this internationally-recognized event.
3/10/18 - 3/24/18 Rodeo Austin Travis County Exposition Center
Since its inception in 1938, this local event has grown from a simple stock show featuring 16 animals into one of the state's premier rodeos. Over the course of two weeks, the Rodeo features 10 ProRodeo events, a family-friendly fair, daily concerts and more.
3/17/18 St. Patrick's Day Festival Jourdan-Bachman Pioneer Farms
This family-friendly St. Patrick's Day fest celebrates all things Irish. Come enjoy authentic Celtic music and dancers, Irish language workshops, the finest Irish imports and plenty of good craic!
3/30/18 - 3/31/18 Austin Urban Music Festival Auditorium Shores
More than 15,000 music revelers converge on Lady Bird Lake's Auditorium Shores to enjoy Austin's only music festival focused on R&B, neo-soul and hip-hop music.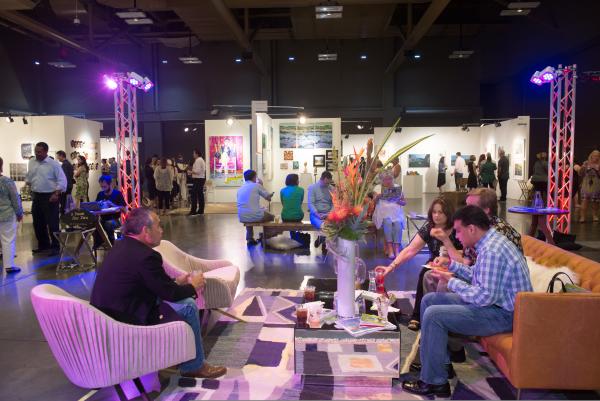 Art City Austin. Credit Sandy Carson, courtesy of Art Alliance Austin.
APRIL
4/13/18 - 4/15/18 Art City Austin Palmer Events Center
Austin's original fine arts festival and national juried art show of 200 locally and nationally recognized artists and galleries is a family friendly event featuring local food trailers, beer, cocktails and interactive projects for kids of all ages.
4/19/18 - 4/22/18 Old Settler's Music Festival Dale, TX
Central Texas' signature music event featuring three days of Americana and roots rock, camping, family events, food, and libations. Alternative, jazz, blues, bluegrass and more are performed by old-time local favorites and award-winning artists from around the world.
4/18/18 - 4/21/18 Moontower Comedy Festival The Paramount Theatre and other locations
Moontower Comedy & Oddity Festival, presented by the Paramount Theatre, brings some of the funniest, wittiest and oddest world-class comics from around the globe. National headliners, up-and-comers, and local Austin-based comedians ensure three hilarious days of fun.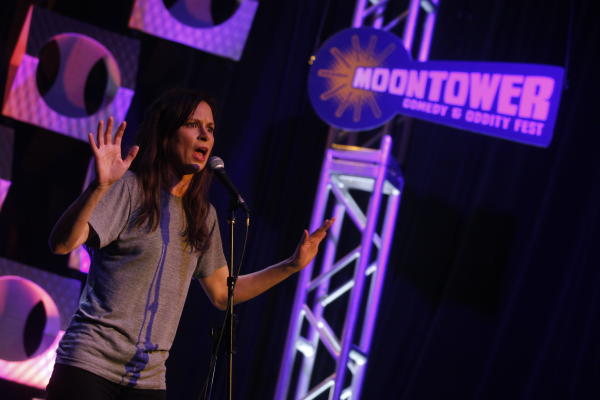 Moontower Comedy & Oddity Festival. Credit Jack Plunkett.
4/18/18 - 4/22/18 Fusebox Festival Various Locations
Fusebox is a hybrid arts festival that champions adventurous works of art in theater, dance, film, music, literature, visual and culinary arts. The festival takes place over 5 days in venues and locations all over the city. Hundreds of local, national and international artists across all disciplines converge for one of the most unique cultural events in the country. 
4/20/18 - 4/22/18 Austin Reggae Fest Auditorium Shores
A fundraiser for the Capital Area Food Bank, Reggae Fest features three days of reggae, world and dub talent, along with more than 50 vendors selling food and arts & crafts. 
4/27/18 - 4/29/18 Austin Food + Wine Festival Auditorium Shores
Pamper your palate in one of the hippest cities in the country at the Austin Food + Wine Festival. Join top chef talent, sommeliers and winemakers from across the nation and Austin's own acclaimed gourmet scene for an indulgent, three-day epicurean adventure unlike any other, topped off with live musical performances.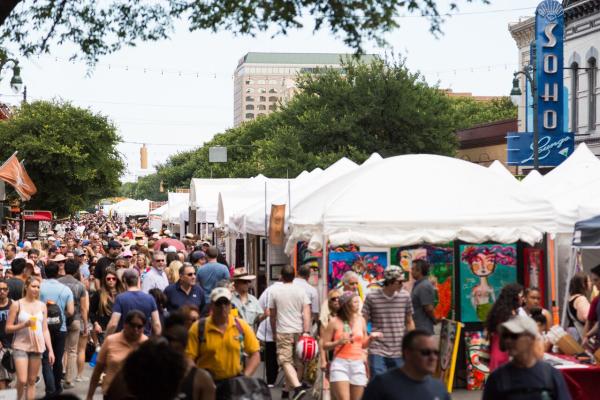 Spring Pecan Street Festival 2016. Credit Manny Pandya.
MAY
5/2/18 - 5/6/18 Cine Las Americas International Film Festival Various Locations
The festival showcases contemporary films and videos from Latin America (North, Central, South America and the Caribbean) and the Iberian Peninsula. Films and videos made by or about Latinos in the U.S. or the rest of the world, as well as films and videos by or about indigenous groups of the Americas are also invited to participate.
5/5/18 - 5/6/18 The Pecan Street Spring Festival Historic Sixth Street
A free, family event, the Pecan Street Festival is the oldest and largest art festival in Central Texas. Local musicians, food vendors, artists, and craftspeople turn Sixth Street - historically called Pecan Street - into a lively street fair where there is something for people of all ages.
5/12/18 Finding Euphoria Fest Carson Creek Ranch
Live music, camping, yoga and a variety of mindful workshops come together at this immersive one day festival. Musical styles bridge the gaps between hip-hop, electronic, ambient, tribal and experimental.
5/13/18 - 5/14/18 & 5/20/18 - 5/21/18 West Austin Studio Tour Studios across West Austin
 self-guided tour that celebrates Austin's talented and wildly diverse creative community. The public is invited to discover new artistic talent, see working studios, learn about artists' tools, techniques, and inspirations, explore galleries and a variety of exhibitions, and immerse themselves in the arts and local business communities. 
JUNE
6/23/18 Fun Stop 5K & Fest Long Center
Anything is possible at the decade-old Fun Stop 5K and Festival — formerly known as Keep Austin Weird Fest & 5K. Run, skip or race through the streets of downtown Austin wearing the wackiest costume. Unofficially known as "the slowest 5K you will ever run," this race is designed for amusement and fun.

Credit Pierce Ingram.
JULY
7/4/18 Fourth of July Fireworks and Symphony Auditorium Shores
The Austin Symphony hosts an annual, family-friendly concert of patriotic music culminating in a spectacular firework display over Lady Bird Lake.
AUGUST
8/18/18 Bat Fest Congress Avenue Bridge
Celebrate this batty event as the world's largest urban bat colony (1.5 million Mexican Free-Tailed Bats which take up seasonal residence beneath the Ann Richard's Congress Street Bridge) take to the skies for their nightly flight. Enjoy live music, children activities, a costume contest and more.
8/25/18 Austin Pride Week Fiesta Gardens and Downtown Austin
The PRIDE Festival is the largest annual LGBTQ advocacy and fundraising event in Central Texas! Dozens of non-profit organizations and social clubs use the Festival as a platform to inform and interact with the thousands of attendees. Each year, countless people find new organizations to join, causes to support and opportunities to volunteer.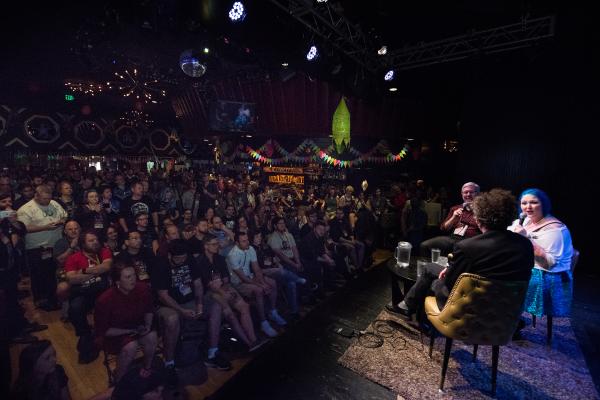 Fantastic Fest. Credit David Hill.
SEPTEMBER
9/6/18 - 9/9/18 Austin Gay and Lesbian International Film Festival Various Locations
aGLIFF is the oldest and largest gay and lesbian film fest in the Southwest and the largest LGBTQ cultural event in Austin. Experience the festival in September and watch for monthly screenings around town.
9/20/18 - 9/27/18 Fantastic Fest  Alamo Drafthouse Cinemas 
Fantastic Fest is the largest genre film festival in the U.S., specializing in horror, fantasy, sci-fi, action and just plain fantastic movies from around the world.
TBD Texas Craft Brewers Festival Fiesta Gardens 
The Texas Craft Brewers Fest is the largest beer festival for and by Texas Brewers. This annual event features the best of Texas craft beer and displays the thriving beer community across the Lone Star State.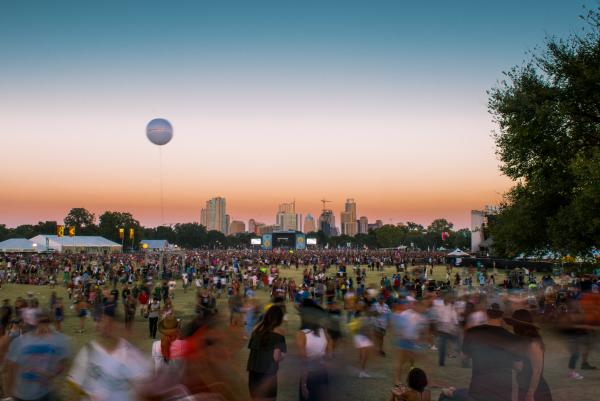 ACL Fest twilight skyline, 2016. Credit Charles Reagan Hackleman.
OCTOBER
10/5/18 - 10/7/18 & 10/12/18 - 10/14/18 Austin City Limits Music Festival Zilker Park
One of the country's largest celebrations of live music, this two weekend, six-day festival brings the magic of the famed public TV series "Austin City Limits" outside the studio and into Austin's most beloved park. More than 150 musical acts will take over eight stages along with local food vendors, brewers, artists and pop-up shops and artists.
10/25/18 - 11/1/18 25th Annual Austin Film Festival Paramount Theatre & Various Locations
Recognized as one of the top film festivals in the country, this cinematic event shines the spotlight on both top-billed films and indies alike.
10/19/18 - 10/21/18 FORMULA 1 United States Grand Prix Circuit of The Americas
International drivers will be in Austin this October to compete in the Formula 1 United States Grand Prix at the Circuit of The Americas track. This event promises three days of racing, camping, live music events and more - including headlining performances by Justin Timberlake and Stevie Wonder for ticketholders.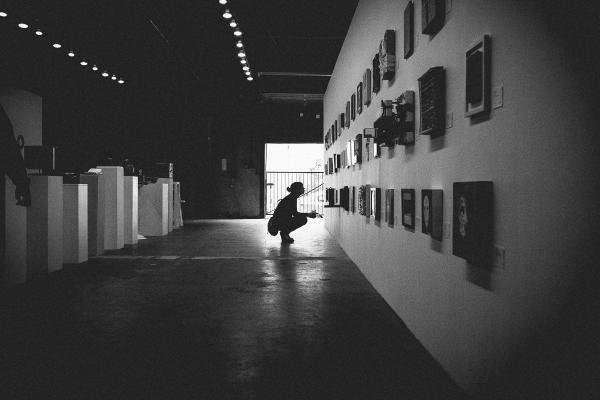 Due East at East Austin Studio Tour. Credit Andrew Reiner.
NOVEMBER
11/3/18 - 11/4/17 Austin Celtic Festival Jourdan Bachman Pioneer Farms
This annual festival is also the largest gathering of Celts in Central Texas. The event is home to four stages of Irish, Scottish and Breton music, dance, sports, storytelling, workshops and more.
TBD East Austin Studio Tour Various Locations
More than 70 eastside art studios and galleries open their doors for the public's viewing and purchasing pleasure during this bi-annual event.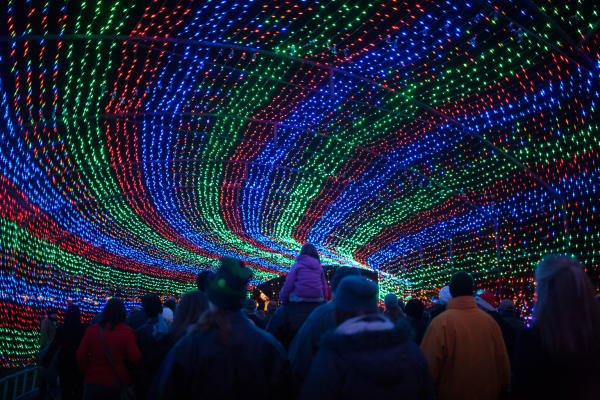 Courtesy of the Trail of Lights Foundation.
DECEMBER
TBD Trail of Lights Zilker Park
The Trail of Lights is part of the essential Austin experience, lighting up the season with a celebration of community, memories, and fun. Plan your visit early and don't forget to take a spin under the Zilker Tree!
12/13/18 - 12/24/18 Armadillo Christmas Bazaar Palmer Events Center
This holiday shopping bazaar is a fun, authentic Austin experience – for 11 days leading to Christmas, visitors can shop national and local art, handmade gifts, stocking stuffers and more while enjoying live music from the Armadillo stage and sips from a full bar. This annual tradition is a cultural icon and one of Austin's longest running art and music festivals, attracting around 40,000 shoppers each year.
12/31/18 Austin's New Year Auditorium Shores
This alcohol-free, family-friendly event celebrates the diversity and creativity of the city with 4 stages, 22 bands, visual art installations, jugglers, storytellers, fire dancers and a grand fireworks finale.
Keep an eye on upcoming events and happenings around town with our full Events Calendar!