Discovering a new favorite band is often a highlight of any visit to Austin. But with hundreds of local bands, how do you even begin to plan your nights out? The new book Seduced by Sound: Austin is a great place to begin exploring.
In Seduced by Sound, more than 100 local artists talk about why and how they make music. It's an insider's view of the Austin music scene that also offers a peek into how songwriters create such great music. And with tributes to music legends like Stevie Ray Vaughan, Townes Van Zandt and Guy Clark, Seduced by Sound is a look at the past, present and future of the Live Music Capital of the World®.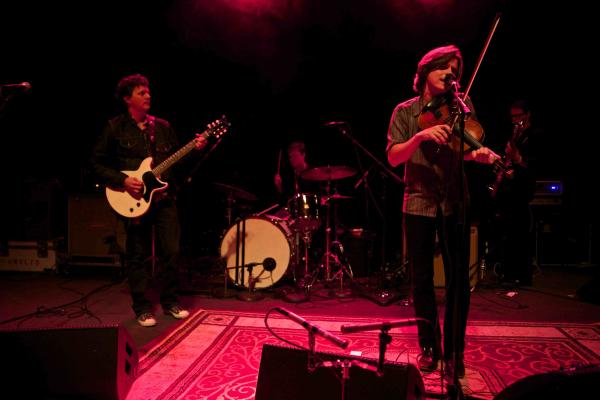 Courtesy Warren Hood.
To get you started, we're recommending three of Austin's best bands featured in Seduced by Sound, which comes with 50+ downloadable songs. Each band has a different sound, but they all have one thing in common: they take a genre, mix things up a bit and turn out something new and fresh. And that's what Austin music is all about.
Warren Hood plays a mean mandolin and a great guitar, but he's best known for his blazing fiddle. With tunes ranging from bluegrass to jazz to straight up rock 'n' roll, a Warren Hood show is made for dancing. Look for him on Wednesday nights at the Austin Beer Garden Brewing Co. (the ABGB), or you might catch him at the Continental Club (where he began playing when he was 12 years old).
Influences: Uncle Walt's Band (Austin's legendary bluegrass band fronted by Champ Hood, Warren's father and a local legend), Django Reinhardt, Stephane Grappelli and "everything else."
Quote: "Different styles of music are like different languages and accents. The difference between bluegrass and rock 'n' roll is how you 'roll your RRRs.' It's really all the same."
Downloadable song: "Last One to Know." Check out this video from an ABGB show.
The Austin Chronicle calls Walker's music "soulful electro pop," which is a pretty perfect description. He and his band the Side Arms will be showcasing at SXSW 2017 and he's played ACL Fest in past years. He's also received national nods from Esquire, Spin and NPR. But, as is the beauty of Austin, you can see him in small local venues such as Antone's or even while you're wandering down South Congress during  First Thursday at the South Congress Hotel.
Influences: His big brother's CD collection, including the Who, Howlin' Wolf and the Rolling Stones.
Quote: "I'm one of those artists who believes that there's nothing new under the sun. That said, I will die trying to prove that's not the case."
Downloadable song: "Every Night." Check out this video from Blues on the Green.
The Deer call their music "Transcendental TX Folk," but the words "ethereal," "poetic" and "downright gorgeous" also come to mind. Fronted by Grace Park and Jesse Dalton, this is a band for sitting down and listening while harmonies wash over you. Look for them at off-the-beaten path venues such as The North Door, or even check their website for house concerts.
Influences: For Grace Park, Sufjan Stevens, Neko Case, Joni Mitchell. For Jesse Dalton, the Beatles, Radiohead, Gillian Welch.
Quote: "Music is prayer; what comes out is reinforced by practice and further manifested in your life. You hold a tool that can make your world better, someone else's world better."
Downloadable song: "The Errant Tree." Check out this video from KUTX radio.
WANT MORE INSIGHT INTO LOCAL ARTISTS?
Get Seduced by Sound: Austin online at SeducedbySound.com or pick up a copy in local bookstores including the Austin Visitor Center, BookPeople and Wild About Music. You can also download the 50+ free songs that come with each book to enjoy more Austin artists. Email hello@seducedbysound.com for more information, or check out the book's Facebook page.
Contributed By Lisa Wyatt Roe.