One of the best parts about live music is how it brings masses of people together. The Austin music scene consists of people of all ages and the Live Music Capital of the World® doesn't discriminate based on age! There are plenty of places for those who are under 21 to have fun and enjoy endless nights filled with live music. Check out these 5 venues that welcome patrons who are under 21:
We head to East Austin for the first venue on this list. Emo's books a vast amount of shows that are open to all ages. Catch popular touring acts like Broods and Kaleo here, or discover the next big thing at this East Riverside venue.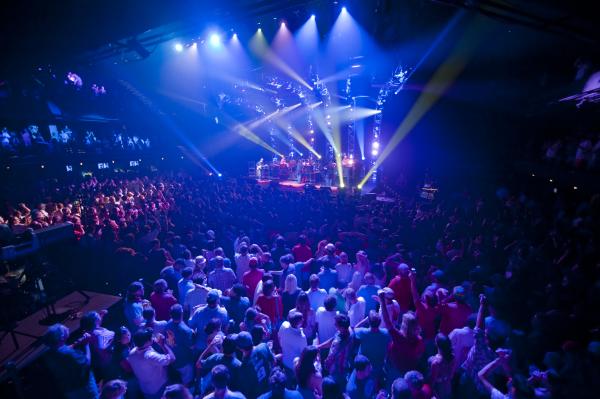 Courtesy of ACL Live at the Moody Theater.
Next on the list is the renowned ACL Live at the Moody Theater. This all-ages venue is located in the downtown 2nd Street District and it is one of the best places for a quality live music experience. This venue hosts a wide variety of acts from world tours to special Austin City Limits TV tapings.
To round out the list, we head to the Red River District, the heart of live music in the city. Underage music lovers can be seen lining up hours before a show outside of Stubb's to secure a good spot. Patrons of any age can enjoy concerts at the venue's famous outdoor or indoor stages. Just south of Stubb's is The Sidewinder where all-ages shows are hosted almost every day of the week. The Mohawk is another favorite venue that hosts mostly all-ages shows. This venue is frequently recognized as the Best Live Music Venue in Austin and is known for its great outdoor stage and creative, alternative culture.    
Disclaimer: Although there are plenty of shows around town that are suitable for those who are under 21, be sure to check out specific show info on the venue's site before buying tickets to clarify any age restrictions. Now go out, have fun, and wear those black Xes with pride!
Looking for kid-friendly shows? Check out our Top 10 Family-Friendly Live Music Venues in Austin at Free Fun In Austin. And be sure to explore our Spotify channel for your complete Austin soundtrack!
Contributed by Kanya Maliwan, ACVB Music Marketing Intern.