Country singer-songwriter Carson McHone is one of the biggest success stories to have come out of Austin in the past few years. She is young, extremely talented and a force to be reckoned with. McHone got her start at local spot Hole in the Wall and has since shared the stage with the likes of Shakey Graves and Gary Clark Jr., playing to sold-out crowds. She has represented Austin locally at Blues on the Green and internationally in London, England at the NME Sounds of Summer event with Austin, Texas. We got a chance to chat with Carson amidst her busy tour schedule about why Austin is such a great place to come home to.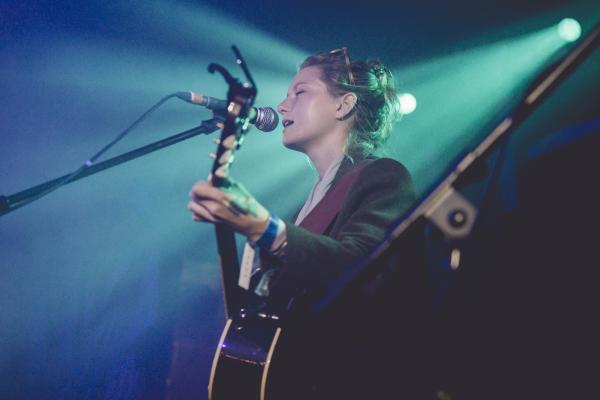 What distinguishes the Austin music scene from other places around the world?
"Austin has a real sense of community, it's known for being welcoming and laid back but the scene is busy and bustling, there are tons of musicians in town so it means if you want to make noise above the crowd you've got to work for it, which creates a healthy scene."
Are there any other up-and-coming country artists from Austin that we should look out for?
"There are lots of up and coming artists in Austin all across the genre board, but specifically country, Mike and the Moonpies. The Moonpies have been a staple in town for about a decade but more recently have been making headway out on the road all across the states and they're really hard workers; they're out there making a good name for the Austin country scene and paving the way for other up and comers, myself included."
What was it like opening for Gary Clark Jr. and playing to sold-out crowds?
"Gary and his whole crew were a pleasure to share shows with, on and off stage. It's cool to play bigger venues far from home with other Austin bands, it feels like the hometown crew even when you're in Minneapolis at a sold out show at First Avenue. Gary is a great example of an Austin musician who's done really well and then given back to his hometown, by letting another local up and comer open shows and also he's been really involved in the music scene here, he's reopened the legendary Austin blues club, Antone's and really helped to preserve that scene. Playing to large sold out clubs is amazing, you get this adrenaline rush and there's this beautiful energy, but it's funny sometimes in really tiny, intimate clubs you get the same feeling; there's just an excitement to play for folks that I think is going to be there whether you're playing to a handful of folks or thousands. Opening those big shows for Gary felt great because even though everyone was there to see Gary's show, I felt like our sets were really well received because the folks that come to see Gary are there to hear good music, whatever kind, and so there was a great energy even if they had no idea what to expect from me, this artist they'd probably never heard before."
What are some of your go-to places to hit when you get back from being on tour?
"Maudie's Tex Mex. Anytime I'm away from Texas I like to come home to some greasy tex-mex, Austin-style enchiladas, and margaritas!"
What are some of Austin's best hidden gems?
"Star Seeds diner on the northbound access road of I-35 near 38th Street; they're open 24 hours a day. Jim Jim's Water-Ice on Sixth Street is a great way to cool down on a hot day, all natural snow cone-like treats!"
Best places to grab lunch with friends?
"Blue Dahlia has killer food and their location on East 11th Street has a really pretty back patio that's nice and quiet and a great place to chat and get great, quality sandwiches!"
What should people from out of town know about Austin?
"Go out of your way to seek the old Austin hangs! With so many people moving to Austin every day we've got to keep the old, weird, funky, eccentric spots alive! If you find a place you like, ask the folks who work there where they go to hang, eat, and have a beer. The folks in this town are friendly and will be eager to show you their favorite spots. Head south to Evangeline Cafe, North to C. Hunts, or central to Threadgill's World Headquarters, talk to the bartenders, the servers, the owner of the vintage shop, the folks behind the scenes, there's lots of funky history here if you just keep your ear out."
When should we expect some new music from you?
"I'm finishing up writing the new record now, a finished product should be out sometime early next year."
Catch Carson when she plays some hometown shows as part of her North American Tour and check out her full-length album "Goodluck Man."
Contributed by Kanya Maliwan, ACVB Music Marketing Intern.