Situated in Central Austin, Guild features an innovative, ingredient-driven seasonal menu in a bright and welcoming garden-inspired space. Head Chef and Partner at Guild, Sterling Ridings, took some time to chat with us about what's on the menu at the new restaurant and some of his favorite places to drink, dine and spend his free time around Austin.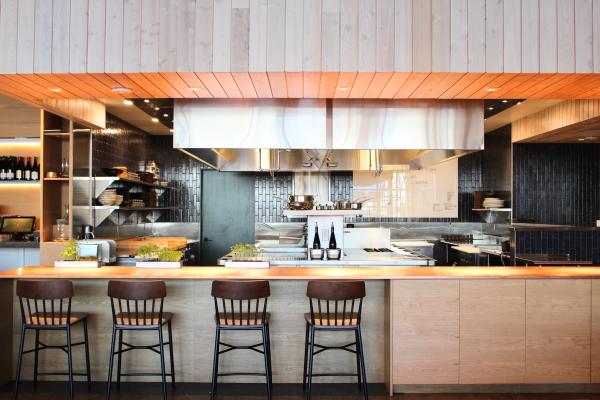 Credit Elizabeth Van Huffel Photography.
How long have you been in Austin and what sets it apart from other destinations?
I'm from here. I moved away in middle school, but came back shortly thereafter. The culture in Austin has always been a little left of center, which is something I gravitated towards when I was a kid. It's a hub for creative people and those people then inform the culture, which in turn breeds or brings in continued creativity. It's cyclical.
How has the dining and nightlife scene changed in Austin since you've been here?
Both have changed quite a bit. When I was a kid, Austin was truly the Live Music Capital of the World®. Lots of blues. I can remember being little, and everywhere we went, like events and whatnot, were flooded with the sounds of wailing guitars. I always thought it was awesome. It's changed in the sense of that it's simply grown to mammoth proportions, which I suppose was the logical path for it to take. ACL [Austin City Limits Music Festival] used to be this little festival, and now Jay Z comes down and hangs out and eats hot dogs. It's been cool to watch it evolve.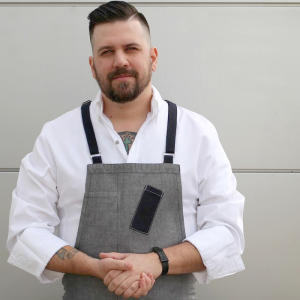 The dining scene, on the other hand, is almost unrecognizable compared to where it was 10 years ago. Back then, Austin wasn't the place to be if you wanted to be taken seriously as a cook, Dallas was. Those of us who stuck it out have been fortunate enough to watch the scene transform into something special, something that is taking on a life of it's own. The community of chefs here is incredible, and work together for the betterment of the scene. I'm proud to be in the company of such wonderful, driven people.
What is your vision for the menu at Guild and how does the city's culture inspire your menu?
My vision for our menu is to follow our hearts and our creative impulses to their logical conclusions. My ultimate goal is to cook well. The city's culture is rooted in acceptance and the willingness to try new things, so it helps a cook out quite a bit when people are willing to go on the ride with you.
What is your signature dish on the Guild menu and why?
I'd say my signature dish is the Oyster Sabayon. It's a dish of Emerald Cove oysters that have been gently poached in dashi and wild bay leaf. We then fold in field peas, roasted mushrooms, and a green Sichuan sabayon. The dish is finished with ginger poached apples and bone marrow yogurt. It's an homage to Thomas Keller's Oysters and Pearls, a dish that my wife and I had on our honeymoon, and one that remains very important to me to this day.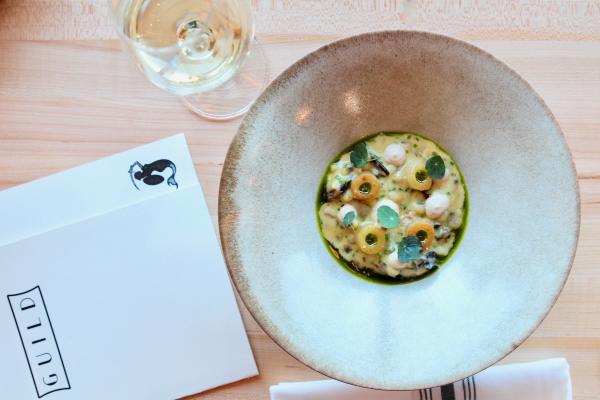 Oyster Sabayon. Credit Elizabeth Van Huffel.
Which item would you most recommend on the Guild menu?
Oysters! I also think everyone should eat more raw fish.
What's this year's culinary trend to watch?
I think we'll see a return of more serious diners who want to have fun. I hope a certain amount of levity returns to the scene.
When you're not in the kitchen, where are you eating?
Emmer & Rye, Juniper, Barley Swine, Tumble 22, Parkside and anything that Damien Brockway does.
When you have a day out in Austin, what are some things you like to do?
My son Jack and I love the movies, so we always go to the Alamo Drafthouse and destroy ourselves on fried pickles and hot pretzels. The new library kicks ass. If you haven't gone, go. Now. Go catch a show at the Mohawk and get a drink at Weather Up, and shake it off the next day with a hike up Mount Bonnell.  
What is your favorite guilty pleasure/indulgence in Austin?
Tacos, tacos, tacos.
Interested in experiencing Guild's menu for yourself? Book your reservation today!