It's that time of year again! Back for its 15th year, Austin City Limits Music Festival (9/30/16-10/2/16 & 10/7/16-10/9/16) boasts an impressive lineup including some of the biggest names in music. Among the long, star-studded list of artists that will be playing on the eight stages are the local bands that remind us why Austin is the Live Music Capital of the World®.
So, before heading straight to the main stages, be sure to check out these 7 local artists for the full Austin experience.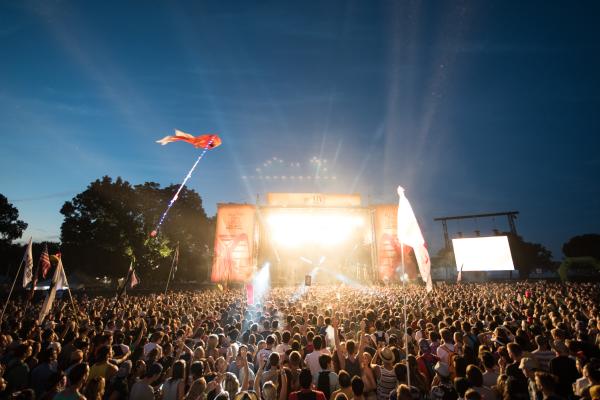 Crowd for Nero at ACL 2015. Photo courtesy of Austin City Limits Music Festival, credit Nick Simonite.
Willie Nelson
What would a music festival in Austin be without Willie Nelson? The country music giant and Austin icon takes stage this year at ACL and promises to bring an unforgettable show along with him. Nelson has acquired an immense loyal following throughout his impressive 60-year career as a musician, author, poet, actor and activist ­- and he's showing no signs of stopping. See the outlaw and legend headline this year's festival and experience the truest, most authentic form of live Austin music possible.
Wild Child
Wild Child is an Austin band that has been on the rise in recent years, and for a good reason. This indie band expresses their deep, emotive lyricism by pairing it with a quirkiness that makes people want to get up and dance. The band includes a curious combination of the violin, ukulele, cello and trumpet, all of which make for a bold and high-spirited show. Wild Child has developed a strong following throughout Austin with performances at Blues on the Green and throughout the city, so be sure to catch them to see what all of the fuss is about.
Asleep at the Wheel
Hometown glory, Asleep at the Wheel, returns to ACL to prove that traditional, western swing music hasn't faded away. Going strong after 46 years with 1.5 million records sold, 10 Grammys, and 20 studio albums, the band has become an Austin favorite, booming with energy that has kept their a loyal following coming back for more. Now with a new album, Ray Benson and Asleep at the Wheel will bring an 8-piece band along for the ride at this year's festival.
Walker Lukens and the Side Arms
With a reputation for sweaty, stage-shaking, energetic shows it's no wonder Walker Lukens and the Side Arms have been featured in Esquire's Top 40 2015 SXSW playlist and SPIN magazine. This new band's sound flaunts old doo-wop mixed with a little more groove. Lukens' ever-creative songwriting backed by the enthusiastic Side Arms make for a dynamic and entertaining group that is sure to make quite the impression this October.
Gina Chavez
Gina Chavez is no stranger to the music scene. Since her debut, the Latin-folk singer-songwriter has been named Austin Musician of the Year in 2015 and received countless other titles, proving that she is a force to be reckoned with. Her creative sound blends the music of the Americas with Chavez's impressive vocals. Chavez is not only a musician, but also spends her time advocating female empowerment through education with the Niñas Arriba College Scholarship Fund. Chavez is leaving a mark on Austin with her music and philanthropy and is, without a doubt, bound for greatness.
Shane Smith and the Saints
There's now doubt country music has spent a significant part of the 21st century trying to find it's identity but Shane Smith and the Saints are ready to bring it back home. East Texas native Shane Smith brings deep-rooted country with soul that he has earned by dedicating his life to music. His emotive and sincere songwriting is brought to life by the energy and swagger from the Saints. The Austin band is influenced by Cajun, Americana and Irish folk music, ultimately creating a unique and undeniable sound. 
Keeper
Keeper is breaking boundaries as a synth-soul girl group. Formed in 2009 by a group of friends that shared a love for music, Keeper has curated dynamic tracks that feature futuristic beats and sweet harmonies. Their music, although new, has been featured in numerous magazines as well as Cody Central show, Broad City. The women of Keeper bring a lively and sweet approach to new-age hip hop that will leave a smile on your face.
For more local Austin music, check out our Music Austin Spotify channel and keep up with the latest happenings @MusicAustin!
Contributed by Maggie Rosenbohm, ACVB Marketing Intern.