Austin isn't just known as the Live Music Capital of the World®, it also has a diverse and fast-growing food truck scene. Whether you're in the mood for Japanese street food or vegan BBQ, Austin's food trucks and trailers have just about any style of cuisine to satisfy your adventurous appetite.

Arlo's Vegan Bac'n Cheeze Burger. Credit Robert Nabbe.
Arlo's
If you are looking for a slightly healthier alternative to the tasty-yet-greasy burger and taco, then this vegan trailer has you covered. With an organic, non-GMO and 100% plant-based menu, this local food truck combines fresh ingredients with signature comfort food for a mouthwatering experience. With locations at three bar/venues around Austin, Arlo's is dedicated to serving unique dishes late into the night for all party-goers to enjoy.
Baton Creole
For all the Mardi Gras fans out there, this Louisiana-style food truck doesn't just serve some "Damn Good Cajun," it lives and breathes all things Cajun and Creole. Drawing inspiration from France, Italy, Spain and Africa, Baton Creole serves up some of the most authentic and incredibly delicious Cajun and Creole cuisine in town. Here visitors and locals alike can have everything from the famed Jambalaya Baton (deep-fried jambalaya on a stick) to classic dark roux gumbo.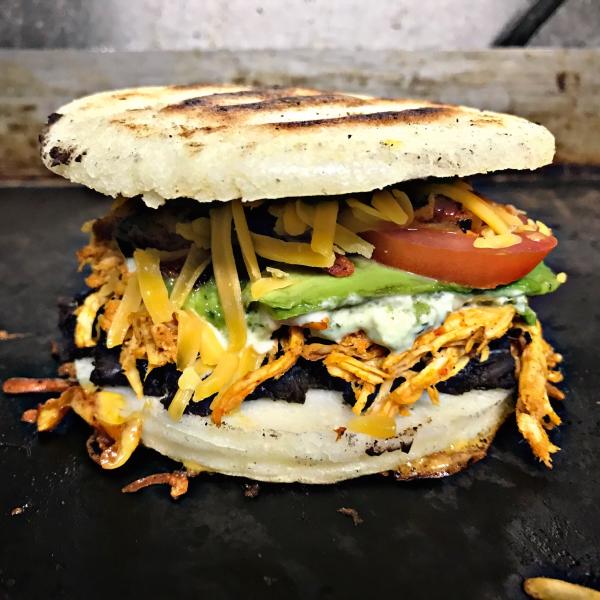 Courtesy of Four Brothers.
Four Brothers ATX
If you are looking for something unique to the Austin food truck scene, then this Venezuelan food truck is right for you. This colorful truck aims to introduce Austin to authentic Venezuelan cuisine with dishes like the signature Four Brother Arepa ("Venezuelan Sandwich" served with pork or chicken, avocado, cheese, plantains, tomato, black beans and topped with tartar and avocado sauce). This South American spot has won the hearts of locals, visitors and the Venezuelan community.
The Science Cream
Opened in 2015, The Science Cream was the city's first ice cream truck to use liquid nitrogen as its primary method for making tasty ice cream treats. Stop by any day of the week to enjoy one of their specialty ice creams, including the original pistachio oil (vanilla ice cream topped with pistachios and olive oil).
Via 313
As you might have guessed, the brothers behind Via 313 made their way to the Austin food truck scene via Detroit, Michigan. What began as a little trailer on East Sixth Street, has grown into a two-trailer, two-full service pizzeria operation specializing in Detroit-style pizza. Drop by the trailer at Craft Pride, on Rainey Street, for late night, oven baked perfection. Keep it classic with The Detroiter or go all out with The Cadillac,a house specialty and fan fave.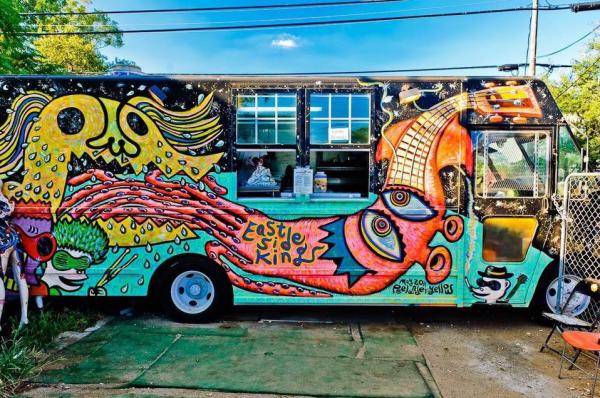 East Side King food truck. Credit Nicolai McCrary.
East Side King
Aside from rocking a food truck decorated in graffiti art, East Side King embraces Asian-fusion cuisine and Austin's fun-loving atmosphere. It also dishes out soulful and delicious Japanese street food. For anyone who loves quality street fare, East Side King's late night truck outside The Liberty will satisfy your cravings.
Insider tip: Ask for the food truck's Thai Chicken Karaage - a deep fried chicken thigh topped with sweet-spicy sauce, fresh basil, cilantro, mint, onion and jalapeños.
BBQ Revolution
Unlike other barbecue places around town, BBQ Revolution aims to revolutionize Texas barbecue with a plant-based and vegan-friendly menu. Here, you can find unique substitutes for some of the most iconic smoked dishes, like the popular No Bull Brisket, Mac N Cheeze or Tempeh Ribs.
Cow Bells
Voted the best burger in the Oltorf/East Riverside neighborhood by Thrillist, Cow Bells has lived up to its coveted title by serving some original staples like the Spare Tire (double meat with mayo, cheddar and fried pickles). With numerous delectable burgers, Cow Bells is the right trailer for the committed burger fan out there.
Contributed by Ivan Savinon, ACVB Marketing Intern.