Zilker Park is known as the "jewel in the heart of Austin," and it's easy to see why. It features an enormous, natural spring-fed swimming pool, sculpture garden, stand-up paddle boarding, dinosaurs (at the prehistoric gardens in the botanical garden), and unbeatable views of the Austin skyline. What more could you want?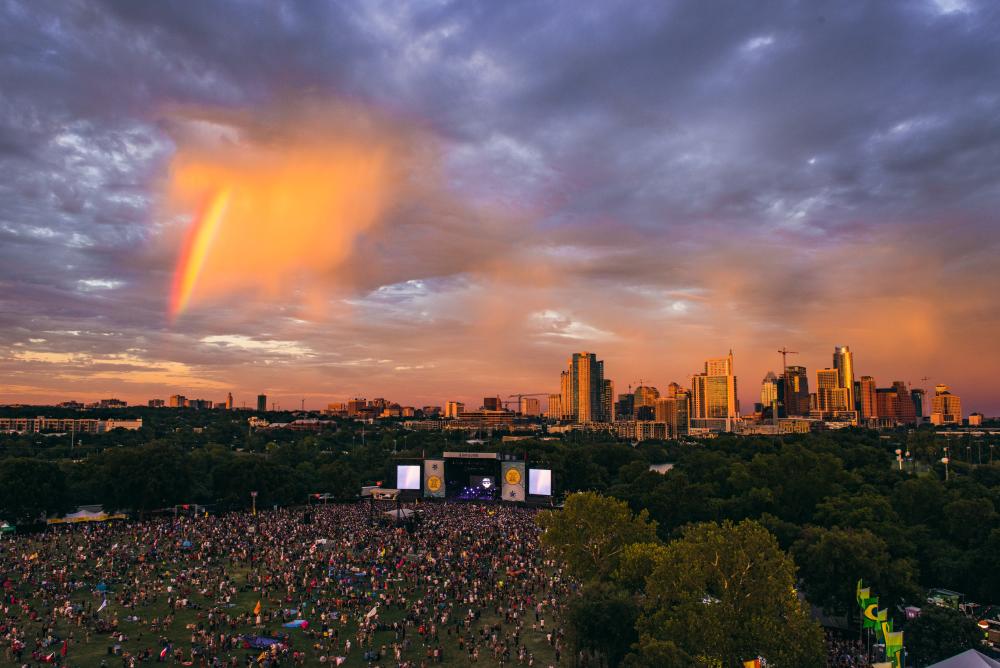 Austin City Limits Festival at Zilker Park. Credit Charles Reagan Hackleman, courtesy ACL.
Zilker Park has an unmatched view of downtown Austin and is a great place to escape the heat. Here you can go for a dip in Barton Springs Pool, walk around the Hike and Bike Trail, or attend a concert. The park is home to the Austin City Limits Music Festival (two weekends each October), the ABC Kite Festival (held in March), and the Trail of Lights, a massive holiday celebration each December with a giant tree, all lit up in festive colors. There are playgrounds, picnic spots, disc golf, sand volleyball, and tons of other activities here, so spend a day exploring all of the possibilities!
Pro tip: this is a great place to ride a bike. Pedestrian traffic can mean slow going by car in some spots, but it's easy to bypass if you rent a bike!
Zilker Botanical Garden has promoted the love of gardening since 1955. It has 26 unique fenced areas that feature different plants and styles, including a cactus and succulent garden, a Japanese garden, an herb garden, and even the famous prehistoric garden. The prehistoric garden features fossilized dinosaur tracks found in the area, and life-sized dinosaur sculptures situated among the plants… so it's kind of the closest thing you can get to a real-life Jurassic Park (for now, at least.)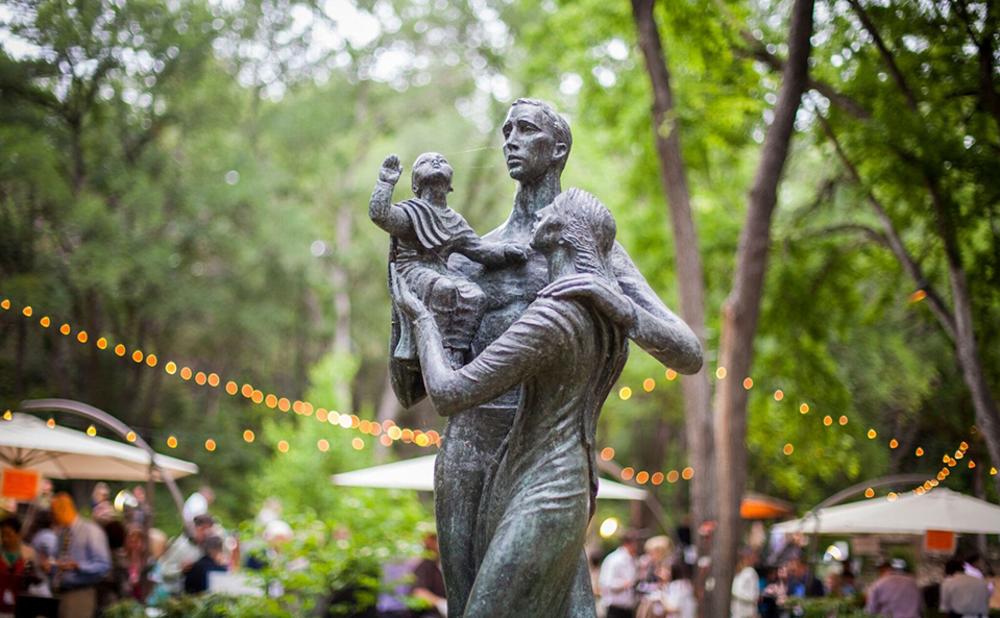 Umlauf Sculpture Garden. Credit Studio Uma.
Centered around the work of visionary American sculptor Charles Umlauf, the Umlauf Sculpture Garden is an indoor and outdoor museum that offers free admission for all ages. The museum has both permanent and fluid exhibitions, and the outdoor sculpture garden is a lovely little place for some quiet time in nature. This is a peaceful and serene escape from the hustle and bustle of the city, as well as an opportunity to gain an appreciation for the art of sculpture.
The western edge of Zilker Park is home to the Austin Nature and Science Center, an award-winning complex that offers free admission for all. The most popular exhibit is the Dino Pit, an outdoor paleontology exhibit that allows children to become paleontologists for the day and dig up fossils hidden in the sand. The center also hosts countless workshops and even has a nature preserve and a mammal walkway, from which you can watch live animals such as prairie dogs, foxes, and bobcats.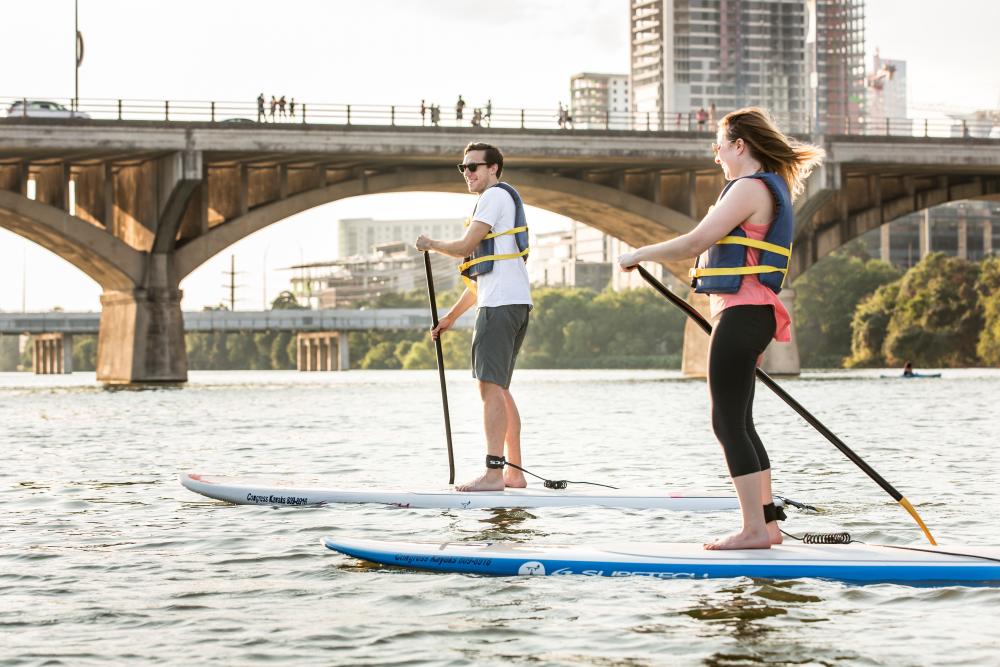 Stand Up Paddle Boarding on Lady Bird Lake. Courtesy of the Austin Rowing Club.
A reservoir on the Colorado River, nearby Lady Bird Lake is a popular destination for outdoor fun in Austin. Paddle boarding and boating are popular ways to explore the 416 acre waterway—rentals for kayaks and canoes are easy to find around the lake from stops like the Rowing Dock. Anglers can catch bass, catfish and carp in the reservoir as well. Plus, the Austin Hike and Bike Trail follows along the lake's shore, and you can even attend a yoga class on stand up paddle boards out on the water!
A staple of Zilker Park, the Zephyr Miniature Train allows children and adults to take a slow ride around the park and enjoy the beautiful view. The train route starts at the playground near Barton Springs Pool and slowly weaves its way around the park until you reach the starting point again. The ride clocks in at 25 minutes and leaves every hour on the hour. It costs $2 for children and $3 for adults (cash only). You might want sunscreen, since the cars aren't covered… but you'll definitely enjoy the breezes and shade as you take a leisurely cruise through the gorgeous and varied scenery!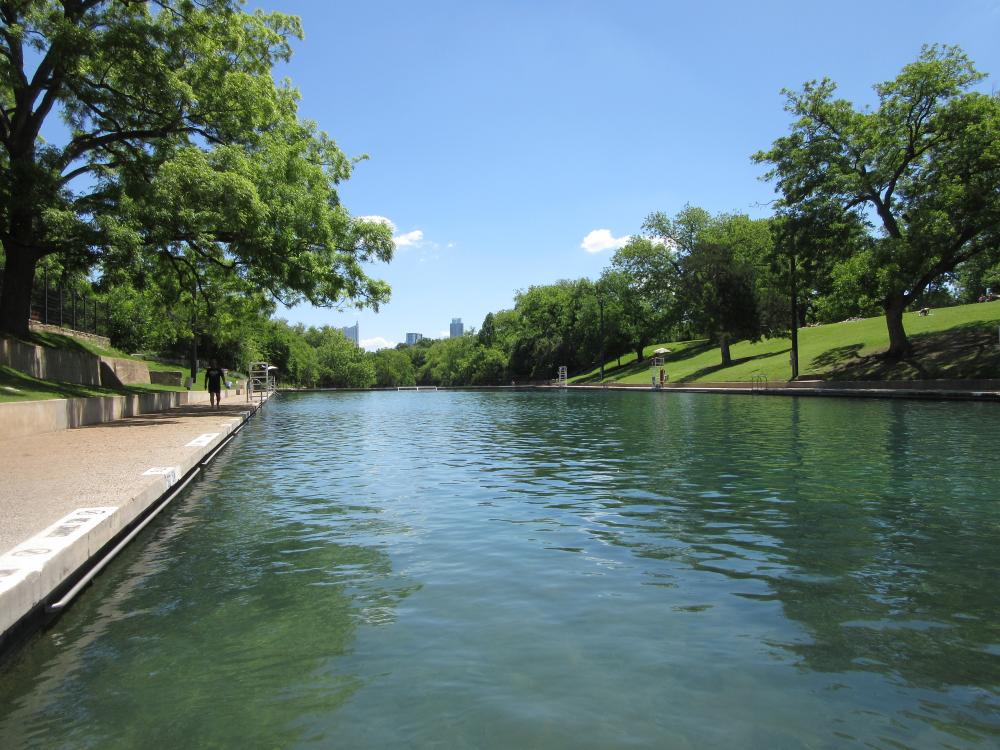 Barton Springs Pool. Courtesy of Austin Parks and Recreation Department.
Zilker Park's Barton Springs Pool is a massive 3-acre swimming pool fed by three natural, underground springs that have been dammed up. It has actually been keeping Texans from overheating since before Texas was even a thing! In the 1730s, the springs were revered by the Tonkawa tribe, who used the pools for sacred rituals. Spanish explorers to the area built temporary missions around it, and in the 1830s, the land was purchased by "Uncle" Billy Barton, who saw the area's potential as an attraction. He also named the three springs after his daughters- Parthenia, Eliza and Zenobia (those definitely sound like mermaid names...just sayin'). In the '20s, the city of Austin obtained the property and built the dams to create the one huge pool we see today. It only costs $3 for adults ($2 for kids), and a portion of that money goes to a fund to help research and protect the Barton Springs Salamander, so you can cool off for a cause.
This iconic outdoor stage hosts annual performances such as Shakespeare in the Park, live concerts, the Zilker Summer Musical and more. From March through October, the Zilker Hillside Theater is home to an array of dazzling, family-friendly shows, located just steps from Barton Springs Pool. Check the calendar for performances, then bring a picnic blanket and snacks for an evening of live music and theater on the lawn. 
Whether you're looking for a dose of art and culture, you want to work up a sweat on the trails, you're searching for a way to cool off, you want to check out a cool local event, or you just want to see a really great view of the Austin city skyline, there's no better place than Zilker Park. Make sure to leave plenty of time to fully explore everything this gem has to offer.
Contributed by Roadtrippers.