Considered an Austin ice cream institution, Amy Simmons opened the first Amy's Ice Creams on Guadalupe Street in 1984. There are now more than 13 Austin locations, including one in Austin-Bergstrom International Airport! Amy's is famous for their Mexican Vanilla ice cream but they actually rotate more than 350 flavors and also serve frozen yogurt and fruit ices. Amy's staff are always in a happy mood and love performing tricks with the ice cream; throwing it in the air and catching it in fun ways. And don't forget to add crush-ins to your favorite creation (fruit, candy, etc.)!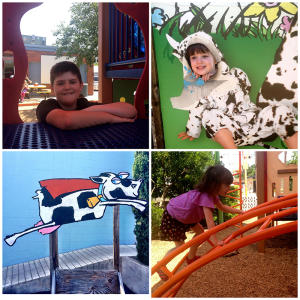 My family's favorite Amy's location is the one located on Burnet Road because it has a great playground and is located next door to sister restaurant, Phil's Icehouse. We have spent a whole evening there eating burgers from Phils, Amy's for dessert and then letting the kids run off all their energy on the playground. Add this to your family's bucket list!
Amy's Ice Creams' production facility is actually located directly behind this location and offers free tours, Mondays through Fridays at 10 a.m. (requires a reservation.)
Amy's Ice Creams | 5624 Burnet Road Austin, TX 78756 | 512-538-2697
Contributed by Katie Cook.