With more than 300 days of sunshine per year, there's really no bad time to visit Austin, Texas. But you sure can't go wrong with an April trip! Pack your days full of live music, motor sports, art festivals, family fun and some of the best culinary events in the state. Come for the sun and stay for the fun - here are a few of our favorite things to do this month:
4/5/16 - 4/10/16 Fusebox Festival Various Locations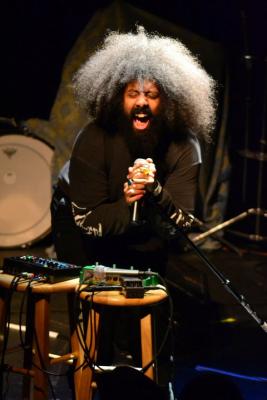 Fusebox is a hybrid arts festival that champions adventurous works of art in theater, dance, film, music, literature, visual and culinary arts. The festival takes place over 5 days in venues and locations all over the city. Hundreds of local, national and international artists across all disciplines converge for one of the most unique cultural events in the country. 
4/7/16 - 4/10/16 Euphoria Fest Carson Creek Ranch
Live music, camping, yoga and a variety of mindful workshops come together at this immersive four day festival. Musical styles bridge the gaps between hip-hop, electronic, ambient, tribal and experimental. 2016 artists include Bassnectar, Juicy J, Tycho, Griz, Waka Flocka Flame, Nahko & Medicine For The People and more.
4/8/16 - 4/9/16 The 15th Annual Lonestar Round Up Travis County Expo Center
A huge outdoor car show and live music festival with tons of vintage hot rods and custom cars driven here from all over the country, and bringing visitors from all over the world. 
4/8/16 - 4/10/16 MOTOGPTM Grand Prix of The Americas Circuit of The AmericasTM
MotoGPTM, the pinnacle of all motorcycle World Championships, joins the roster of racing events at the Circuit of The AmericasTM track with a three-day series at the purpose built Grand Prix venue. Meet your favorite riders at the Austin360 Amphitheater's daily Autograph/Q&A sessions and stick around on Sunday for a post-race concert by Franky Perez & The Truth.
4/10/16 Capitol 10K Congress Avenue to Auditorium Shores
Texas' largest 10K race and one of the nation's top runs draws some 18,000 serious and not-so-serious runners. The course features live music along the route and a family-friendly festival at the finish line after the race.
4/14/16 - 4/17/16 Old Settler's Music Festival Salt Lick BBQ Pavilion
Central Texas' signature music event featuring three days of Americana and roots rock, camping, family events, food and libations. Alternative, jazz, blues, bluegrass and more are performed by old-time local favorites and award-winning artists from around the world. 
4/15/16 - 4/17/16 Austin Reggae Festival Auditorium Shores
A fundraiser for the Capital Area Food Bank, Reggae Fest features three days of roots reggae performed by national and international talent, along with more than 50 vendors selling food and arts & crafts. 
4/15/16 - 4/23/16 Austin Fashion Week Locations around Austin
Austin Fashion Week showcases the work of fashion designers, photographers, hair stylists, makeup artists and models from around the state of Texas with over a hundred including runway shows, designer meet-and-greets, themed parties and benefits for Austin non-profits. 
4/20/16 - 4/23/16 Moontower Comedy & Oddity Festival The Paramount Theatre and other locations
Moontower Comedy & Oddity Festival presented by the Paramount Theatre brings some of the funniest, wittiest and oddest world-class comics from around the globe. National headliners, up-and-comers and local Austin-based comedians ensure three hilarious days of fun. This year's headliners include Martin Short, Anjelah Johnson, David Cross, Leslie Jones, Colin Jost, Maya Rudolph, Maria Bamford, Janeane Garofalo and more!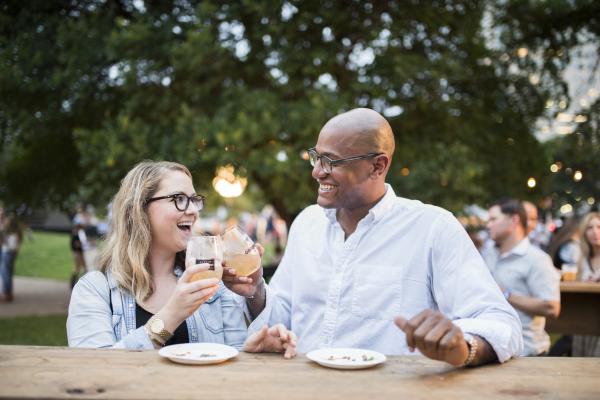 Courtesy of the Austin Food + Wine Festival.
4/24/16 - 4/26/16 Austin Food + Wine Festival Auditorium Shores and Republic Square Park
Pamper your palate in one of the hippest cities in the country at the Austin Food + Wine Festival. Join top chef talent, sommeliers and winemakers from across the nation and Austin's own acclaimed gourmet scene for an indulgent, three-day epicurean adventure unlike any other, topped off with live musical performances. Learn more about the festival on the Austin Insider Blog and check out a few of our favorite local chefs at the festival.
4/23/16 The 22nd Annual Louisiana Swamp Thing & Crawfish Festival The Austin American Statesman Parking Lot
Come hungry to this annual Cajun festival. More than 7,000 pounds of crawfish are consumed at this family-friendly event, which also features other Louisiana-style favorites like jambalaya, gumbo, beignets and more. For the family - kids activities, arts and crafts vendors and 10 Louisiana bands performing zydeco, brass, funk, blues and rock music on two stages! 
4/29/16 - 5/1/16 Art City Austin Festival Palmer Event Center
Over 150 national artists and galleries, top local restaurants, local live music and hands-on art activities make this one of the city's favorite festivals. 
4/29/16 - 5/1/16 Levitation Fest Carson Creek Ranch
Levitation, formerly known as Austin Psych Fest, will return to Carson Creek Ranch the weekend of April 29 - May 1, 2016! The independent, artist-run festival features on-site camping and three live music stages - the scenic, outdoors Reverberation Stage, the Levitation Tent which features psychedelic light shows all day long and the Elevation Amphitheatre along the Colorado River. This year's headliners include Brian Wilson performing Pet Sounds, Animal Collective, Courtney Barnett, Super Furry Animals, Thurston Moore Group, Bayonne, Parquet Courts and more.
4/30/16 The 53rd Annual Eeyore's Birthday Party Pease Park
Live music, local beer, food, acrobats and costume contests surround this annual gathering of Austin's most eclectic locals. Eeyore's Birthday serves as fundraiser to benefit many local non-profits.
What's on your calendar for April in Austin? Let us know on Facebook, Twitter or Instagram using #TrueAustin!