Welcome to August in Austin where high temps mean refreshing natural swimming holes, unique cultural events, funky food festivals, and plenty of al fresco dining with iced treats and cool drinks. If you are still looking to pack in as much summer fun as possible before school starts again, then Austin is the destination for you! Here are our top things to do this August:
4/12/18 - 9/13/18
Unplugged at The Grove
Shady Grove
Join locals under the shade of the tall pecan grove for Austin-inspired home-cooking, cocktails, sunshine and unplugged performances by some of Austin's hottest live acts.
www.theshadygrove.com
5/24/18 - 9/1/18
Summer Classic Film Series
Paramount & Stateside Theatres
Love classic movies? The Paramount Theatre has been running the Summer Classic Film Series for more than 40 years. Visit their website for the full schedule of 100 beloved cinematic treasures that are gracing the theater's big screens.
www.austintheatre.org

Summer nights at the Long Center.
6/3/18 - 8/26/18
Austin Symphony Concerts in the Park
Hartman Concert Park at the Long Center
Now in its 15th season, the Austin Symphony Hartman Foundation Concerts in the Park are held in front of the Long Center on Sundays throughout the summer at 7:30 p.m. Concert styles include strings, woodwinds, big band and brass.
www.austinsymphony.org
7/6/18 - 8/18/18
Zilker Summer Musical
Zilker Hillside Theatre
Pack a picnic and come enjoy the free, annual musical at the Zilker Hillside Theatre. The outdoor amphitheater will host performances of "All Shook Up" featuring Elvis' top hits Thursdays through Sundays beginning around 8:15 p.m.
www.zilker.org
8/1/18 & 8/15/18
Sound & Cinema
Long Center
Do512 and Alamo Drafthouse have teamed up to pair local live music with a classic movie to follow. Food and beverages can be purchased on-site from food trailers as part of the Long Center's "All Summer Long Series."
www.soundandcinema.do512.com
8/4/18
Crazy Rich Asians Night Market & Luxury Lounge
Long Center for the Performing Arts
The Austin Asian American Film Festival is hosting the largest Crazy Rich Asians activation event in the country. This free, family-friendly event features a community party and an Asian Night Market with foodie favorites and local vendors. The night also includes a ticketed VIP Soirée fundraiser featuring MasterChef winner Christine Hà and Project Runway winner Chloe Dao.
www.crazyrichaustin.com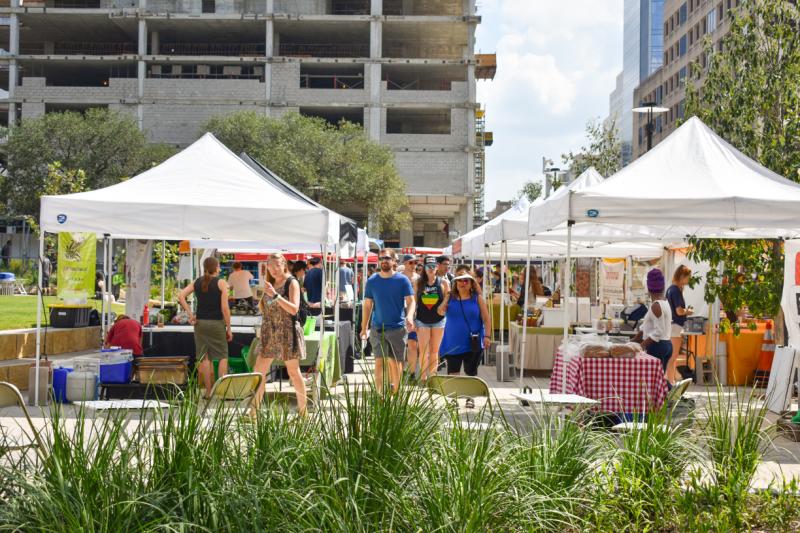 SFC Farmers' Market at Republic Square. Courtesy of Downtown Austin Alliance.
8/4/18
Austin's Birthday Bash
Republic Square
Celebrate the grand re-opening and 179th anniversary of the historic Republic Square with a free all day, family-friendly celebration. Activities include the SFC Farmers' Market downtown, a free community workout, live music and entertainment by local artists, an artisan vendor market, lawn games, free birthday cake and more.
www.republicsquare.org
8/7/18
Trailer Food Tuesdays
Long Center
Bring a picnic blanket and your appetite to Trailer Food Tuesdays, a monthly series that showcases some of Austin's most popular food trucks. On select Tuesdays through August, food trucks will gather on the plaza at the Long Center in the shade of the cityscape while local musicians entertain the crowd.
www.thelongcenter.org
8/8/18
Blues on the Green
Zilker Park
Pack a blanket and the family and make your way to Zilker Park for this summertime tradition. Held monthly from May to August, Austin's largest free concert series will welcome groovy performances by local up-and-comers and Austin legends.
www.acl-radio.com
8/11/18
Austin Pride Festival & Parade 
Fiesta Gardens 
The Austin PRIDE Festival is the largest annual LGBTQ advocacy and fundraising event in Central Texas! Dozens of non-profit organizations and social clubs use the Festival as a platform to inform and interact with the thousands of attendees. Each year, countless people find new organizations to join, causes to support and opportunities to volunteer.
www.austinpride.org
8/12/18 - 8/15/18
Literary Libations
Various Locations
The Texas Book Festival is partnering with the Austin Film Society, American Short Fiction, and Chicon Street Poets to bring Austin book lovers three art and culture events around the city in support of Lit Crawl Austin. Enjoy signature cocktails, films, storytelling, spoken-word and more - see website for full details.
www.texasbookfestival.org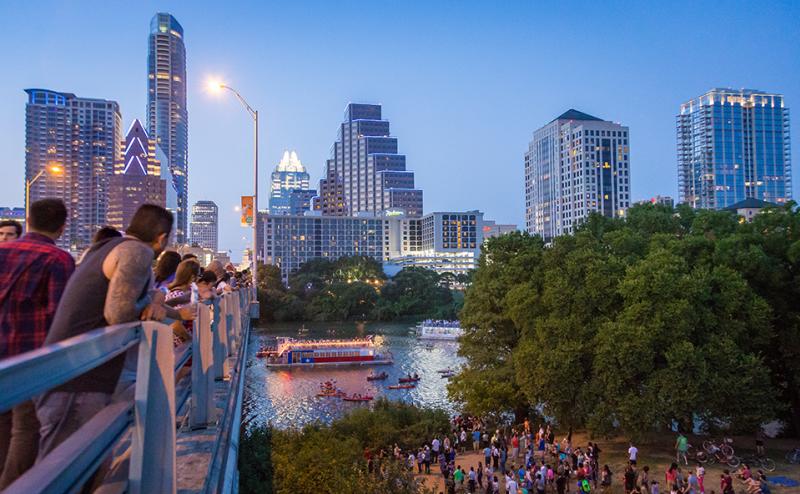 Bat watching at the Congress Avenue Bridge. Credit Pierce Ingram.
8/18/18
Bat Fest 
Congress Avenue Bridge 
Celebrate this batty event as the world's largest urban bat colony (1.5 million Mexican Free-Tailed Bats which take up seasonal residence beneath the Ann Richard's Congress Street Bridge) take to the skies for their nightly flight. Enjoy live music, children activities, a costume contest and more.
www.roadwayevents.com
8/18/18 - 8/19/18
City-Wide Garage Sale
Palmer Events Center
Don't miss this huge vintage market at the Palmer Events Center, an Austin institution since 1977. Browse and shop eclectic items, homegoods, gifts and clothes.
www.citywidegaragesale.com
8/25/18
Quesoff
Mohawk
This is an annual food competition of Texas-sized proportions! Each August, Austin's best queso-makers come together to share their best dips and spread the queso love.
www.mohawkaustin.com
8/25/18
RAS Day Festival
Kenny Dorham's Backyard
5th Annual RAS Day Festival is a family-friendly event in East Austin, celebrating the community and Austin's homegrown live music. Featuring local artists Riders Against the Storm, Saul Williams, Nitty Scott, Gato Preto and more.
www.rasdayfest.com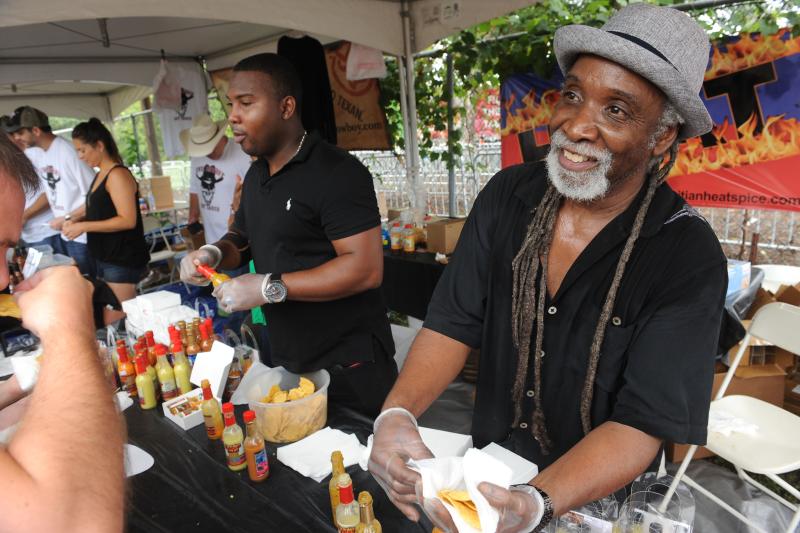 Austin Chronicle Hot Sauce Fest. Credit John Anderson/The Austin Chronicle.
8/26/18
Austin Chronicle Hot Sauce Festival 
Fiesta Gardens 
If you wanna beat the heat this summer then you gotta eat the heat! Join the Austin Chronicle for one of the world's largest hot sauce festivals with as many as 10,000 spectators each year.
www.austinchronicle.com
8/29/18
The Wine Down
3TEN Austin City Limits Live
Austin City Limits Live's annual series returns this year, at ACL Live's sister venue, 3TEN. This free event showcases the best of authentic Austin - local bands, bites, pop-up shops and… you guessed it, vino.
www.3tenaustin.com
8/30/18 - 9/2/18
Capital City Black Film Festival
Austin Convention Center
CCBFF celebrates African American filmmakers from across the nation and provides a stage for burgeoning talent. This festival packs in the fun with four-days of events, seminars, parties, screenings and more.
www.capcitybff.co
8/28/18 - 9/3/18
Out of Bounds Comedy Festival 
Various Locations 
Comedians from around the country show Austinites their comedy chops and throw down in a mini-golf tourney. 
www.outofboundscomedy.com