Austin is an ideal place to spend time with friends and family while surrounded by great food and fabulous music (we've kind of mastered the whole patio scene). What better way to celebrate the season than a fresh-air feast with your favorite people?
Here are just a few of our favorite Austin rooftops and patios.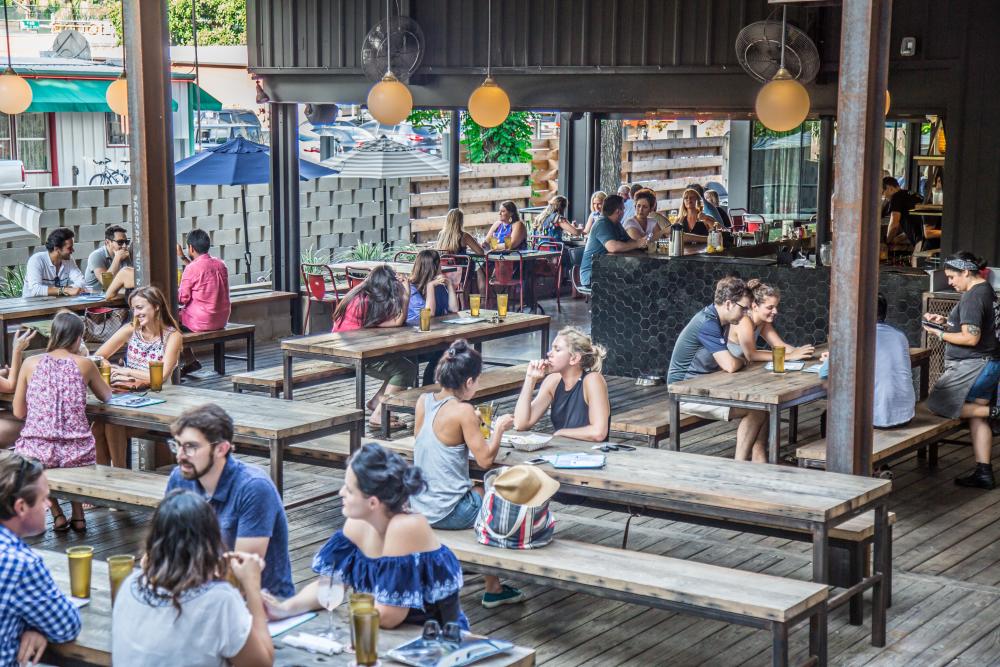 Irene's. Credit Lost In Austin.
Austin Patios
When it comes to kicking back al fresco, you'll find locals casually sipping Texas-brewed beer on the sandbox-inspired patio at School House Pub, where brews range from $2.50-$6. In South Austin, sit back with a cold cerveza in the Oak Garden at Gueros Taco Bar (pictured above), an Austin tradition serving fresh dishes, handmade tortillas and a to-die-for salsa bar. Sip their signature margarita for around $7.75.
Visit hip and historic Hole in the Wall – a legendary, vintage club founded in 1974 that holds a special place in Austin's music scene – and relax on the intimate side patio while the sounds of local bands trickle through the open doors. The Red River District welcomes a new, yet seasoned, tenet to the hood. Cheer Up Charlie's, the popular Sixth Street vegan bar, set up shop here in early March. Hang on the parachute-covered back patio and gulp down organic juice blend cocktails while listening to musicians strum on the weekends.
A must for any seafood fan, Perla's airy wooden deck emits a trendy, beachy ambiance that almost feels like visiting a friend's Nantucket beach house. The South Congress seafood and oyster bar is crisp and brightly colored with a relaxed vibe that invites you to stay awhile, have another glass of chardonnay and enjoy a long lunch, brunch or dinner.
Sit back and relax on the patio at Irene's, a downtown eatery with the soul of an unpretentious dive bar and a menu of upgraded comfort food. Opt for the Blue Plate Special and a slice of the famous strawberry cake, along with bar offerings which include house-mixed boozy punches, local taps and a thoughtful selection of strong cocktails.
Nestled in East Austin, Justine's offers French cuisine until the wee hours, attracting a late-night dining crowd that makes for splendid people-watching. Sip classic cocktails, like the French 75 or Side Car, under their massive oaks trees strung with lights and enjoy yard games like bocce ball between courses. Don't leave without trying their take on escargots à la bourguignonne.
Head to the Rainey Street district and snag a seat in Banger's tree-shaded beer garden where you'll find strung lights, picnic tables and a playpen where Fido can romp with other dogs. Start with some cheese curds or boiled peanuts and move on to gourmet sausages spanning traditional to exotic. Don't miss more than 100 craft brews on tap and live music most nights.
Alta's Cafe is one of the better kept secrets in the downtown area. This beer garden and coffee house is located along the shores of Lady Bird Lake. Enjoy an organic PB&J and your favorite coffee on the deck while watching the bats fly out from Congress Avenue Bridge (March-October). Kayak tours and rentals along with stand up paddle board rentals are available by Congress Avenue Kayaks on site.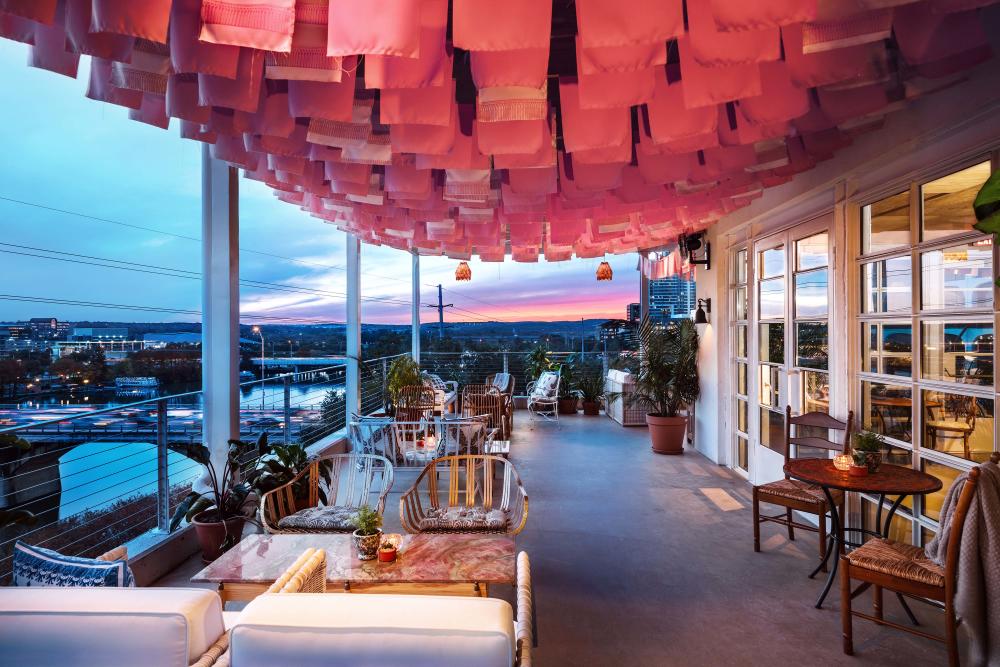 P6. Credit Chase Daniel.
Austin Rooftop Bars
Start your rooftop journey in the Warehouse District. Hangar Lounge, designed after a 1950s airport lounge, offers an amazing rooftop overlooking the city. Or, spend the evening dancing on the rooftop lounge at Speakeasy, one of the top places in Austin to take in the glittering skyline. Be sure to catch the sunset happy hour!
Located on the former top deck of the LINE hotel's parking garage, P6 features panoramic views of Lady Bird Lake, the south Austin skyline and the Congress Avenue bat bridge. The design reflects the region's culture of outdoor living and the menu features shared small plates and antipasti, influenced by the cuisines of the Mediterranean and served alongside easy, refreshing cocktails.
Handlebar is all about giant Jenga, craft beer and mustaches, complete with a spacious rooftop. Located along Sixth Street, you'll find a diverse craft beer selection, handcrafted culinary cocktails and shots named after distinguished 'staches.
The newest South Austin location of Easy Tiger features a huge rooftop deck overlooking the Barton Creek Greenbelt. This dual-concept bakery and beer garden makes it easy to grab freshly made baked goods or sit back and enjoy a cold one on the inviting patio. The eatery focuses on sausage, cheese, bread and beer - the four major food groups for hangouts.