There is much excitement in the Austin film community with the recent Sundance announcement; like last year, there are a number of locally produced films screening in the 2014 festival.
Kat Candler premieres her feature film "Hellion" starring Aaron Paul (Breaking Bad) and Juliette Lewis (Natural Born Killers) in the U.S. Narrative Competition category. The feature, based on Candler's short film of the same name, was developed through the Sundance Creative Producing Labs and is executive produced by Sarah Green (The Tree of Life) and Jeff Nichols (Mud).
10-time Austin Film Society Grant recipients David and Nathan Zellner return to Sundance for the eighth time to present their feature "Kumiko, The Treasure Hunter." The Zellner's feature will also make its world premiere in the U.S. Narrative Competition category.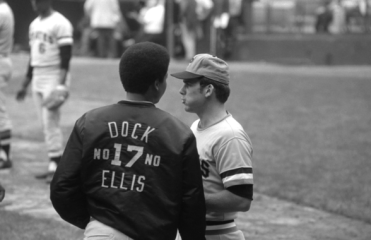 No No: A Dockumentary
Jeffrey Radice represents Austin in the U.S. Documentary Competition with his feature, "No No: A Dockumentary." His documentary, produced by Mike Blizzard follows the legend of Major League Baseball pitcher Doc Ellis, the man who allegedly threw a no-hitter on LSD.
In the Next section is "Ping Pong Summer," a period-comedy by Michael Tully and produced by Austin Film Society's Holly Herrick. The film, staring Susan Sarandon (Dead Man Walking), Lea Thompson (Caroline in the City), and John Hannah (Four Weddings and a Funeral) chronicles a family's summer vacation to the Mid-Atlantic shore during the '80s.
The Austin Film Commission could not be prouder of the talented filmmakers who will be representing Austin in Park City this January. Filmmakers such as David and Nathan Zellner, Kat Candler, Kelly Williams, Michael Tully, Jeffrey Radice and Mike Blizzard have time and again defined Austins independent film scene with their creative and unique voices.
Contributed by ACVB Music & Film Intern, William Tinker