Starting in late March and continuing through early fall, Austin welcomes nearly 1.5 million bats under the Congress Avenue Bridge (Official name: Ann W. Richards Congress Avenue Bridge).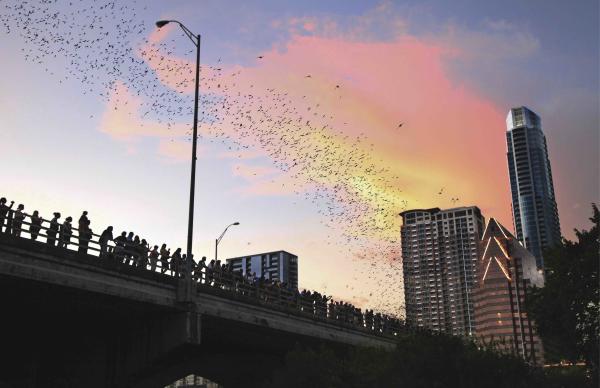 In 1980, when the bridge was being built, its engineers had no idea that the crevices they designed under the bridge were actually an ideal bat roosting spot! Over time the bats numbers have increased, and these creatures have become a quirky and beloved icon of our city that also serves as a tiny work force that rids our area of bugs and pests.
We love our bats, and after you visit them for their nightly show over Lady Bird Lake, we are sure you will too.
Did you know?
Austin's resident bats are Mexican free-tailed bats, which migrate each spring from central Mexico to various roosts all over the southwestern U.S.
Austin's Congress Avenue Bridge is home to North America's largest urban bat population.
Our Mexican free-tailed bats are pretty tiny! They weigh between 0.4 - 0.5 ounces and have a wingspan between 12-14 inches.
On their nightly flights the bats eat anywhere from 10,000-30,000 pounds of insects, including mosquitoes and harmful agricultural pests.
Austin's bats are almost all female!
Our Congress Avenue residents live in what is known as a nesting colony.
In early June each bat gives birth to one single baby bat (known as a pup).
It takes about 5 weeks after birth for the pups to learn to fly and hunt insects on their own. In the meantime, the mommy bats nurse their babies and can locate her own pup among the thousands under the bridge
At the end of the season, you can see roughly 1.5 MILLION bats ascending into the warm summer sky!
When is the best time to go?
The bats begin to wake up and start their night flight around sunset- the first few bats begin to trickle out from under the bridge then. After the sun sets, the show really begins, and hundreds to thousands of bats pour out and cascade over Lady Bird Lake.
Around sunset, but anywhere from 7:30 p.m.- 9:45 p.m.
It can take as long as 45 minutes for all of the bats to exit the bridge for the night.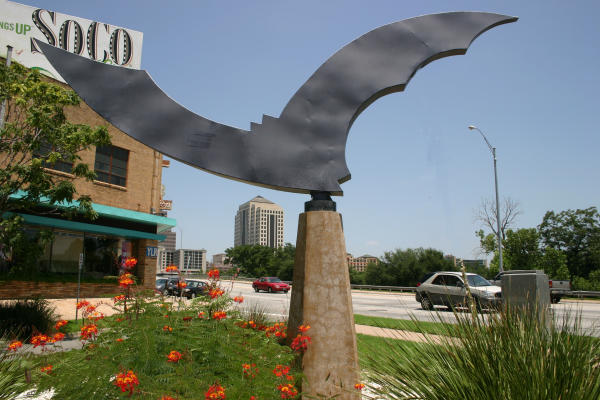 Nightwing Bat Statue, located at S. Congress Ave. and Barton Springs Rd.
Where are the best places for bat viewing?
On the sidewalk facing east, on top of the Congress Avenue Bridge - arrive early for a front row spot! The sidewalk gets crowded - about 3-deep each night and please remember that traffic will continue on Congress Avenue at that time.
At the Statesman Bat Observation Center adjacent to the Congress Bridge (the grassy hill just down the steps at the corner of Congress Avenue and Barton Springs Road). Bring a blanket, some chairs and even a snack and sit back and relax, waiting for the show!
Take a bat cruise! Austin offers many wonderful cruise options like Lone Star Riverboat or Capital Cruises, which both offer bat-watching cruises.
From the trail - There are many spots along the Lady Bird Lake Hike & Bike Trail that you can stand to enjoy the view(s) but be sure you stand off to one side as biker, joggers and dog walkers will still be using the trail at that time.
Last but not least, the best view is on the water! Get a kayak, SUP board, canoe or water bike and join the other aquatic adventurers that float around under the bridge around sunset. You can even take a kayak bat tour with Live, Love, Paddle!
If you would like to learn more about Austin's bat colony, or more about bats from all over the world and their various habitats, visit this site: Bat Conservation International. You can become a member and help support the conservation of Austin's bats and their natural ecosystem.