Part of what makes Austin so vibrant is its renowned comedy scene. From cool shows at The Velveeta Room and The Hideout Theatre to the annual Moontower Comedy Festival, Austin comedy is a force to be reckoned with. Check out this list of the many talented Austin comedians who bring smiles to our faces every week. Also, be sure to check out Comedy Wham, a fantastic local podcast featuring interviews with dozens of other talented Austin comedians.
In a tweet, Chris Cubas has promised us that he will NOT have an opinion on Space Jam 2, but if you want to hear his many humorous takes, you can listen to his podcast Bad Advice with Chris Cubas. The well-respected comedian has had multiple appearances on Comedy Central. Follow his Instagram to get updates on when he performs shows at venues like The Velveeta Room.
You may recognize Hunter Duncan from his 2019 Comedy Central set. The charismatic comedian has a knack for storytelling, ​which you can see for yourself at venues like the Long Play Lounge and the Spider House Ballroom. Duncan also hosts the Stoned vs. Drunk vs. Sober show alongside Carlton Wilcoxson.
Lisa Friedrich is a regularly performing stand-up as well as a performer in the weekly improv show Garage. The skillful comedian co-hosts and produces the monthly showcase, ATX Comedy Hour, alongside Hunter Duncan. She also makes up a third of the Weird Brunch Podcast, where the hosts discuss stories that cover murder, conspiracy, rare history, and more.
Justin Hicks is a stand-up raised in small-town Connecticut who made a bold move to Austin in 2010. His calm and cool delivery makes him instantly relatable. A regular at open mics around Austin, Hicks has performed at the Paramount and is no stranger to festivals.
Chris Hills is not just a comedian but also a beatboxer. Much loved in the community, his sets are electric and animated, utilizing his wide range of talents. He regularly performs at venues like the Cedar Street Courtyard. Check his Facebook for updates on future shows.
Yola Lu is a versatile stand-up comedian and improviser, whose a veteran of her fair share of festivals like Austin Sketch Fest. She is a member of the all-Asian-American improv troupe called "Y'all We Asian." They currently have a regular monthly show every first Friday of the month at the Fallout Theatre called "Family Style."
Angelina Martin is the host of the Slide in the DMs Comedy show at the Fallout Theatre, which takes place every third Saturday of the month. The show features stand-ups sharing the wildest messages they've ever received online and a cast of talented improvisers riffing off it all. In addition to being a riot of a stand-up, the self-described hot jock of Austin is a gifted poet and an actor.
From testimonials including: "Great set, I'm glad I watched it." and "Carlos Morrison made me laugh so hard I almost threw up," the young Austinite's irreverent and self-deprecating humor endears fans to him right away. His Instagram bio reads: "My mom made me a website to support my dreams of becoming a real comedian." To us, it seems that he's already well on his way. You can book Morrison and find details on upcoming shows on his site.
A 2019 finalist in the Cap City funniest person awards, Robyn Reynolds is guaranteed to deliver a punchy set with near-masterful precision. They have cracked jokes all over town at venues like Spider House Ballroom and the Cedar Street Courtyard.
A staple of the Austin scene, Lando Shepard hosts Comedy Night at The Common Interest every Sunday at 6 p.m. His full name is Lando Calrissian Shepard (yes, like the Star Wars character), and his excitement on stage is infectious. Seeing him perform has been described by Comedy Wham as feeling like you're watching a good friend up on stage. Follow him on Twitter to keep up with his coming shows!
Elizabeth Spears' stand-up style has been lovingly referred to as intimately deadpan. A two-time finalist in Funniest Person in Austin Contests, she has performed at BABES Fest (now known as The Front Fest), Out of Bounds Comedy Fest and Moontower Comedy Festival. Check out the eccentric Elizabethfans.com for updates on her upcoming shows.
A two-time semi-finalist for the Funniest Person in Austin contest, Brett VerVoort is a writer and stand-up comedian known for her quirky wit. She co-hosts the Drunk Spelling Bee show, where four Austin comedians try to spell while navigating drinking games that make them increasingly inebriated.
Alongside Martin, comedian Carlton Wilcoxson co-hosts the Buzzkill at the Buzzmill show. A "former teen heartthrob from St. Louis, MO," Wilcoxson is a stand-up comic that hosts the iconic and recurring Stoned vs. Drunk vs. Sober comedy competition at the Spiderhouse Ballroom.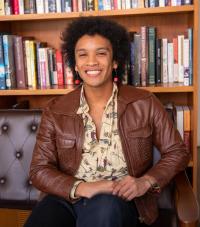 Photo of Elizabeth Spears, credit Andres Rodriguez.
Article contributed by Jade Fabello
Jade Fabello is an Austin-based writer and a recent graduate of the University of Texas, where he was a double major in the Journalism and the Communication and Leadership programs. You can find his work at JadeFabello.com. 
Instagram @Jade__Fab. Twitter: @Jade_FW