One of the best ways to experience Austin is by attending one (or more!) of its many festivals. The Austin City Limits (ACL) Music Festival is one of the largest live music events in the country, taking the famed "Austin City Limits" TV series outside the studio and into scenic Zilker Park. In 2019, the fest will be held October 4-6 and October 11-13, and features more than 140 music acts on eight stages. Here are our insider tips on how to have fun and survive the fest.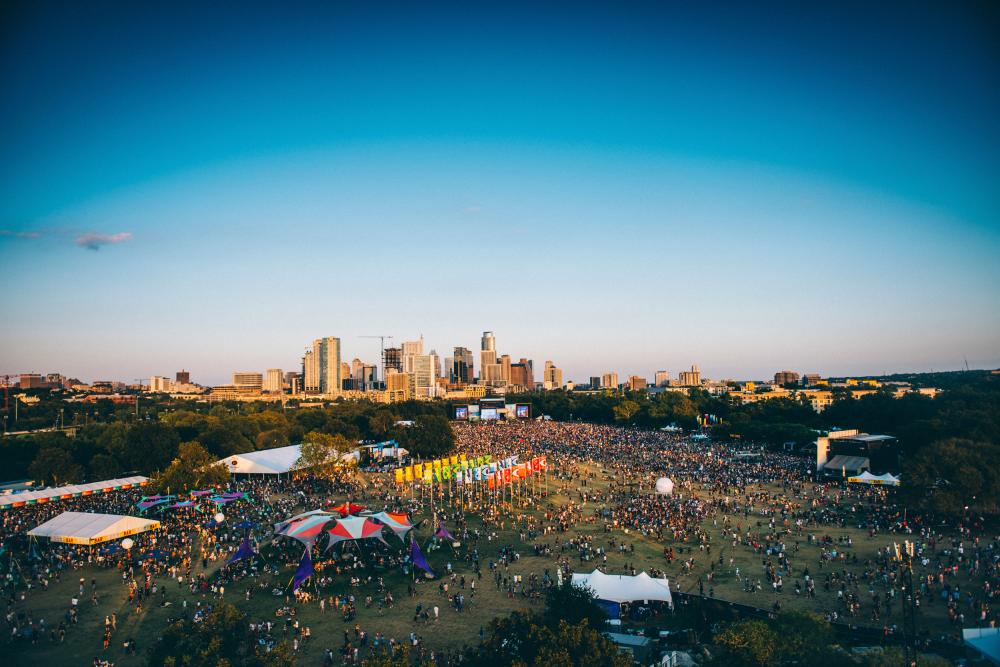 Credit Charles Regan Hackleman.
Getting to the Fest
There are plenty of ways to get to ACL. Board a complimentary festival shuttle at downtown Republic Square, at the corner of Fourth and Guadalupe Streets, and you'll be dropped off right at the Barton Springs West Entrance to Zilker Park. Another option is ride sharing, with Uber serving as the official ride share partner of ACL Fest.
Or take the scenic route and pedal to the fest. Grab an Austin B-cycle from one of the 50+ stations in central Austin and head to the Barton Springs Road & Sterzing Street station, where a B-cycle valet will be on hand to dock your bike. There are also bike racks at each of the festival entrances. Or rely on the pedal power of a pedicab. Several different pedicab companies (such as Capital Pedicab) operate in downtown Austin, with varying rates. If you're within walking distance, the Ann and Roy Butler Hike-and-Bike Trail takes you right to Zilker Park.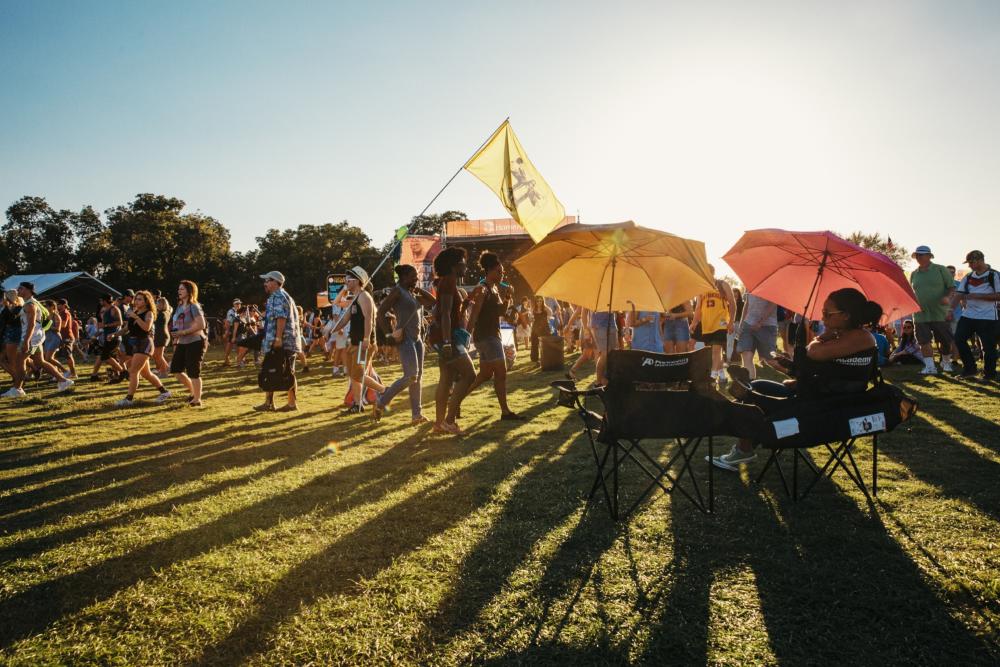 Credit Greg Noire.
How to Dress
Temperatures can climb into the 80s in Austin in October, so dress for summer weather. And be sure to wear comfy shoes that are good for trooping through grass. Festival-goers are allowed to bring in empty, plastic or aluminum re-usable water bottles or CamelBak-type containers (36 oz max), which can be refilled throughout the day at free water-filling stations to help beat the heat. And don't forget the non-aerosol sunscreen!
What to Carry
Only small purses, totes and drawstrings are allowed into the festival (read: no backpacks). But you're welcome to bring in your own picnic blanket or individual collapsible chairs. And totems, rage sticks and festive flags under 12 feet tall are allowed for way-finding among friends. Get the full details here.
There are ATMs at several locations throughout the festival grounds, and some vendors accept credit cards. But the easiest way to pay for food and goods is with your wristband, using ACL Cashless, presented by American Express (simply register for the service when you activate your wristband).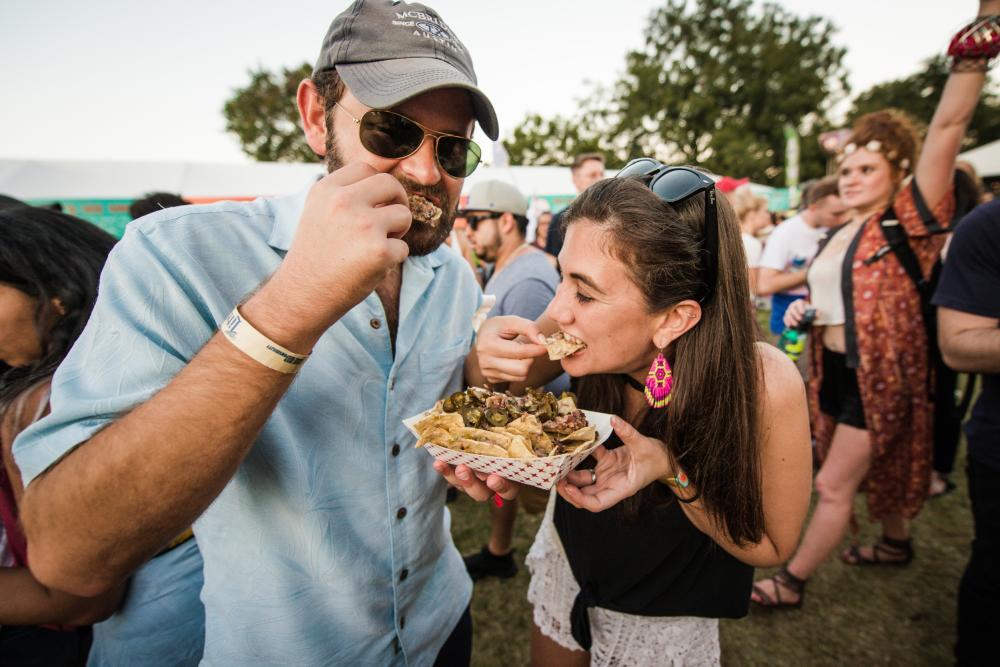 ACL Eats, Salt Lick BBQ. Credit Katrina Barber.
What to Eat + Drink
The ACL Eats Food Court features local food trucks and area restaurants serving up everything from tacos to vegetarian bites, along with craft beverages. Find a second, smaller ACL Eats location, near the south end of the park, offering yummy snacks like ice cream and pizza. Wine enthusiasts will want to head over to the new ACL Wine Lounge, while suds lovers will find nirvana at the Barton Springs Beer Hall.
Charging Stations
Phone charging stations are located around the grounds. Rather tune out? Head to the Silent Disco from 8-10 p.m. each evening at Tito's Handmake Vodka Stage, where you can strap on a pair of ACL Fest-supplied headphones and groove to three DJs.
Late Night Shows
Keep the party going at official ACL Fest Late Night Shows. Some of your favorite festival artists will be performing at iconic Austin venues, ranging from Stubb's Bar-B-Q to Emo's.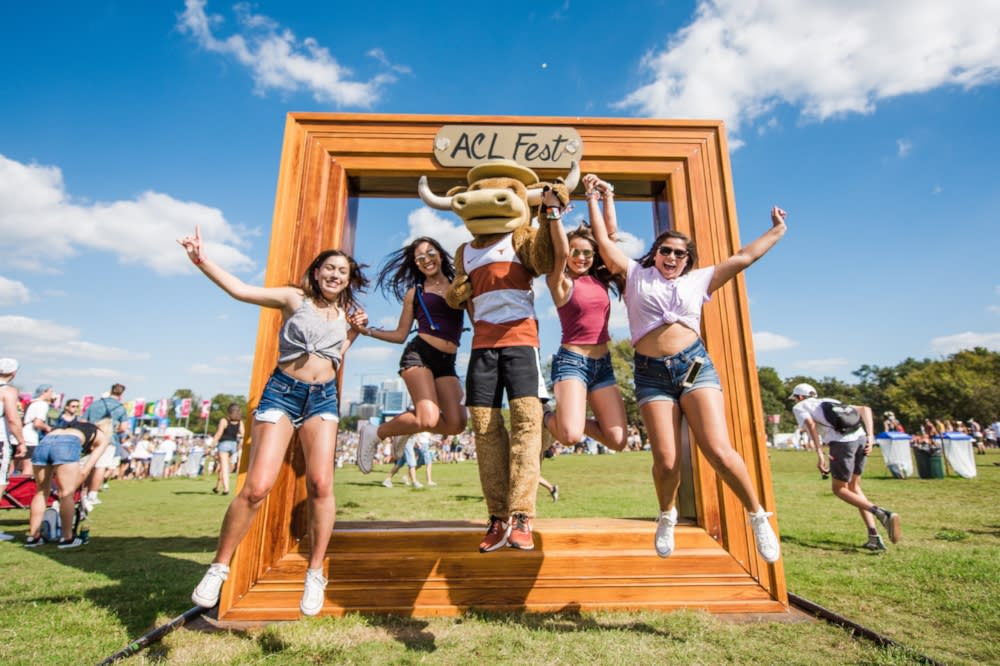 University of Texas mascot Hook Em posing with fans. Credit Katrina Barber.
What to Do Before + After the Fest
Looking for fun things to do around Austin before or after the festival? Check out Top Things to Do in Austin for the best things to see, eat and drink while in town.
More ACL Fest Info
Have questions? Find all the answers at the official ACL Festival site, where you can download the ACL Music Festival mobile app and connect through social media.
Photos courtesy of C3 Presents.