The LGBTQ+ community in Austin has a long and ever-growing history. The deep cultural tapestry has laid the ground for Austin's LGBTQ+ art scene to flourish and expand through installations, dance and music groups, individual creatives, and much more. Various communities within LGBTQ+ spaces continue to add to culturally rich ideas that help breathe life into the city and make way for more comfort, fun, and artistic experiences. Here are some organizations, spaces, and people that are making the city what it is today.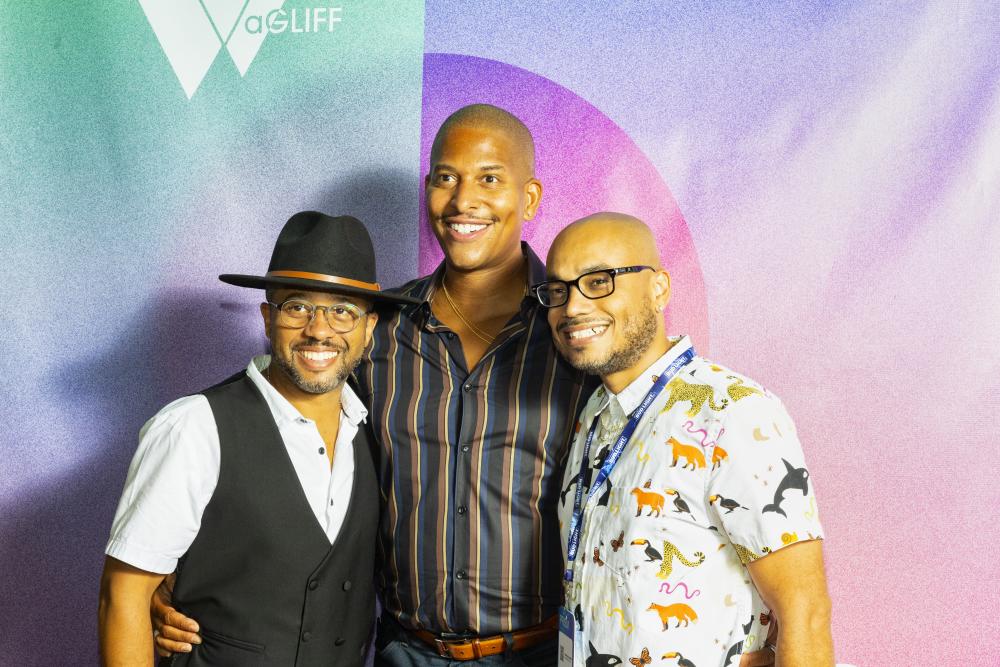 Producers Quincy Le Near, Nathan Hale Williams & Deondray Gossett. Courtesy of aGLIFF.
LGBTQ+ Productions & Organizations
Created with the specific needs of queer Black people in mind, Austin Black Pride imagines spaces and programming that cater to the unique experience of the Black LGBTQ+ community. This past June, they hosted a series of workshops and events to celebrate Pride month. They can be reached at info@austinblackpride.org, if you are interested in working with them to host other events, workshops, and presentations. Donate to their mutual aid funds and keep an eye out for their upcoming events!
Pink Elephant Music Group is an LGBTQ hip-hop collective whose mission is "to continue to create platforms for LGBTQ Artists and to document and preserve our legacy and culture by any means necessary." Their radio show, Pink Elephant Radio, co-hosted by Japan and YellaStud, is one of the many platforms they utilize to promote togetherness in the LGBTQ+ community.
For the film fans out there, aGLIFF (All Genders, Lifestyles, and Identities Film Festival) should definitely be on your radar. Prism, their major annual festival, usually takes place over two weekends, in late August or early September. aGliff also offers year-round programming, with screenings and special events featuring stunning art from the world of LGBTQ+ film.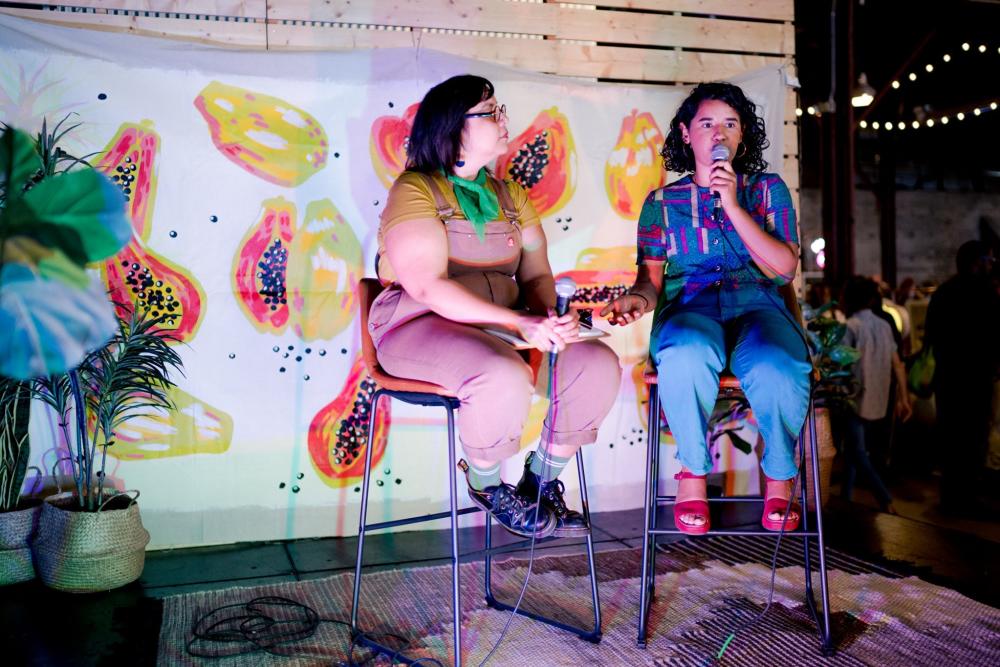 Front Festival & Market. Courtesy of Future Front Texas.
ALLGO (Austin Latina/Latino Lesbian, Gay, Bisexual & Transgender Organization) is a massive supporter of LGBTQ+ cultural arts. They host a variety of performances and exhibits that celebrate and affirm community. Check out their social media for their latest events. Looking through their artist in residence program is a great way to learn about artists operating in and around the Austin area.
Future Front is a nonprofit organization that cultivates spaces where women and queer creatives, founders, and leaders can grow together. They have recently started an event called The Front Market and Festival, where they host pop-up shops and performances centering on emerging creatives and artists. They are also known for their Swim Session Events at the Line Hotel. Grab your swimsuit and head on down on the last Thursday of each month. You'll be in for an afternoon of music, art installations, and a lineup of creative Austin businesses.
Austin Pride runs the annual Pride parade and festival in town. Although the Pride celebration was canceled in 2020 and 2021, expect the event to return even bigger and better in 2022, with a weekend of festivities including The Big GAY Brunch and Cabaret event. Keep an eye out for future events and campaigns year-round.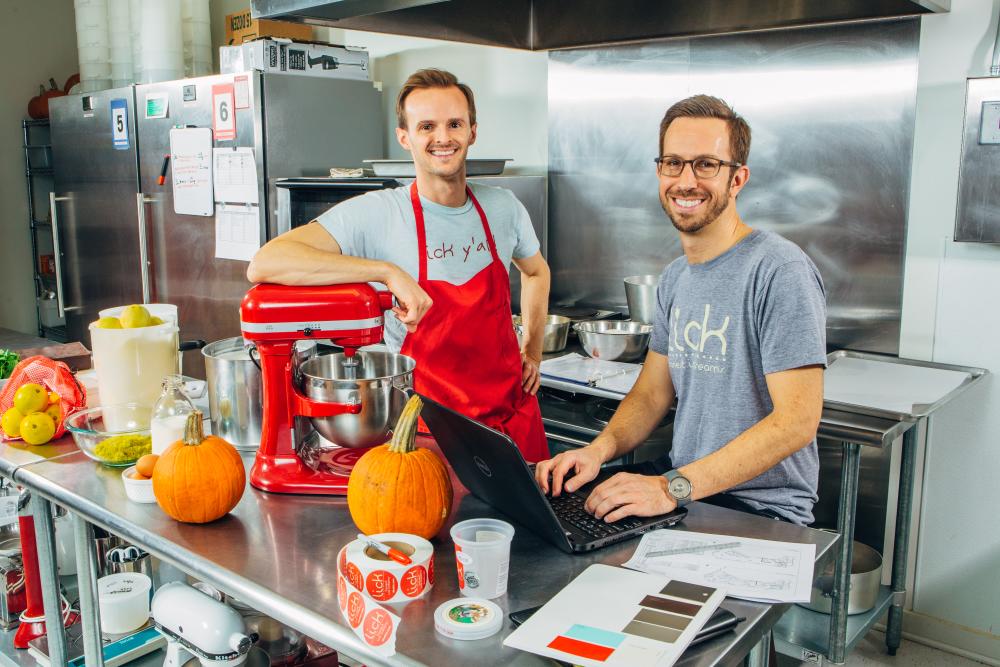 Lick Honest Ice Creams. Credit Annie Ray.
LGBTQ+-Owned Businesses & Spaces
The Little Gay Shop is a queer marketplace that features art and trinkets created by the LGBTQ+ community. Drop in and grab some lovingly crafted art and memorabilia.
Created by charming local chef Aaron Seriff-Culick, Paper Route Bakery delivers cakes and goodies that are, by every definition, art. Stop in for a slice of their cake of the day with flavors ranging from Strawberry Parade to Pistachio Oasis. If you order ahead of time, their expertly crafted cakes can even feature pointillism illustrations! You also can't go wrong ordering one of their peaches 'n cream-flavored homemade pop tarts.
Still Austin Whiskey Co was co-founded by LGBT community member Chris Seals. Head out to the distillery for a unique night out with high-quality spirits!
Lick Honest Ice Creams offers deliciously unique artisanal ice creams. They source their milk and cream from family-owned dairies in Texas and Wisconsin and have offered flavors like cilantro lime, sage, and grapefruit with champagne marshmallows!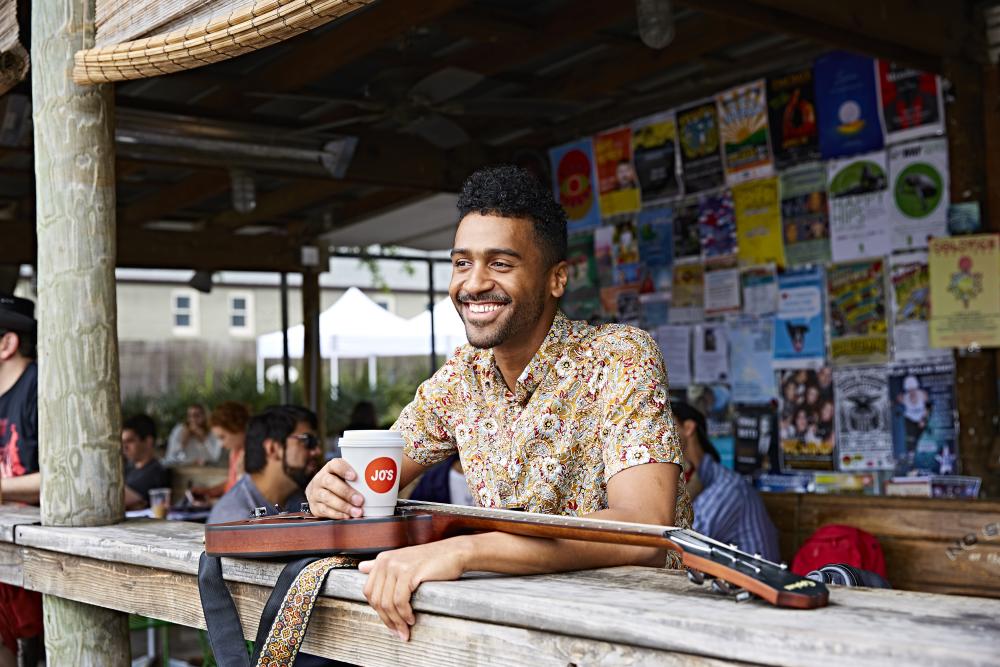 Tje Austin. Credit Annie Ray.
LGBTQ+ Artists
Genderless musician Quentin Arispe is well-beloved in the community. They recently recorded a live concert at East Austin Piano Shop. Follow them to get updates on future shows.
"Engulfed in the Marvelous Decay" is the latest album by bigender, Mexican-American rapper Chris Conde. Listen to their poetic and powerful work and catch one of their live shows.
The multitalented recording artist, rapper, and voice actor Mama Duke has been making major waves in the Austin music scene. She is the creator of ATX Social Club, an online hub where you can find some of Austin's best local hip-hop performers.
Nixs is a creative who offers tarot and psychic reading services. She is also married to Mama Duke. The two collaborate together with Nixs performing as a DJ. Get a reading and head out to a live-show.
p1nkstar is a digital superstar recognized for her must-see conceptual music shows. She has made her return to live music with her August performance of tracks from her latest EP, "Number 1 Hits!"
Beck is a well-known independent model, creative director, and teacher. They are the Director of Modeling for the local publication Glaze Magazine.
Sharon Bridgforth is a critically-acclaimed performing artist and writer that creates ritual/jazz theatre. She has served as an artist in residence with ALLGO and has had her work displayed in town with The Performing Blackness Series at The University of Texas at Austin's John L. Warfield Center for African and African American Studies. Keep your eye out for her next exhibit.
A curator, musician, DJ, and performance artist, Y2k Technologies always provides captivating shows at venues like the Coconut Club. Get ready for a night of dancing and great vibes if you head to one of their shows.
Also known to perform in the Austin club scene, BabiBoi is a popular local musician that is part of the queer art collective House of Lepore. Follow them to get updates on future performances!
A former contestant on NBC's The Voice, Tje Austin is an R&B singer-songwriter, artist, and cake maker! Follow him to find out where to find his next show and stream his music!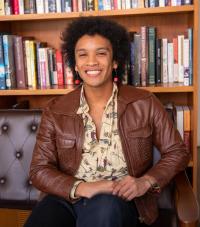 Contributed by Jade Fabello
Jade Fabello is an Austin-based writer and a recent graduate of the University of Texas, where he was a double major in the Journalism and the Communication and Leadership programs. You can find his work at JadeFabello.com. 
Instagram @Jade__Fab. Twitter: @Jade_FW