Hungry for more? We've got tacos for days. While our Austin taco dinner list was pretty indulgent, there is also room on your daily plate for the lunch taco. Often lighter but no less tasty, this taco roundup will help you decide where to head for your mid-day meal.
Fresa's Chicken al Carbon - Conveniently located on Lamar downtown, this drive-thru and walk-up shop prepares high-quality, hand-prepared tacos, often paired with a chicken dinner and freshly made salsas. A perfect stop for lunch, they also serve organic breakfast tacos and Stumptown coffee.
Amayas Taco Village - So delicious that a new location in Southpark Meadows has just been opened, this gem is the perfect sit-down taco shop for those looking to escape the office for a mid-day meal. The real star of these tacos are the homemade corn tortillas that are fried fresh when you order - no matter the filling, the shell will make it amazing. Also, don't skimp out, get the sopapillas.
Mi Madre's Restaurant - Just east of UT on Manor Road, Mi Madre's serves fresh house-made tacos in its casual dining room and on their outdoor patio. The avocado and park carnitas tacos are a favorite, but be sure to also try the chorichangas from the dinner menu (served all day).
Porfirio's Tacos - Located just south at the corner of Holly and Comal, this spot sports breakfast tacos and lunch plates Monday through Saturday, and also owns a food truck that circulates a bit further north. With many classic staples, this is the perfect lunch taco, especially with the star of their tacos - the homemade green salsa. Try it with the Migas on corn.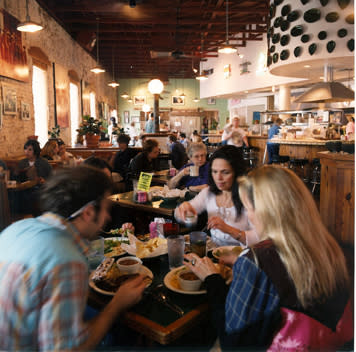 Eat all of the tacos! Diners chowing down at Guero's Taco Bar on South Congress. Photo courtesy of Guero's Taco Bar.
Guero's Taco Bar - This sit-down hot spot is located in the heart of SoCo and is often host to many a celebrity on their outdoor patio and live music stage. While the lunch specials are delicious, check out the taco plates - two hearty soft tacos plus rice and beans. We love the brisket and shrimp tacos.
Casa Garcias - This taco house is claimed to have some of the best tortillas in town - you can watch them being hand-made the moment you walk in the door. With breakfast tacos and traditional tacos served all-day, you can make whatever you'd like of your lunch hour. Both the corn and flour are delicious, and whatever you get, if you're feeling wild add some bacon and/or avocado slices.
Lavaca Street Turf N Surf - In the heart of downtown, these sea-side tacos are dressed with mixed greens, slaw and cilantro-ranch dressing, making it one of the most refreshing taco pick-me-ups for lunch. Stop by the window outside and place your order immediately.
Salsa and Kimchi - For a different type of taco located just off East Riverside, this food truck is a great go-to for lunch crowds looking for something with a little bit of fusion. Try the bulgogi tacos with kimchi fries for the perfect Korean and Tex-Mex hybrid.
OneTaco - Visit this food truck hot spot on West Sixth Street or stop by the new brick and mortar in northwest Austin. These lunch and dinner tacos come on flour tortillas with clever dining additions. Try the Relax Taco, or the GOWALLA (GuacamOle With bAcon, corn tortiLLA, sTeAk and queso fresCO).
The Peached Tortilla - Steering a bit away from the traditional, this famous food truck sports banh mi, crunchy fish and pad thai tacos from its floating lunch food truck. Its worth the wait to see what the fuss is all about.
Want more options? We cant pick them all. Check out Zagat's great list on tasty taco trucks to get your fill during the day, road-side.