Austin is weird. That's great! The zany, wacky and wonderful culture of Austin, Texas is the reason artists, musicians, start-ups and innovators all thrive here.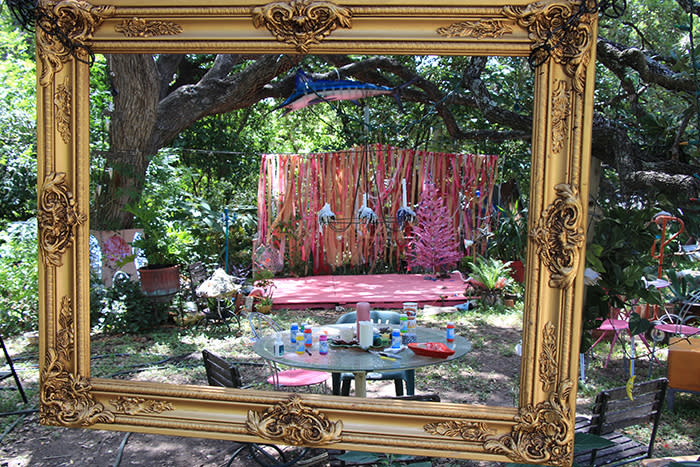 Sights from Flamingo Ranch. Photo by Matt Glazer.
Of course, with the rise in Austin's popularity as a destination for business and relocation, comes one startling fact: according to a 2014 Zandan Poll, nine out of 10 Austinites think Austin is weird, but over half say it's becoming more similar to other major US cities.
The annual Weird Homes Tour highlights the many wonderful homes and people who are working to reverse that statistic. We truly believe the uniqueness of Austin resides in the places, and people, who call it home. Whether the home is a project on sustainability, an artist's sanctuary or an eclectic community art project, the Weird Homes Tour has one simple goal: to embrace the hidden beauty of our city.
Actually, the tour has two goals. The second is to give back. In fact, giving back is the one of the main reasons this tour was started! Caritas provides a service continuum for those experiencing poverty, which begins with a safety net and links them to resources to achieve self-sufficiency. Regardless of a client's past experience and future goals, Caritas works alongside each one to increase stability and self-sufficiency. It's really not that weird! That is why the Weird Homes Tour is dedicated to giving 20% of all ticket sales to Caritas.
A lot can be said about what is or isn't weird. The Austin Weird Homes Tour has our ideas and we hope you do too. The point isn't about defining weird. It's about how to embrace it. When you think about what makes this city great or why you moved here, what do you think about? Everyone has his or her own story and that's great. What we want to do now is to preserve the legacy and heritage of the funky and strange.
To be a part of the experience, join the tour for the pre-party on September 12 and experience the weird homes for yourself on September 13. We've got eight incredible homes and homeowners who want you to see their version of weird. When you do, you will know that you're helping to make Austin a little bit better and a little bit weirder.
Contributed by Matt Glazer, Austin Weird Homes Tour