Sample harvest season's finest with these Austin area wineries, wine bars, events and more.
HILL COUNTRY WINERIES
The Hill Country wine trail is a swirling path of sipping and touring where more than 40 wineries are proudly pouring everything from pinots to chardonnays. Begin with a special tasting tour along the Dripping Wine Trail and enjoy picnics, live music and wine from Westcave Wine Cellars, Hawks Shadow and Bell Springs Winery.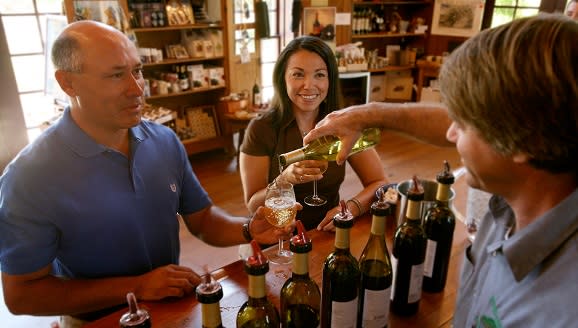 Northwest of Austin, Marble Falls is renowned for its beautiful scenery. Hike around Granite Mountain and then check out local vineyards for tastings of varietals like Shiraz, sangiovese and chardonnay. Fredericksburg is your gateway to one of the most robust wine regions in Texas Hill Country. More than 20 wineries and vineyards offer award-winning varietals including cabernets, tempranillos, viogniers and rieslings. Try Becker Vineyards near Stonewall for hand-crafted, Bordeaux, Burgundian and Rhone-styled award-winning wines (they've been served in The White House!). Visit Stone House Vineyard in Spicewood for red and fortified wines and a range of Australian labels. Take in a sunset with a romantic vineyard view backdrop at the Duchman Family Winery.
GET A GLASS HERE
Austin's urban wine bars pair cool ambiance with impressive selections and wine specials. Cru is a cozy, romantic option for wine by the bottle or by the flight. The constantly changing international wine selection and Mediterranean plates at House Wine go great with the live music by local talent. The Austin Winery handcrafts small-lot wines sourced from the finest vineyards and Max's Wine Dive brims with live music, a welcoming wine bar and gourmet farm-to-table eats from Executive Chef and Chopped winner Erica Beneke.
WINE EVENTS
Austin Food + Wine Festival
April
Culinary creatives and foodies meet in Austin for a weekend of chef showdowns, parties and beer, wine and spirit tastings led by award-winning brew masters, winemakers and mixologists.
Texas Wine Month Trail
October
Head to the Texas Wine Country where more than 40 wineries open their doors to tasters for this month-long event.
Annual Gruene Music & Wine Festival
October
Enjoy live tunes and the best of Texas food and wine at this Americana event benefiting the United Way of Comal County.
Not afraid to get messy? Watch the events calendar for grape stomps, a popular to-do held at many wineries in the area at the end of harvest season in August.