Austin is becoming known for the many craft breweries in the area, but did you know there is a winery within the city limits?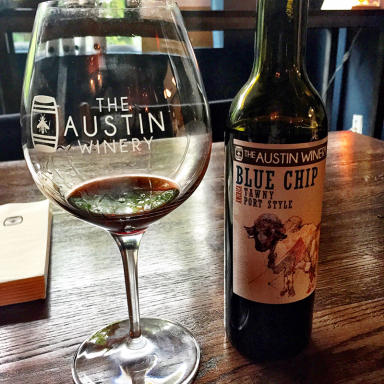 The wine makers at The Austin Winery work with vineyards in regions that are known for the highest quality of a particular varietal so they can produce the best wines. They contract acreage on small, family owned vineyards in places including Texas, California and Washington. They then go to the vineyards to harvest the grapes and bring them back for wine making!
Visitors can schedule a tour of the winery and then the best part, taste the wines! When we visited, we tried several wines and my favorites were the award-winning Work Horse (red blend) and the Russian River Valley Pinot Noir (I prefer reds, but the whites I tasted where wonderful as well). One of the most unique aspects of the Austin Winery is the hand drawn labels. Each wine label has a distinct drawing by Texas artist, Nicholas Mathis. You can also find some of their wine in various stores across Texas. Tastings are $15/person and include a tour of the winery and 6 wines of your choosing. You can also schedule a private tasting with the winemaker, Cooper. Located just northeast of downtown, off of Highway 290, the winery hours are Fridays and Sundays, noon- 6 p.m. and Saturdays, 11 a.m.- 9 p.m. Mondays-Thursdays are by appointment only.
The Austin Winery 9007 Tuscany Way, Ste. 100 Austin, TX 78754  
Contributed by Katie Cook.