There is no question that Austin is the place for craft brew- the only dilemma here is choosing where to go first. Id say that this "dilemma" is pretty manageable, and Ill even go a step further by giving you a couple of my favorite selections. Make sure to leave room for food because these places will make sure you dont drink on an empty stomach!
Uncle Billy's Smokehouse & Brewery Here's the deal, I don't have an Uncle Billy, but if I did then I would want him to own a craft brewery/barbeque spot with a huge dog-friendly patio that features live music. And that is what you should expect from Austin's own Uncle Billy's which is situated right down the street from Zilker Park and Barton Springs Pool. Spend an afternoon exploring Austin's iconic outdoor hotspots and then stop in for craft beer and Texas-style barbeque. Craft suggestion Rock of Ages Lager (named after the Rock of Ages tattoo shop on South Lamar). Also make sure to stop by on Sunday afternoons throughout May 2014 to hit up the KUTX Live Music Series.
Pinthouse Pizza Who doesn't like beer with their pizza? And that's exactly what you'll get at Pinthouse, where the exterior sign proudly proclaims Pizza & Beer. The artisan pizza is made of local and organic ingredients and the friendly staff were very helpful and allowed me to test out a couple of their suggestions. Craft suggestion Pinthouse's own Old Beluga Amber Ale. Check out our interview with the brewer in our May e-newsletter.
Frank Maybe it's my inner marketing nerd, but there is just something about a good branding package that really gets to me. The great thing about Frank is that as soon as I stepped into the restaurant, I knew I was going to have a good time. The hip-yet-vintage surroundings are impressive; from the public art display on the exterior that faces Fourth Street to the Austin Beerworks on tap, it's all in the details. Craft suggestion pair a fresh Peacemaker with the Southern Boy and chili cheese waffle fries. Special Note: ALL hot dogs can be swapped for the vegan dog or sausage and vegan chili and cheese; gluten free options are also available.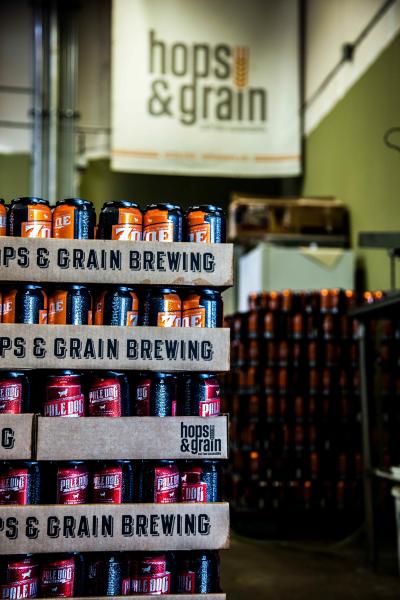 Hops & Grain sweating cans, courtesy of Thomas Winslow. See some of the many local breweries to learn more about the art and process behind this beer making!
WhichCraft Beer Store With a pun like that, it has to be good. Just in case you haven't had enough craft beer during your visit, make sure to stop by South Austin's new WhichCraft Beer Store and grab some to-go. This team really loves beer and is very helpful in navigating the huge selection of local, national and international craft cans and bottles. You can pick up a new brew, stop in for a tasting or create your own six-pack. Craft suggestion: Boulder's tasty Avery White Rascal. I'm smitten.
Be sure to celebrate your favorite craft brews at other local stops in town, or check out your favorite brewery during Austin Craft Beer Week. Learn more about our local breweries to get warmed up.
Contributed by Christine Felton, ACVB Marketing Intern.