The Texas Hill Country is bisected by several major rivers and is a very green and colorful place for visitors, almost year-round. Beyond the rivers that flow through the Hill Country, you'll find several swimming holes, discovered long ago and loved for as long as they've been known, some frequented by locals for many decades. These are no longer secrets, of course, as they have become popular spots, especially on hot summer days. Here are five area swimming holes that are well worth exploring.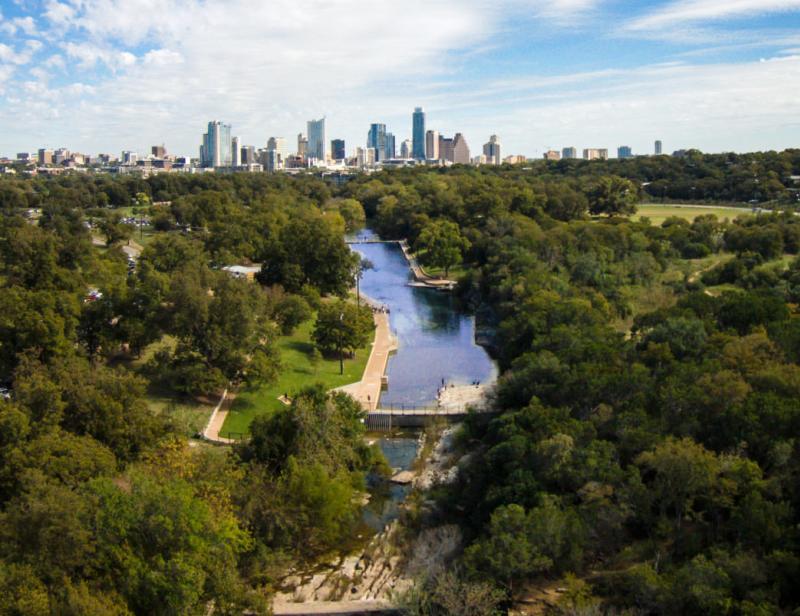 Barton Springs Pool. Credit Lars Plougmann.
1. BARTON SPRINGS | AUSTIN, TEXAS
Barton Springs is one of Austin's favorite landmarks, located within Zilker Park along Barton Creek. The spring-fed pool remains a cool 68-to-70 degrees year-round. During the long Texas summer, there's nothing quite as refreshing as taking a plunge into the cool, spring-fed waters. Beyond that, it's a local gathering spot, showcasing an important part of Austin lifestyle - and that's knowing how to embrace a sunny day for all that it's worth.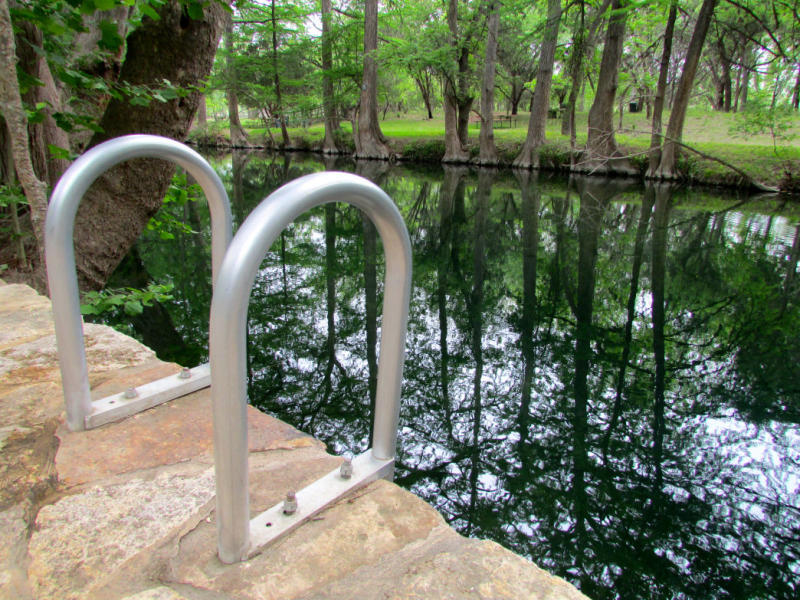 Blue Hole. Credit Tara Schmidt.
2. BLUE HOLE | WIMBERLEY, TEXAS
In downtown, historic Wimberley, you'll find Blue Hole, a particularly beautiful swimming hole created by Cypress Creek and lined by the gnarly roots of the cypress trees common to the area. A nostalgic rope swing hangs high on a limb, and locals can be found enjoying the blue waters of the creek on hot summer days. Wimberley is a charming town worthy of a visit, too. Spend a Sunday swimming at the Blue Hole before visiting its outdoor Corral Theater for a Sunday evening film under the stars. Advance reservations required.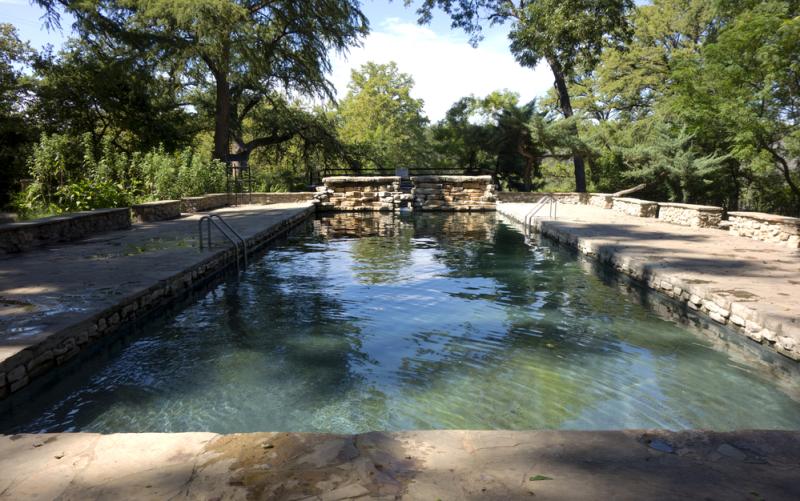 Krause Springs. Courtesy of Expedia Viewfinder.
3. KRAUSE SPRINGS | SPICEWOOD, TEXAS
Krause Springs has been operated by the Krause family for more than 50 years, making it a place of historic significance—in fact, the springs are listed on the National Register of Historic Places. About an hour outside of town, the springs are on private property, though it's open to visitors for a small fee. With amazing rock formations, several spring-fed pools, cliffs lined with lush green foliage, waterfalls, and a butterfly garden, the property is a perfect way to spend a sunny day.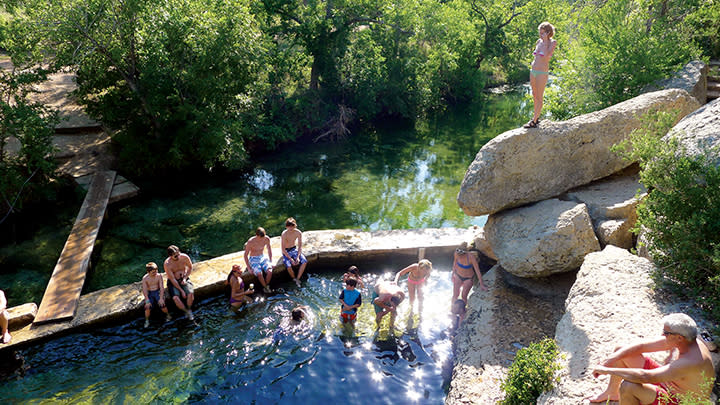 Jacob's Well. Credit Patrick Lewis.
4. JACOB'S WELL | WIMBERLEY, TEXAS
Perhaps one of the area's most popular swimming holes, Jacob's Well in Wimberley has long been a destination for thrill seekers. With an intricate underground cave system and a deep pool in the middle, daredevils have taken a plunge from rocks that tower over the swimming hole since the landmark was first discovered. Others enjoy diving trips into the underwater caves. Spending a day at the "well" is a remarkable day spent at a wildly beautiful section of the Hill Country. Advance reservations required.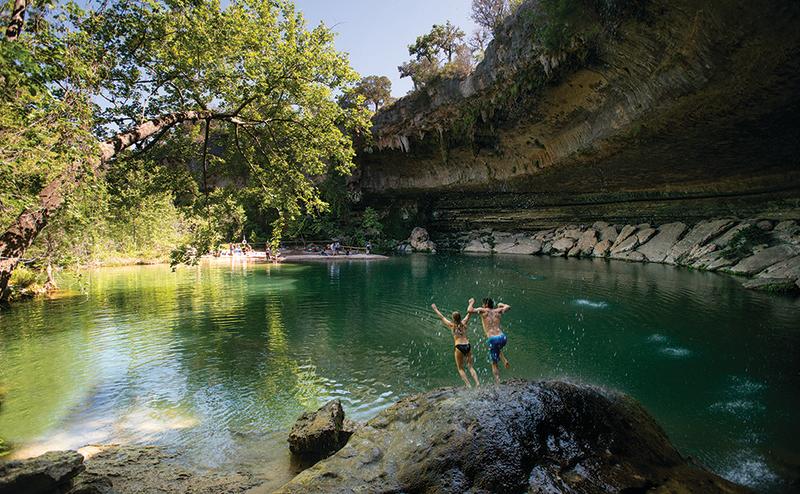 Hamilton Pool. Photo Credit Dave Mead.
5. HAMILTON POOL | DRIPPING SPRINGS, TEXAS
Hamilton Pool is like a grotto tucked away on a backroad near Dripping Springs, as its waters are almost swallowed by a cave that's overgrown with green foliage. From the parking area, it's a short hike to the actual swimming hole, from which you can also hike to the nearby Pedernales River. Like a natural well in the forest, Hamilton Pool is incredibly picturesque, although swimming is restricted at different points throughout the year because of restoration efforts. However, even if you can't swim, it's a site worth seeing. And by all means, take the added hike to the river - the Pedernales River is always worth a visit. Advance reservations required.
Contributed by RootsRated.