Welcome to the Best Seat in the House, a digital series from Visit Austin, bringing together some of the best personalities in Austin's service industry sharing some ways to experience a taste of Austin from home.
In this episode, Founder and Cook Hope Green of Emojis Grilled Cheese shares her simple "at home" Grilled Chicken Pesto Grilled Cheese.
Grilled Chicken Pesto Grilled Cheese
Ingredient measurements are to taste
Seasoned grilled chicken strips
Provolone cheese
Basil pesto sauce
Olive oil
Sourdough bread slices
Emojis Pesto
4 c basil leaves
1/4 c grated asiago cheese
1/4 c grated parmesan cheese
1/4 c grated pecorino romano cheese
1/4 c minced garlic
2 tbsp Italian seasoning
1/2 c olive oil
1 tsp lemon juice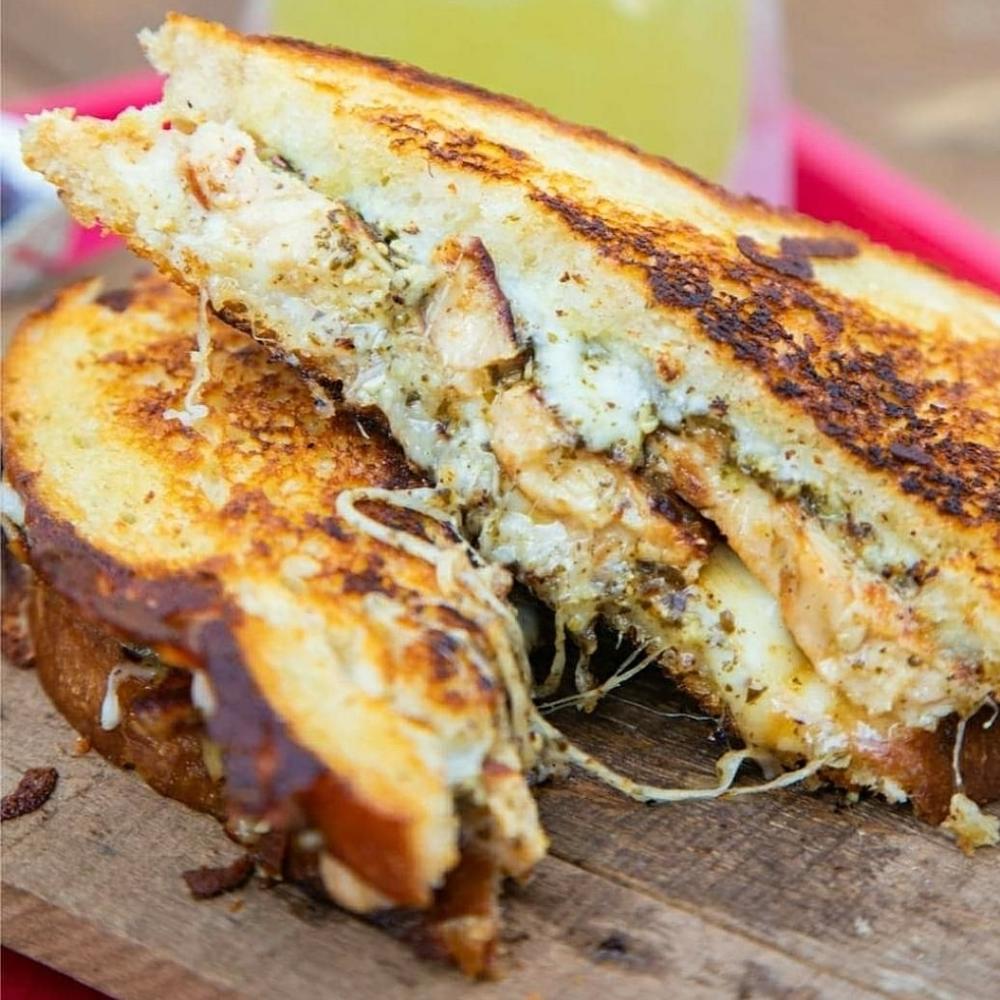 Instructions
Reheat leftover chicken cut into strips, or start with raw chicken pieces by sprinkling your favorite seasoning and cook until done throughout, set aside.
On a hot griddle, drizzle olive oil onto two slices of sourdough bread, then place oil side down onto the griddle. Turn heat down to low.
Sprinkle desired amount of shredded provolone cheese onto each bread slice. Spread the cheese out to the edge of each slice. Let it melt slightly.
Spread a healthy amount of pesto sauce onto one of the sourdough slices.
Pile cooked chicken pieces on top of the pesto.
Flip the other bread slice with melted cheese on top of the grilled chicken.
Flip the entire sandwich onto a plate.
Hope Green
Hope Green is the founder of Emojis Grilled Cheese food trucks where they take traditional comfort food combinations and transform them into unique grilled cheese creations while training homeless teens to become self-sufficient through real world work experience.
Emojis Grilled Cheese
The Emojis Grilled Cheese food truck offers fun and creative spins on the classic comfort food sandwich. Try the 9/13 brisket grilled cheese or a grilled chicken pesto sandwich sided with a refreshing sweet peach tea.
Photos courtesy of Emojis Grilled Cheese.