Welcome to the Best Seat in the House, a digital series from Visit Austin, bringing together some of the best personalities in Austin's service industry sharing some ways to experience a taste of Austin from home.
In this episode, Anthony Sobotik, co-owner of Lick Honest Ice Creams, shares his simple "at home" Creamy Grapefruit Freeze recipe.
Creamy Grapefruit Freeze
​1 pint Lick Honest Ice Creams Hill Country Honey & Vanilla Bean
12 oz. Ruby Red grapefruit juice
3 oz. lemon juice
4 oz. rum
½ tsp. bitters
2 cups ice
1 grapefruit
1 lemon
Equipment
Blender
Knife (Anthony & Chad use Made In Cookware's 8-inch Chef Knife)
2 medium-size glasses
2 straws (Anthony & Chad use reusable straws!)
Ice cream scoop
Instructions
Add (3) two-ounce scoops of the Hill Country Honey & Vanilla Bean ice cream, Ruby Red grapefruit juice, lemon juice, rum, bitters and ice to the blender.
Blend the ingredients together JUST until fully incorporated and the ice is broken down, creating a creamy texture. Let sit.
Cut the grapefruit and the lemon into circular slices, then cut the slices into quarters.
Pour blended mixture into each glass, add straw and garnish with grapefruit and lemon
Cheers!

Anthony Sobotick and Chad Palmatier
Anthony and Chad opened Lick Honest Ice Creams in the fall of 2011 because they wanted to offer "honest ice creams" to savvy palates in Austin. Both grew up in small rural communities, enjoying homemade ice cream: Anthony from Hallettsville in South Central Texas and Chad from Lancaster, Pennsylvania. The two met in New York City in the winter of 2005 and immediately connected (small town minds in the big city). As the years passed and after many train rides to Lancaster, Anthony began to truly appreciate what Chad grew up with…local, small town ice cream shops that made seasonal flavors with locally sourced ingredients: fresh, unique and delicious! With each lick, Anthony wondered what kind of flavors he could craft from the ingredients he grew up eating in Texas. Chad never ate ice cream at a chain, and from 2005 on, Anthony didn't either.
In New York, Anthony (who had actually moved to the city with hopes of being a writer for a food magazine) worked as a caterer and event planner, where he deepened his love of working with food. He became inspired by the menus and dishes he helped develop and began mentally storing this inspiration for future use.  Eventually, Chad's career took them away from the hustle and bustle of Manhattan to the Midwest. There Anthony joined a local bakery and continued to dream of ways to include all of his favorite dishes and desserts into one thing.  As several years passed, the dream of honest ice creams began dancing in their heads. All the while, with each trip to visit Anthony's family and friends, Chad was falling more and more in love with Austin and becoming inspired by its creative spirit and local flavors.  Finally, the right time came and the decision was made to sell their home and move to Austin.  Thus began the realization of a dream and the building of Lick Honest Ice Creams.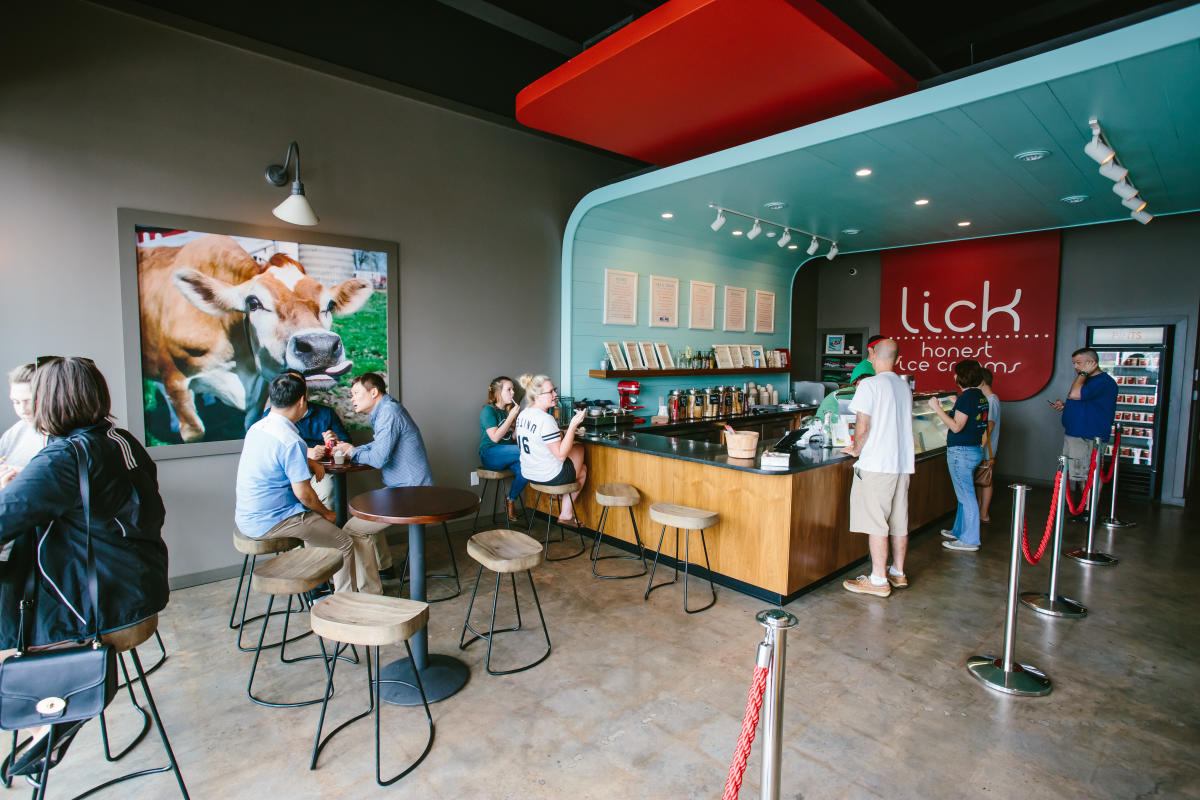 Credit Annie Ray.
Lick Honest Ice Creams has been making seasonal and sustainable artisan ice creams since 2011. Free of any antibiotics and hormones, Lick's milk and cream comes from grass-fed Texas cows. The other ingredients are sourced from across the Lone Star State, with a focus on Central Texas, and are always grown naturally and certified organic whenever possible. Every component is made from scratch in Lick's kitchen and each pint and tub of ice cream is packed by hand.