Welcome to the Best Seat in the House, a digital series from Visit Austin, bringing together some of the best personalities in Austin's service industry sharing some ways to experience a taste of Austin from home.
In this episode, pit-master Miguel Vidal of Valentina's Tex Mex BBQ shares his simple "at home" cilantro lime grilled chicken with ensalada fresca.
Cilantro Lime Grilled Chicken with Ensalada Fresca
BBQ Chicken Thighs 
2- 3 lbs boneless skinless chicken thighs
2 tbsp olive oil
½ tsp kosher salt
¼ tsp ground pepper
¼ tsp granulated garlic
Ensalada Fresca 
4-6 ounces of mixed greens and heart of romaine, blended.
1 tbsp olive oil
2 ears of corn shucked and cut off the cob or canned corn
2 cups of diced tomatoes 
1 cup of black beans
1/2 cup of crushed candied or honey toasted pecans
1 cup of diced apple pieces
2 peeled and diced avocados.
1/2 cup of grated Monterey jack cheese
Corn tortillas for tostadas or corn chips
Salt & pepper to taste
Cilantro Lime Dressing
2 cups lime juice
1 cup olive oil
1 bunch of cilantro, chopped
2 T salt
¾ cup of honey
½ cup sugar
1 tsp granulated garlic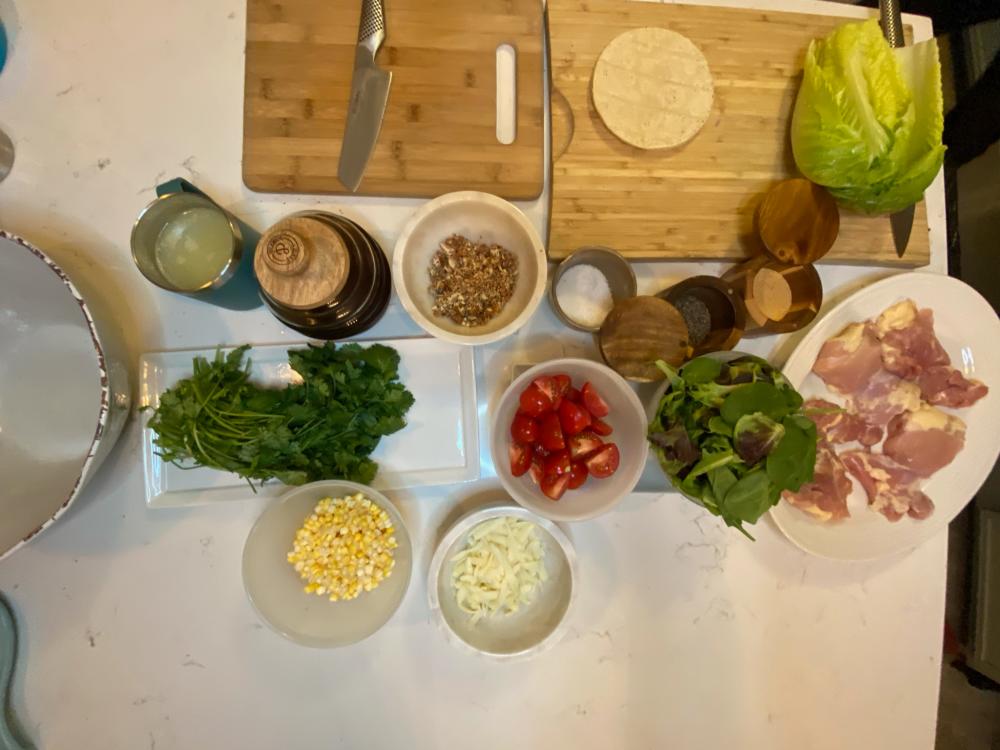 Instructions
Preheat BBQ pit/grill to 350-400 degrees. Mix together the salt, pepper, and garlic. Coat the chicken thighs with the seasoning mixture. Place chicken thighs on the grill about 1/2 inch apart.  Meanwhile, heat up cast iron pan over coals with 2 tablespoons of olive oil. Grill chicken over coals 20-24 minutes, flipping every 5-6 minutes. While chicken is cooking, make Cilantro Lime Vinaigrette & Ensalada Fresca.
Combine all ingredients for the vinaigrette in a blender, saving the olive oil for last. Add olive oil while the blender is running to prevent separation. Set aside.
Sauté corn with 1 tablespoon olive oil in a pan over medium heat for 3-4 minutes until done with a slight crisp. Set aside in separate bowl or plate to cool. Cut 3-4 tortillas into 1/4 inch strips using the full length of the tortilla. Preheat vegetable oil in a frying pan to 350 degrees with about 1/2 inch depth of oil. Cook for 1-2 minutes constantly rotating strips in oil with metal tongs. Cook until crisp. Remove from oil and let cool over paper towels placed on a plate. Immediately season with salt and pepper. Place all vegetables in a large salad bowl and mix. Coat with 1/2 cup to 1 cup of  Cilantro Lime dressing and mix thoroughly. Top salad with crushed pecans, cheese and tortilla strips.
After 20  min, move chicken thighs to cast iron and pour 1 cup of cilantro lime dressing over chicken. Flip after 30-45 seconds and sear until dressing reduces and coats the chicken with  glaze. Chicken thighs are best at about 180 degrees internal temp. Remove from the pan and let rest for 3-5 minutes on a cutting board. Slice thighs and serve over ensalada fresca.
Miguel Vidal
Miguel Vidal grew up in San Antonio, Texas with a tight knit family. Together, they cultivated Miguel's passion for cooking  and sharing food with loved ones. Miguel has spent 20 + years in the service industry. Out of this experience, family values, and his love for cooking, Valentina's was created. Miguel and his wife Modesty own and operate the trailer day to day.  Valentina's truly is a family business.
We have a saying at Valentina's - Hecho Con Amor. It means made with love. Just like Miguel's family cooking,  everything he creates is made with so much love. Fresh hand-rolled flour tortillas, spicy salsa, avocado, cilantro, and lime  are a favorite when it comes to accompanying his Mesquite smoked meats. Miguel brings the spirit and tradition passed  down through generations in every dish he creates at Valentina's.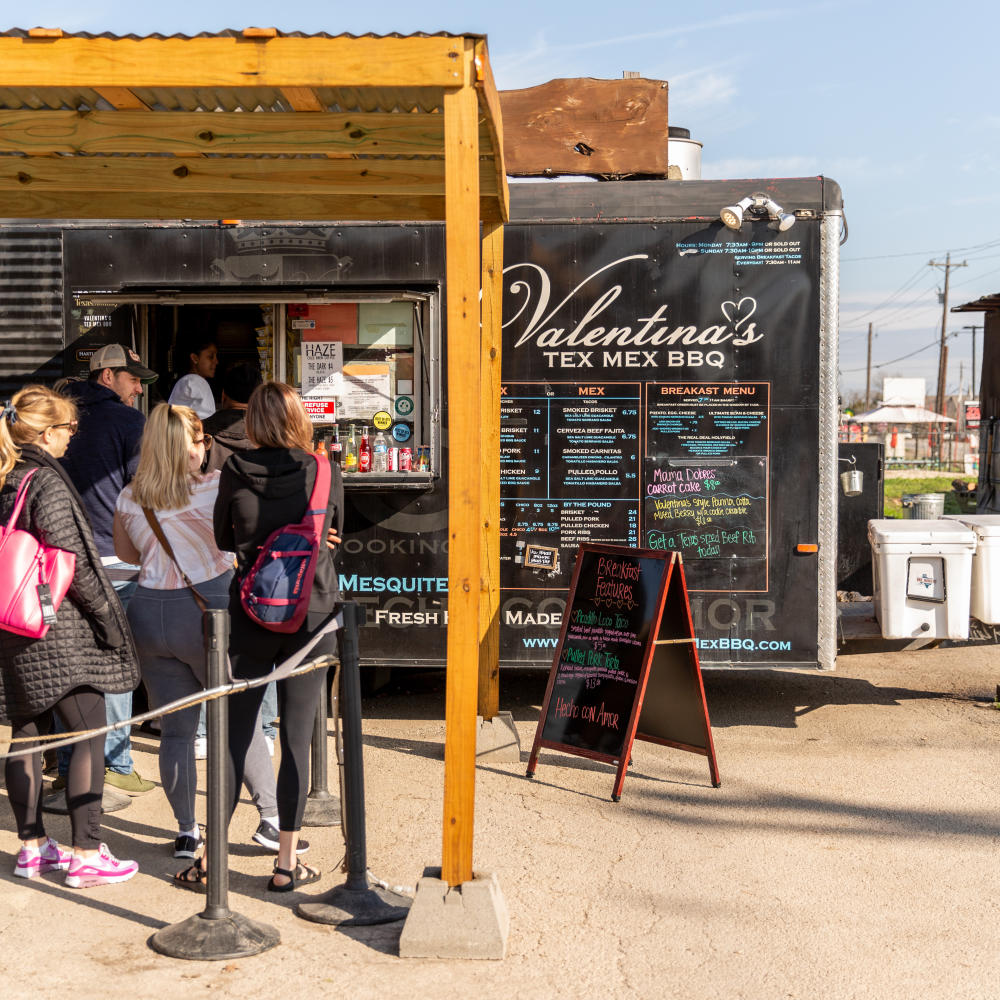 Credit Kirsten Kaiser.
Cruise up to this food trailer is South Austin for breakfast, lunch and dinner. Take your pick from "Tex" sandwiches or "Mex" tacos — or just order juicy meats by the pound, from pulled chicken and pulled pork to pork ribs and beef ribs.
Unless otherwise noted, photos courtesy of Valentina's Tex Mex BBQ.