Summer in Texas is all about finding a cool place to play, so look no further than Blue Hole! Located just 45 minutes south of Austin approaching Wimberley, Blue Hole has crystal-clear water that stays 75 degrees year-round, and is surrounded by tall cypress trees which offer plenty of shade.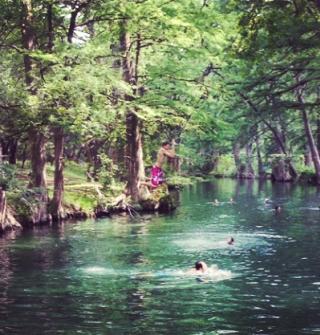 Blue Hole is the Disneyland of Texas swimming holes! There is a beautiful, well-manicured grass lawn on the edge of the swimming hole perfect for setting up chairs or blankets and spending the day lounging in the sunshine. Visitors can pack a cooler and spend their time in the shade where picnic tables are available. There are also very nice restroom facilities located along the pristine stone path, which leads you down to the water.
Visitors can bring floats, inner tubes or noodles and relax in the clear water while dangling their feet. For the more adventurous type, there are rope swings hanging from the beautiful towering trees that throw you out into the deeper part of the pools, as well as ladders available on well-kept wooden docks to help you find your way out of the water to try the rope swing again (and again). For the little ones, the pool has a small, shallow area for splashing around (but don't forget that it is a natural spring, and pretty cold)!
There are no lifeguards available, so take note when swimming. There is limited admittance at the Blue Hole in order to keep it from getting overcrowded, so be sure to arrive early. I would also recommend some water shoes, as the bottom is made of rocks and can sometimes be slippery.
The pool hours of operation usually run from 10 a.m. to 6 p.m. Sunday through Friday and 10 a.m. to 8 p.m. on Saturdays and holidays. There is a per-person fee to enter the park: adults and children 13 and over, $8; children 4 to 12, $4; adults 60 and over $4.
Blue Hole Blue Hole Road Wimberley, TX 78676
Photo courtesy of Kristen Maurel.