There is nothing quite like the drive-in experience. Watching movies outdoors under the moonlight, with the evening breeze blowing through open windows and a bag of popcorn in hand, just seems like more of an event than kicking it inside a movie theater. And since it's practically outdoor movie season year-round in Austin, there's rarely a bad time to enjoy a flick al fresco. One place to pop the hatchback and relax: Blue Starlite Mini Urban Drive-In.
History
Blue Starlite Mini Urban Drive-In first opened its proverbial doors 11 years ago, then expanded to three Austin locations (Mueller, Downtown and North Austin), plus one in Round Rock, Texas and Colorado. The Mueller location has 8 total screen experiences and a food truck, while Downtown has two screens atop a parking garage. Visit Blue Starlite's North location in partnership with Garbo's.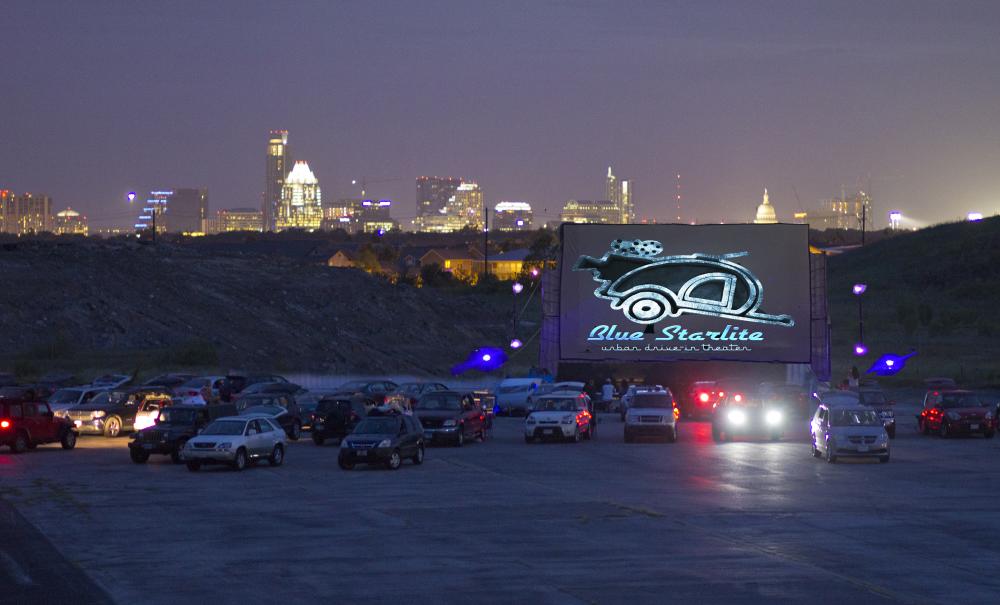 Courtesy of Blue Starlite.
Catch a Movie
While Blue Starlite might not offer the exact same experience you remember from childhood—there are no monstrous screens, rows upon rows of parked vehicles or those garbled speakers you clip on your window—it does still offer a way to enjoy the movie-going experience from the comfort of your vehicle.
Don't want to sit in the car? Blue Starlite also offers sit-in screenings on their lawn and tickets for some viewings if you prefer to bring a chair or blanket instead if sitting in your vehicle.
Most of the movies you'll find on the schedule at the Mueller location are classics, cult favorites and flicks that are a few years old, but popular, nonetheless. Think the entire Harry Potter series, 80's horror movies, and Twister, E.T. and The Sandlot. Find newer releases at the ATX Downtown Sky location. The Mueller location even offers special dinner screenings where your showing is accompanied by a meal.
All locations offer limited concessions, but remember to pre-order if you're headed Downtown, bring your own snacks or order food from a nearby restaurant and have it delivered! If you're visiting the North location, you can conveniently order a lobster roll for dinner and soft serve from Connor's Creamery for dessert.
How To Go
Ready to get your tickets? The theater recommends pre-purchasing online to ensure you get a spot. But the ticketing system can seem a bit complicated, so be prepared to read descriptions carefully to ensure you're purchasing the right ticket type.
For regular drive-in slots, order a "car slot for two" ticket, then add on additional passengers as necessary. For walk-in or sit-in screenings, the website will specify that those tickets are different than the drive-in slots, and you'll order those separately if you're visiting without a car.
As for accessibility, the car slots at both locations are highly accessible, though uneven ground at Mueller may be a bit rugged for some wheelchairs. There are Closed Caption Wednesdays at Mueller and accessible portable bathrooms are available on the first floor of Downtown and in the main office at Mueller. The theater will also accommodate with closed captions on any screening provided you submit your request at least a week in advance.
Are you a movie buff looking to explore more of Austin's film scene? Check out our Austin Film Tourism Guide to see film locations around town from some iconic Austin-made flicks.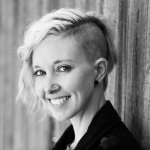 Contributed by Alisha McDarris.
Alisha McDarris is an Austin-based writer who specializes in writing about the outdoors, vegan food, and sustainable travel. She is the co-founder of sustainable travel and adventure blog Terradrift.com and accompanying YouTube channel (youtube.com/terradrift) and her outdoorsy tips and tricks, plus vibrant photos of wild spaces and places, can be found on Instagram (instagram.com/terradrift).