Austin history has already been made in 2015 with "Boyhood" taking home three Golden Globe Awards: Best Motion Picture Drama, Best Director Richard Linklater and Best Supporting Actress Patricia Arquette.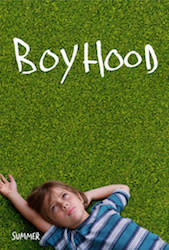 12 years in the making, Richard Linklater's "Boyhood" is a personal epic and nothing short of memorizing. The cast and crew assembled for two weeks of filming every year from 2002 to 2013. In doing so we are allowed to see Mason Evans (Ellar Coltrane) really age as we follow his enriching story of youth in modern Texas. For age six through to the first days a college, we see from Mason's eye, the struggle of his single mother Olivia as she raises Mason and his sister Samantha (Lorelei Linklater) as well as the strained relationships with step-fathers and his biological father played by Ethan Hawke.
As the year ends, again we are back to "Boyhood." Deservedly so, the film has been lauded with awards and positive viewer response through the year, starting with Linklater receiving the Silver Bear at the Berlin International Film Festival. Accolades from the American Film Institute, Gotham Awards, National Board of Review and SXSW followed.
Recently, "Boyhood" was nominated for a number of Independent Spirit Awards as well as top industry prizes at the annual SAG, ACE and PGA award ceremonies. Just to keep track, "Boyhood" has also ranked as many Critic Circles Best Film of the Year including:
Austin
Boston
Chicago
Detroit
Dublin
Kansas City
Los Angeles
New York
Phoenix
San Francisco
Seattle
St. Louis
Toronto
Washington D.C.
Word on the big prize however will be announced on January 15, 2016 with the Academy Award nominations! If you haven't seen "Boyhood" yet, its available on most VOD (Video on Demand) services.