Whether it's pint-sized players running around on a city field or professional athletes suiting up for big games, football matters in Texas. So it's fitting that the most extensive and comprehensive professional football exhibition ever to go on tour makes its first Texas stop at the Bullock Museum.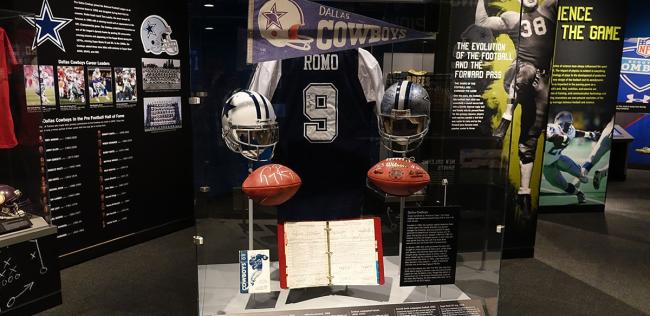 Featuring visitor activities, audio and video produced by NFL Films, and an extraordinary collection of more than 200 artifacts, Gridiron Glory presents the panoramic story of professional football, from its humble beginnings in the late 19th century to its current status as a cultural phenomenon. The exhibit will run September 26, 2015 - January 3, 2016. While you're enjoying the exhibition, don't miss a football and leather helmet dating to the earliest days of football, Houston Oiler/New Orleans Saints kicker Tom Dempsey's specially-designed kicking shoe, Texan Mean Joe Greene's jersey, the Super Bowl trophy, as well as one-of-a-kind artifacts that tell the stories of Red Grange, Dick Butkus, Joe Namath, Bart Starr, Tom Landry, Joe Montana and other gridiron greats from the Lone Star state.

To learn more about the Bullock Museum, including the Gridiron Glory exhibit, visit storyoftexas.com. Courtesy of Bullock Texas State History Museum.