What's so great about dining in Central Austin is that there's range. From classic American to fusion to haute cuisine, the central part of the city has long attracted high quality restaurants that stay the course. If you're staying in or visiting Central Austin, you can just look around the neighborhood for great spots with excellent food.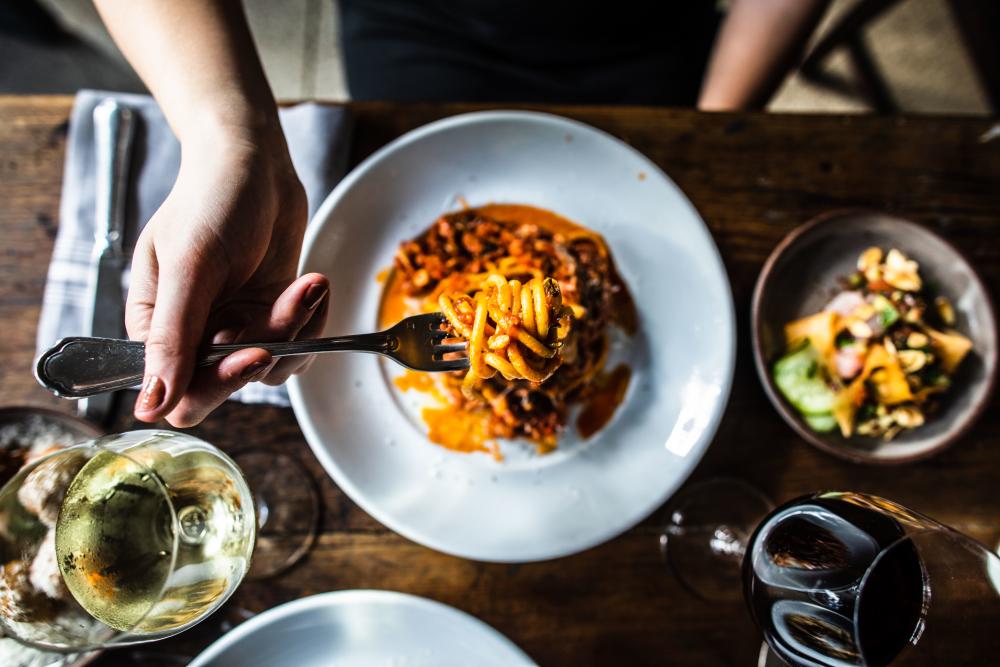 Courtesy of Olive & June.
Olive and June is a gorgeous Italian restaurant shaded by a huge tree, string lights, and a patio that's perfect for the times in Austin when you want to sit outside. The wine list is set out by flavors (cherry and oregano, tar and roses) and like in any good Italian spot, the servers are experts at pairing. Their dishes are seasonal and locally-sourced with a menu that changes accordingly.
For something funky, Vamanos hits all the high points of Tex-Mex. String lights, Frida-blue tables, and a solid tequila selection add to its charm. Come here for steaming enchiladas, tacos al pastor, skirt steak with rajas hot off the grill and handmade puffy tacos on Tuesdays.
Tucked in at The VORTEX theater is Patrizi's, handmade Italian from a charming food truck strung with lights. Owner Nic Patrizi uses his grandmother's recipes to wow bar patrons with cacio e pepe, pomodoro, and red sauce and meatballs. Order at the truck and settle in with a cocktail from Butterfly Bar while you wait.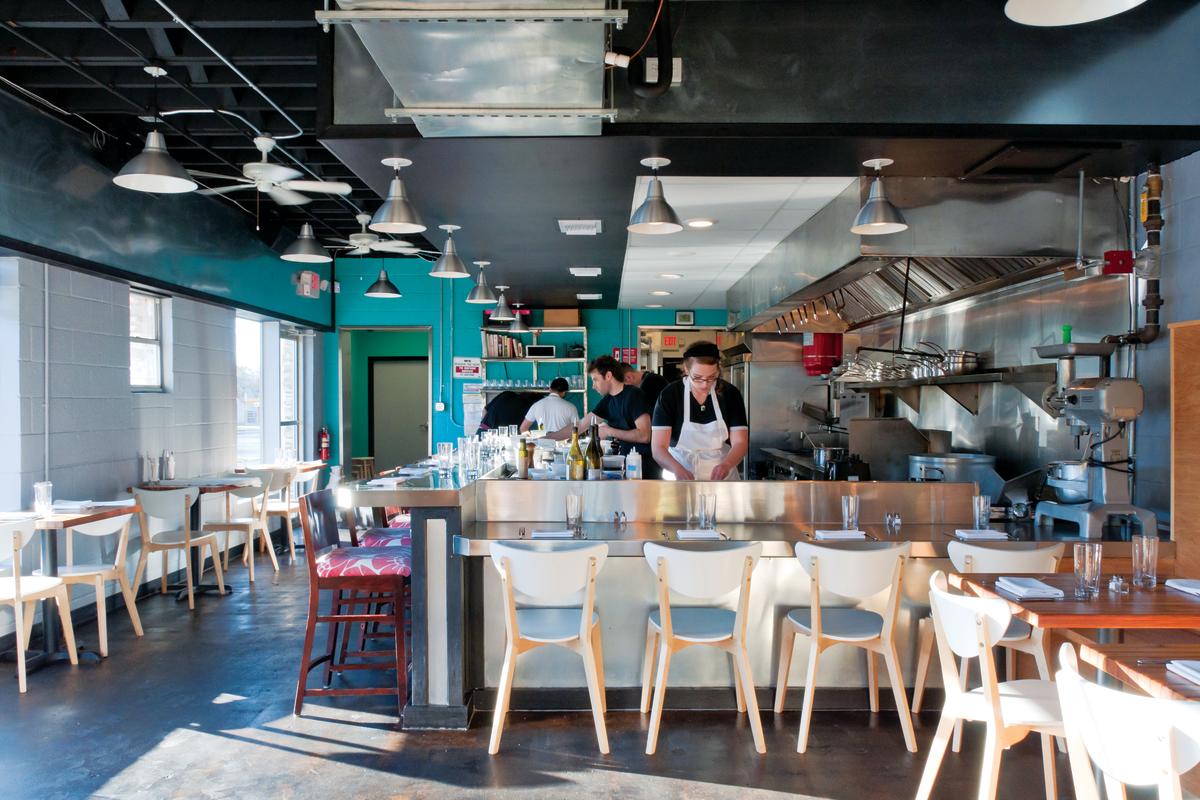 Courtesy of Foreign & Domestic.
Head to North Loop to dine at Foreign & Domestic, one of the best nose-to-tail dining experiences for those who appreciate the unusual cuts. They also emphasize seasonal and local and the place is intimate so best to make a reservation. And if you can make it, stop in for excellent deals during their happy hour and for dollar oysters on Tuesday.
If you're looking for a fun restaurant concept and a delicious bite to eat, you have to check out Bird Bird Biscuit in Central Austin. This trendy shop is creating delicious sandwiches served on classic southern biscuits with soft inside and crispy edges. Whether you're in the mood for  breakfast eggs, fried chicken or chicken sausage, Bird Bird Biscuit brings the chicken and the biscuit together for a tasty meal whichever way you order it.
Central Austin's Old Thousand is the second location of this popular Asian spot that's made a name for itself by bringing together elevated Chinese dishes and old school hip hop. Shazam every song on the playlist while sharing dishes of their brisket fried rice, chongqing chicken, spicy dumplings, and kung pao cauliflower.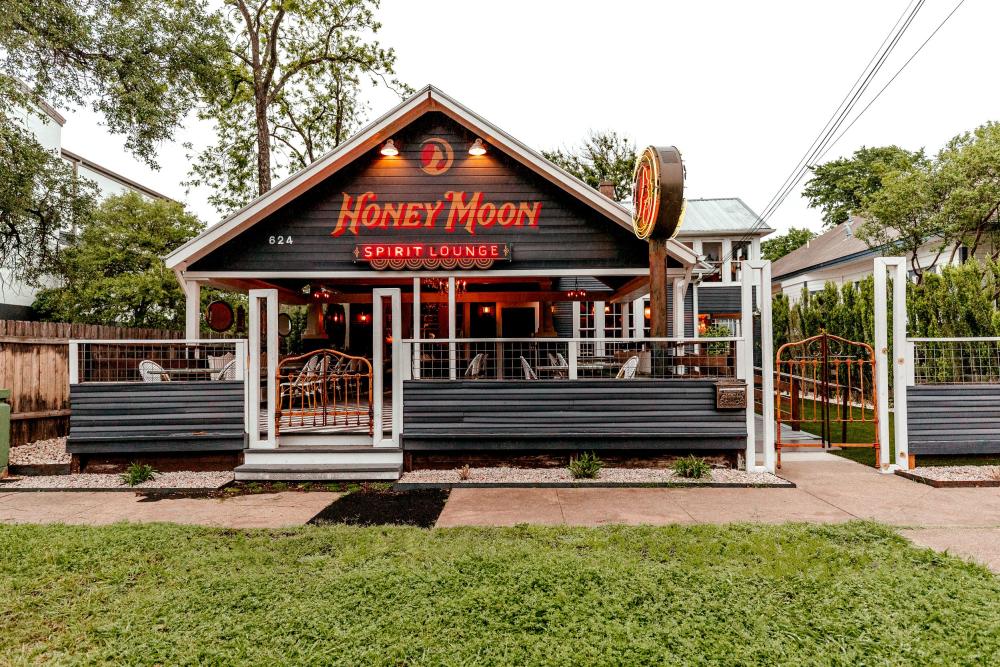 Honey Moon Spirit Lounge. Credit Cassandra Klepac Photography.
There are almost no words to describe the evocatively designed interior of Honey Moon Spirit Lounge. It's like someone went to all the coolest vintage shops, found the best thing there, and then designed around them. Having drinks or dinner here feels like you somehow got admitted to the cool kids club. Try the duck confit - you won't be disappointed.
Uchiko, the child of Uchi located in South Austin, is a unique restaurant with a nontraditional take on Japanese cuisine. Uchiko diverges from the norm, with fiery flavors and hints of smoke and char in each dish. Stop by and partake in a memorable dining experience you won't soon forget. 
If you're into putting healthy food in your body—or you have a lot of allergies—Picnik is the place for you. Everything is gluten-free, peanut-free and free of refined sugars. Plus you can add CBD oil, mushrooms, or moondust to any of your drinks.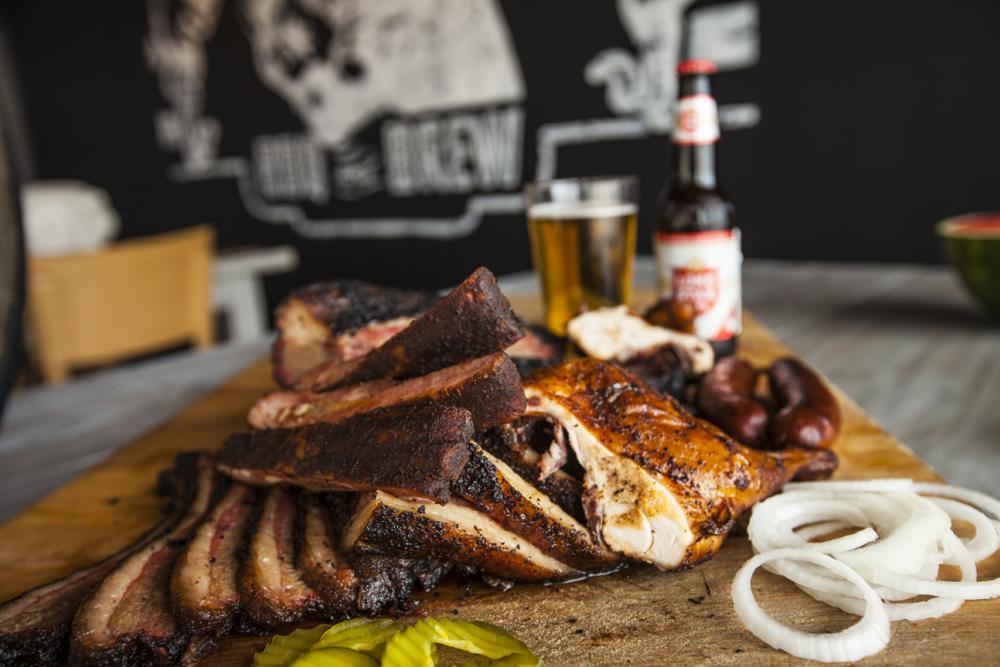 Stiles Switch BBQ & Beer. Credit Brian Fitzsimmons.
Stiles Switch BBQ is serving authentic Texas barbecue flavors and feels right in the heart of Austin. A supporter of the local and Texas craft beer scene, stop in and enjoy a hearty BBQ plate and whatever craft brew feature is on tap. If you're up for the undertaking, you must try the dino ribs. These monster beef ribs are proof that everything is really bigger in Texas. This eatery is located in the nostalgic 1950s themed Violet Crown Shopping Center and if the restaurant looks familiar to you, you're not crazy the space was featured in the 1990s classic "Dazed and Confused" featuring Austin local Matthew McConaughey. 
The wildly popular Bufalina Due is bringing traditional neapolitan pizza and an extensive wine selection to Central Austin. Enjoy seeing your meal prepared before your eyes in the open kitchen and watch your pizza be cooked in the nearly 900 degree wood-burning oven. Bufalina Due is a must for pizza lovers and wine aficionados alike.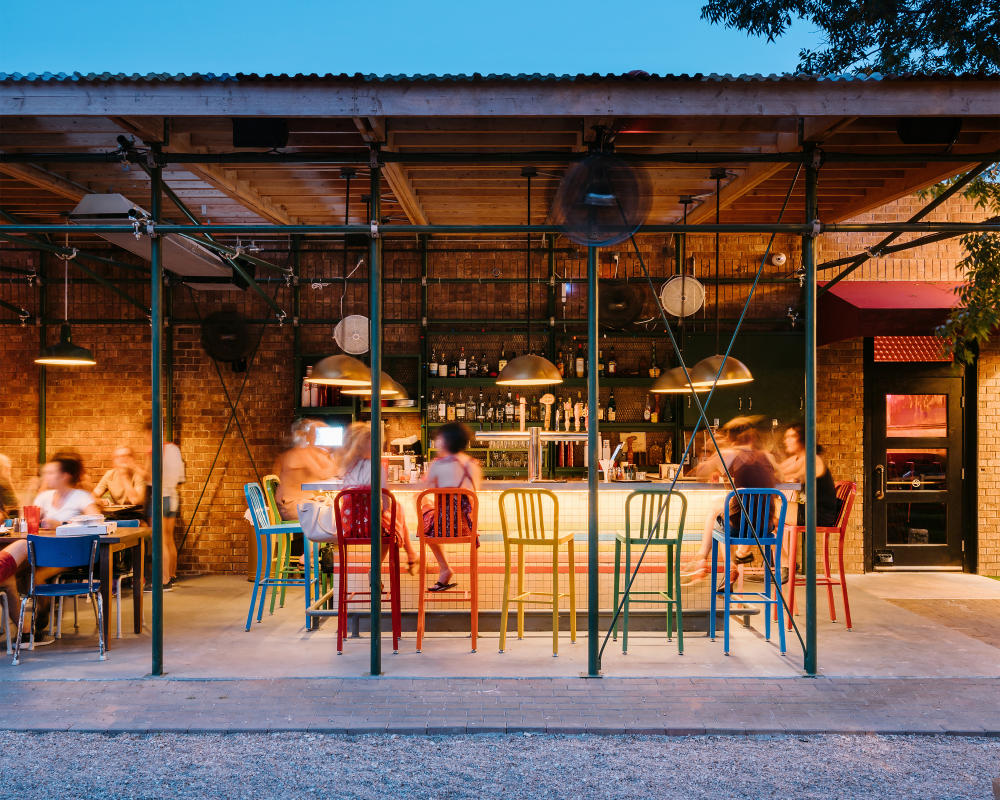 Home Slice. Credit Chase Daniel.
Home Slice Pizza is an Austin original and they opened their second location on North Loop, much to the delight of all central Austinites. Their garlic knots are worth fighting over, the toppings list is legitimately lengthy (hello fried eggplant!), and though they often go unsung, their subs are stacked.
Hank's in east central Austin is a sprawling restaurant that's popular for their all-day menu, frozen drinks, and dog-friendly patio. Their menu is American with sandwiches, soups, burgers, and casual entrees and happy hour lasts all day on Mondays.
Ready to book your trip? Check out hotels near Central Austin.
Article contributed by Kelly Stocker.