Charles Long's CATALIN is the latest exhibit at The Contemporary Austin. The artist, who has been internationally exhibited and has been awarded a Guggenheim Fellowship among other honors, has transformed The Contemporary Austin at the Jones Center into what is known as a Gesamtkunstwerk, which is a hybrid of sculpture, film, music, fragrance, theater, performance and spectacle. While Long does expand the borders of reality and suspends the rules of what art and reflection should and could be, he does so with sense.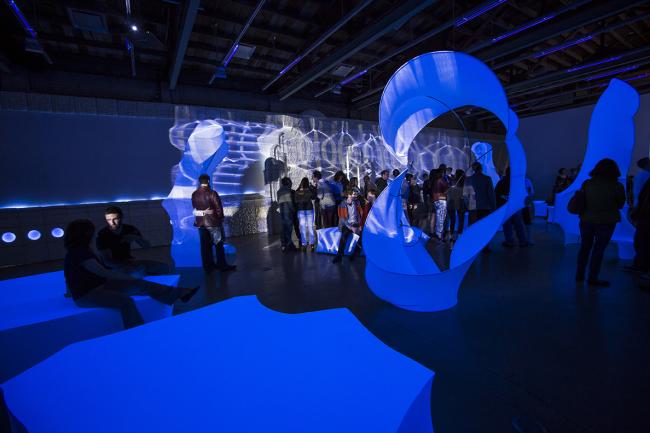 The exhibition focuses on catalin, which is a form of plastic developed in the 1930s that contains formaldehyde. The plastic was used extensively throughout the Art Deco period but was eventually determined to be toxic. The exhibit itself encases a single piece of catalin in a three-story installation of sustainable materials and purveys a sense of haunting, reflecting the toxicity of the material and its pervasiveness.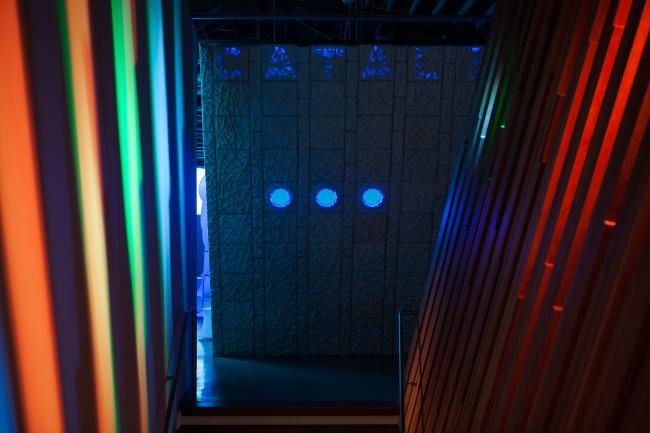 The first floor of the exhibition features perfume bottles resembling icebergs and offers viewers the opportunity to smell the scents that Long used to design the bottles. The adjacent room is host to a video installation that simulates riding in a boat at night that is both soothing and eerie. The second floor features massive sculptures with parts of air conditioning units, which used to contain catalin. The walls are lined with Art Deco eco-tiles made with mushrooms, which are the only known material to break down the plastic. Video installations project through the room in intervals, and the room itself is lit with blacklights.
While a sense of the out-there and the strangeness of art might be an immediate reaction to this exhibition, Long's extensive reflection on how humans interact our environment and the materials we use, both toxic and sustainable, is worthy of a visit.
The exhibition is open through April 20th at the Contemporary at the Jones Center located at 700 Congress Avenue. There is a separate CATALIN installation at the Laguna Gloria location. The Jones Center is open Tuesday through Saturday from 11am to 7pm and on Sunday from noon to 5pm. Admission is $5 for adults, and Tuesdays at the museum are free.
Contributed by Kelley Pettus, ACVB Marketing Intern.