Welcome to the Best Seat in the House, a digital series from Visit Austin, bringing together some of the best personalities in Austin's service industry sharing some ways to experience a taste of Austin from home.
In this episode, Chef Tavel Bristol-Joseph of Emmer & Rye, Hestia, Kalimotxo, Henbit and TLV shares one of his simple "at home" cheesecake recipes.
Kalimotxo Basque Cheesecake
Recipe by Tavel Bristol-Joseph, Pastry Chef
Ingredients:
36 oz cream cheese
1 ¾ cup sugar
6 large eggs
1 large egg yolk
¼ cup flour
Pinch salt (5 grams)
2 cups heavy cream
1 tsp vanilla extract
​You will need:
Bowl
Mixer
9-inch springform pan
Parchment paper
Instructions:
Allow cream cheese and eggs to come to room temperature. Combine cream cheese and sugar and mix on high until creamy. Add eggs a quarter at a time while allowing the mixer to continuously run on medium speed. Add vanilla extract, salt and flour to the cream cheese mixture while on medium speed. Scrape down the sides of the bowl. Pour in heavy cream while the mixer is on low speed.
Prepare a 9-inch springform pan with parchment paper. Press the paper into the mold of the pan, leaving the side high. Do not fold the paper over the edge of the pan; this allows the cheesecake to rise higher than the pan.
Bake at 500 degrees for 36 minutes, without opening the oven. The cheesecake will be slightly jiggly in the center. Allow to cool on the counter, then place in the refrigerator to set. Cheesecake should be cool before removing the springform and paper.
Tavel Bristol-Joseph, Pastry Chef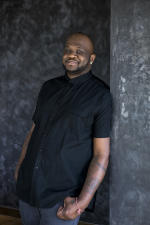 Tavel Bristol-Joseph is the Pastry Chef and Partner at Emmer & Rye, Hestia, Kalimotxo and TLV in Austin, Texas. Chef Tavel is also one of Food & Wine Magazine's Best New Chefs of 2020. He began his culinary journey as a young boy when he spent every Saturday afternoon baking with his aunt in Georgetown, Guyana. After moving to the United States when he was seventeen years old, Bristol-Joseph attended the New York Restaurant School. Bristol-Joseph worked in a variety of restaurants around the United States before moving to Austin in 2015 to open Emmer & Rye.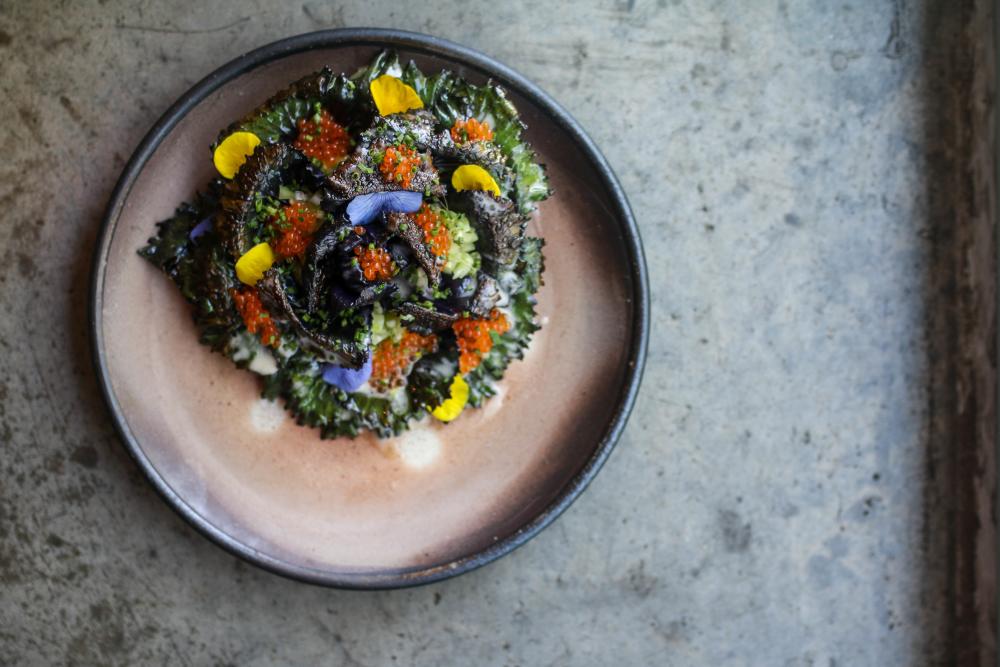 Emmer & Rye is a restaurant designed around the farmer's haul, featuring a menu that changes daily with a focus on seasonal and local cuisine. Heirloom grains are milled fresh for house made pastas, breads and desserts, whole animal butchery is done on site, and an extensive in-house fermentation program captures flavors at their peak and preserves them for the off season.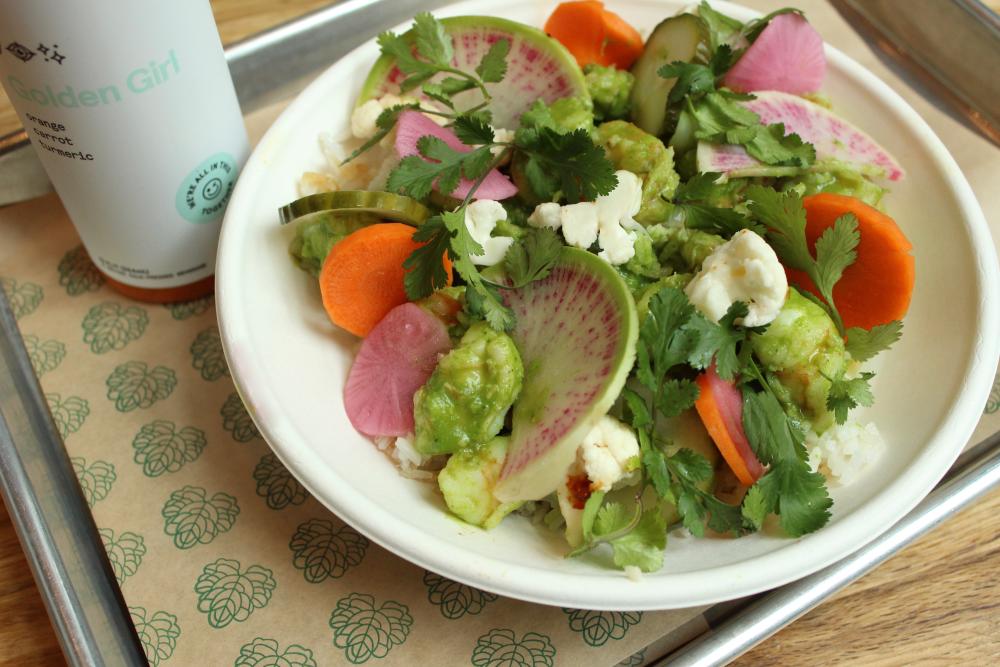 Henbit
Located in downtown Austin's Fareground food hall, Henbit's "Feel Good Food" menu offers healthy food options that are tasty, approachable and convenient. Henbit aims to change the way people eat by highlighting small family farms and Texas ingredients so guests can feel good about where their food comes from.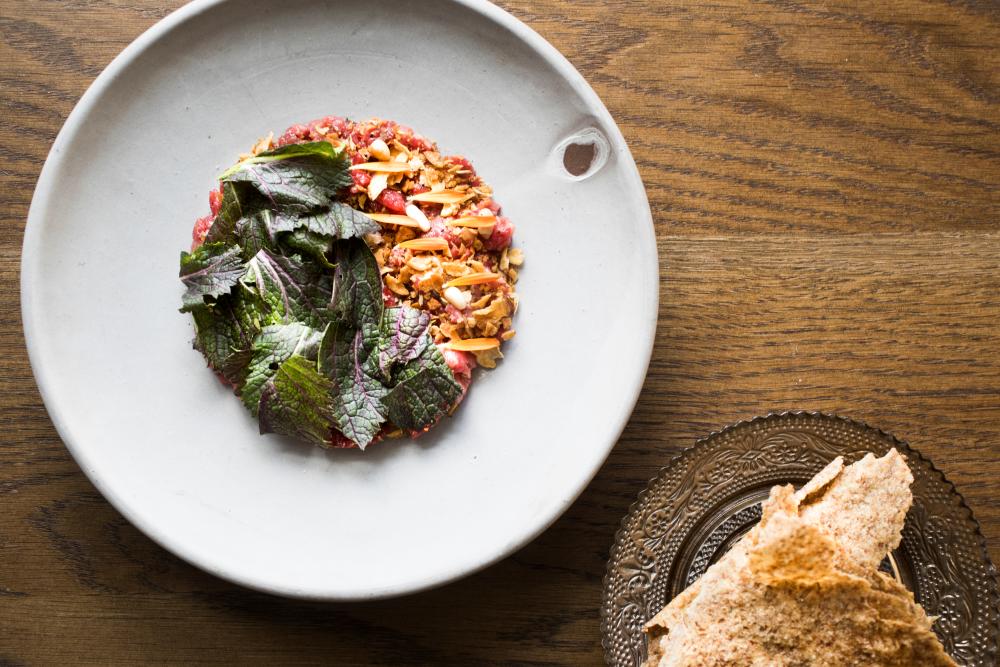 Hestia's dishes find inspiration from a custom 20 foot hearth which anchors the kitchen and dining room. Snacks, small plates and large format entrees allow an opportunity to explore and showcase techniques that highlight the role of fire in food. In order to provide a deeper look into the unique food philosophy, Hestia's chefs play an integral role in service and directly interact with guests.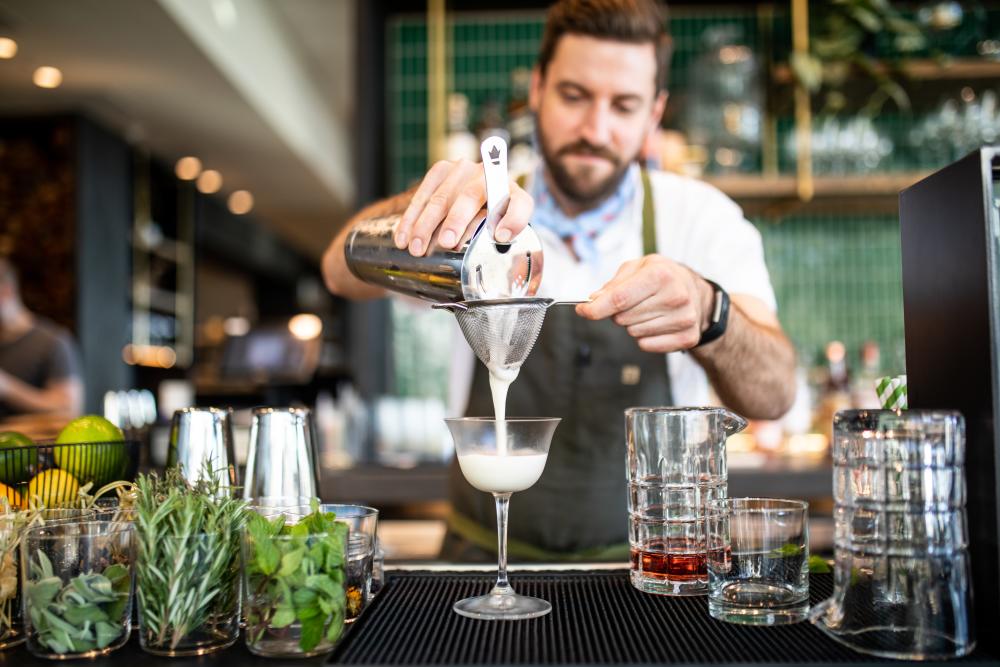 Kalimotxo is a Basque pintxo and cocktail bar in downtown Austin. The vibrant space and menu celebrates the spirit of the Basque's social bar culture with a curated Spanish wine list, amazing craft cocktails and flowing porrones. Enjoy our beautiful patio that overlooks Shoal Creek. Our team's hospitality provides the comfort of a local neighborhood bar in a space that invites to have a night out on the town.
TLV
TLV offers Israeli street food in the trendy Faregound food hall. Inspiration for the menu comes from the market stalls and street stands of Israel. Sabich, Kofta and Falafel are served as plates or in Pita, alongside Salatim, Tahini Shakes and Israeli sweets.