Whether you are new or visiting Austin looking for the next big thing, Cherrywood Art Fair will not disappoint. In its 13th year in 2014, this event serves as East Austin's longest-running and most beloved Art Fair during the holiday season.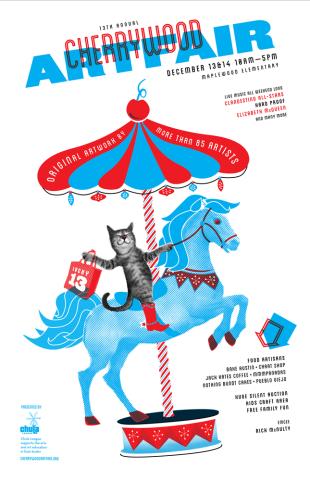 Keeping the cool factor high, this carefully curated group of makers and artisans will interest everyone from the discerning shopper to the art collector. Featuring locally produced treasures such as men's and women's handcrafted jewelry to fun and functional children's goods, graphic novel-style original paintings to gorgeous stationary and paper goods, Cherrywood Art Fair represents the best in local Handmade Culture.
The two-day event features great live entertainment from some of the city's most buzz-worthy bands (Clandestino All-Stars, Elizabeth McQueen and Hard Proof) as well as food from delicious local food trucks including Pueblo Viejo, Mmmpanadas, Wholly Kabob, Chaat Shop, Bake Austin and Jack Hates Coffee. All day activities like The Violet Crown Collectives troupe of talented local aerial artists will perform and Sky Candy Collective offers juggling/hooping demos at an interactive circus booth.
Emceed by East Austin neighborhood residents, KUTX 98.9 host, Rick McNulty and Austin American-Statesman Music Journalist Deborah Sengupta, the outdoor stage will surely conjure the holiday spirit from within!
Cherrywood Art Fair benefits Maplewood Elementary and Chula Leagues Little Artist BIG ARTIST program which provides an opportunity for East Austin elementary school students to celebrate creativity, develop personal expression, and strengthen social skills through professional artist mentorship. For more information about the December event, including updates on confirmed bands, food vendors and more, like Cherrywood Art Fair on Facebook: facebook.com/cherrywoodartfair, follow on Twitter and Instagram @CherrywoodArt or visit www.CherrywoodArtFair.org.
12/13/14 - 12/14/14, 10 a.m. 5 p.m.
Maplewood Elementary
E. 38 1/2 St. & Maplewood Ave.
Free and open to the public, rain or shine
Contributed by Celeste Quesada, Craftbox Agency