May is an ah-May-zing time here in Austin and it features one of the most fun days of the year: Cinco de Mayo!
Cinco de Mayo—or the fifth of May—commemorates the Mexican army's 1862 victory over France at the Battle of Puebla during the Franco-Mexican War (1861-1867). Over time, this day has evolved into a celebration of Mexican culture and heritage with amazing traditions such as street festivals, parades, live music performances and more. There are so many ways to celebrate Cinco de Mayo in Austin that it might be hard to choose what to do! So to help, we have compiled a list of events happening around town this year; there's something for everyone.
For Film Buffs:
5/4/16 - 5/8/16 Cine Las Americas International Film Festival Various Locations
The festival showcases contemporary films and videos from Latin America (North, Central, South America and the Caribbean) and the Iberian Peninsula. Films and videos made by or about Latinos in the U.S. or the rest of the world, as well as films and videos by or about indigenous groups of the Americas are also invited to participate.
cinelasamericas.org
For Foodies: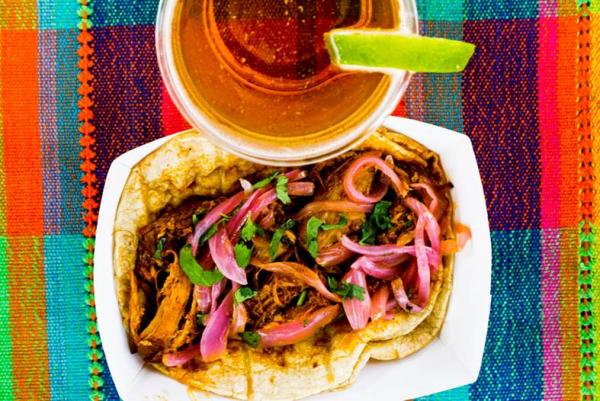 El Chilito. Courtesy of Scott Robertson.
5/5/16 El Chilito Burnet Grand Opening Pig Roast Fiesta El Chilito
The revered Austin taquería opens it newest location on Burnet Road with a community-wide celebration and Pig Roast Fiesta on Cinco de Mayo. Foodies can chow down on complimentary crispy pork tacos, aguas frescas and cerveza! Keep the kiddos entertained with a piñata, games, facepainting and a live DJ.
elchilito.com
For Mexican Spirit Fans:
5/5/16 Cinco de Drinko Party at Pelóns Tex-Mex Restaurant
Spend this Cinco de Mayo in the Red River Entertainment District with your favorite Mexican beverage: tequila! Pelóns will be providing tastings from 10 tequila vendors on the patio along with live music (mariachis from 2-5pm and a DJ from 5-9pm).
pelonstexmex.com
5/5/16 Cinco de Mayo First Thursday South Congress Hotel
Each month, the hip South Congress Hotel hosts a First Thursday open house and May's event happens to also fall on Cinco de Mayo! Stop in for a special extended happy hour menu in both the Courtyard Bar and the Lobby Bar. Live music will be provided by El Tule, Mexican coffee cocktails from High Brew Coffee, a photobooth and sweet treats from local artisinal ice cream truck Stephen F. Frostin'.
southcongresshotel.com
5/5/16 Cinco de Mayo Fiesta Whisler's
Trendy and intimate East Austin bar, Whisler's, is throwing a cocktail fiesta with El Silencio Mezcal and Ancho Reyes. Stop by Mezcalería Tobalá (upstairs) for specialty drinks and live music from Luis Banuelos.
whislersatx.com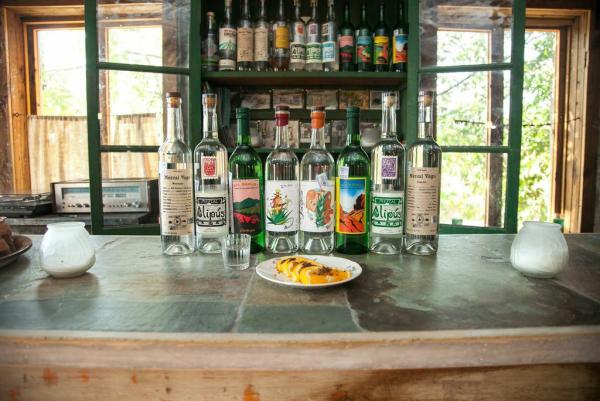 Mezcalería Tobalá.
For Music Lovers:
5/5/16 Tacos and Tequila with Grupo Fantasma The Belmont
This year, the Belmont is hosting its first-ever Cinco de Mayo party complete with specialty margarita tastings, free tacos and live music from Austin's own award winning Latin funk band, Grupo Fantasma.
tacosandtequilaatx.com
For Music Lovers with Early Bedtimes:
5/6/16 Cinco de Mayo Weekend Fiesta Empire Control Room and Garage
If your Cinco de Mayo is looking a little busy, consider celebrating Seis de Mayo at Empire Control Room instead! Mexican genre-bending do Los Master Plus will take the stage, supported by Master Blaster Sound System and Peligrosa. Expect clever covers, catchy beats and smooth moves.
empireatx.com
For Festival Goers:
5/7/16 - 5/8/16 Cinco de Mayo Festival Fiesta Gardens
Austin's Cinco de Mayo Festival is an annual outdoor party that takes place at beautiful Fiesta Gardens. The two-day cultural event features a variety of lively Tejano and conjunto bands as well as delicious authentic Mexican and Mexican-American cuisine. This all-ages celebration invites guests to bring lawn chairs so they can sit and relax outside in between dancing and enjoying all the tasty food.
cincodemayoaustin.com
For Moms:
5/5/16 Cinco De Mayo! Mom's Night Out: Austin Moms Blog Barr Mansion
Moms, mark your calendars and hire the babysitters because it's time to fiesta! Take a quick trip to North Austin to the beautiful and historic Barr Mansion. Expect a ladies night filled with cocktails, cake, giveaways, swag bags, personal pampering, a photo booth and local bites.
austin.citymomsblog.com
So come on Austin, let's fiesta like there's no manana! Other ways to keep the fiesta going:
Keep in the spirit and share in the art and culture of Mexico year-round by visiting the amazing Mexic-Arte Museum downtown. Feeling hungry? Check out our list of the Top 10 Margaritas in Austin, the Top 10 Austin Tacos to Try and Old-School Austin Tex-Mex - how many spots have you tried? 
And don't forget - May is Latino Music Month! The many Latino music genres are showcased at various events around town this month and year-round - follow @MusicAustin to keep up with the latest music happenings.