With Cinco de Mayo fast approaching, you may start wondering what to do to celebrate. Cinco de Mayo is now observed in the United States as a celebration of Mexican heritage and pride and is also one of the biggest fiesta days of the year. As usual, there are plenty of ways to celebrate in Austin, so we have compiled a list of fun things to do to participate in this year's Cinco de Mayo:
Fiestas Patrias of Austin
This 9th Annual Cinco de Mayo Fiesta takes place May 3 at Fiesta Gardens Park. Since 1978, Fiestas Patrias of Austin has served the Hispanic community by preserving and promoting the culture through rich historical festivals. Admission is only $10, and proceeds from the event will benefit the organization's scholarship and community programming.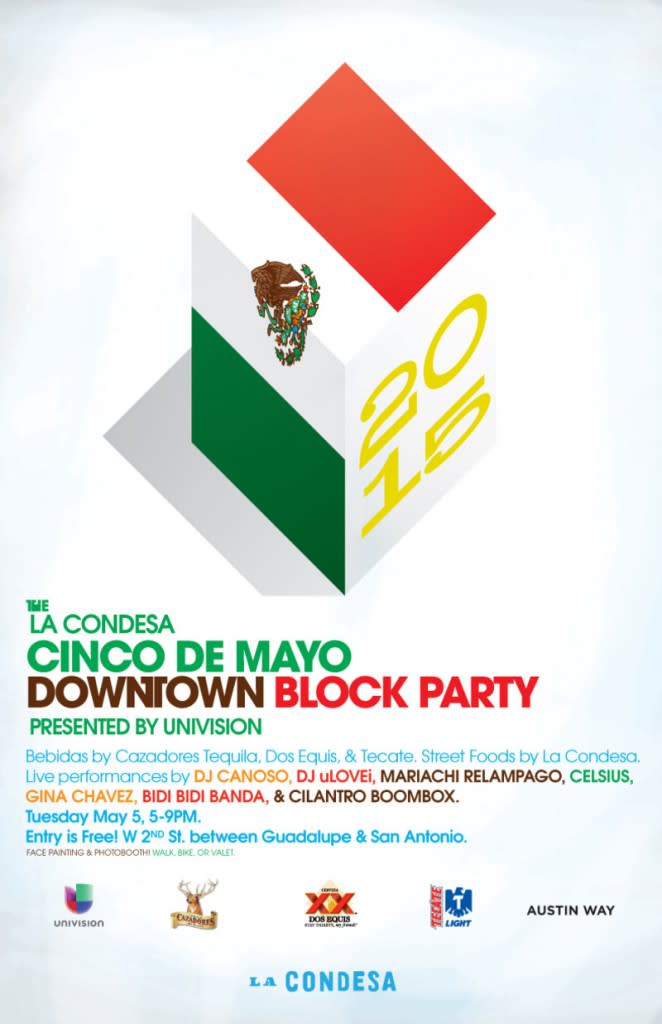 La Condesa Cinco de Mayo Downtown Block Party
La Condesa Austin and Univision join forces to throw one of the best parties of the year on Tuesday, May 5 from 5-9 p.m. Entry is free and the event takes place between West Second Street between Guadalupe and San Antonio Streets. There will be beverages provided by Cazadores Tequila, Dos Equis & Tecate, and street food will be offered by La Condesa. Live performances include DJ Canoso, DJ uLOVEi, Mariachi Relampago, CELSIUS, Gina Chavez, Bidi Bidi Banda and Cilantro Boombox.
Peligrosa: Cinco de Mayo Fiestn
The Loyalty Firm presents Peligrosa: Cinco de Mayo Fiestn at Holy Mountain. This event is for all ages and tickets can be purchased at the door. Doors open at 9 p.m. with live performances by DJ Orion, DJ Chorizo Funk, and Manolo Black.
Grab a Margarita
If you want to walk down the tequila path, a margarita or Mexican Martini might be calling your name. We recommend you check out some of Austins top tequila hot spots such as La Condesa, Polvos (known to have margaritas by the pitcher), Trudy's, Guero's, Baby A's (home of the famous purple margarita), El Alma and Matt's Famous El Rancho.
Taste of Mexico 2015
Taste of Mexico 2015 will be held in celebration of Cinco de Mayo at Brazos Hall on Tuesday, May 5 from 6-9 p.m. Tickets cost $75 for General Admission ($65 for a plus one), including tastings from all food and beverage purveyors. All ticket sales support the Mexic-Arte Museum in its mission to offer enriching educational programs. Join the Museum in crossing the borders of culinary excellence and rediscovering the Mex in the Tex-Mex! The event will also feature contemporary Latin music by DJ Sonora of Peligrosa and a selection of Mariachi talent.
Contributed by Joanna Pulido, Austin CVB Marketing Intern