Climbing enthusiasts and beginners alike can be found within the narrow crevices and exposed rock walls at Reimers Ranch. With a range of difficulties, there's something for every kind of climber, although experienced climbers consider Reimers Ranch as world-class climbing. With close to 300 climbing routes, there are routes between 5.4 and 5.14, although most routes fall above 5.9.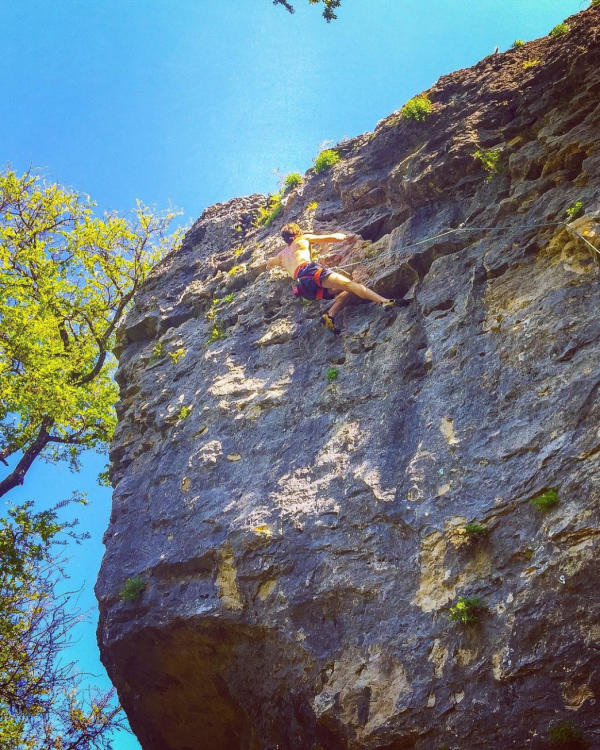 Reimers Ranch. Courtesy of ClimbTexas.
What Makes it Great
You'll find mostly short, technical routes here. The highest route at Reimers Ranch is 92 feet high, which gives beginners great courses to learn on and experienced climbers a challenge. The terrain is good most days of the year, with far more days with sunshine than rain. Even more, the terrain is beautiful, with the Pedernales River in view from many of the runs.
The climbing at Reimers Ranch mostly follows courses along the limestone cliffs famous in the area surrounding the Pedernales River. Many of the routes have bolts, anchors, and fixed cable draws in place, so climbers can access popular routes with protection. Some of the walls are exposed, while some routes offer shade by way of the park's oak forests. The terrain is varied, and with so many routes, climbers can attempt a different course every visit or to perfect their favorite courses over time. Either way, with so many options of such variable terrain, Reimers Ranch is a place where climbers won't find boredom.
Who is Going to Love It
Beginners and expert climbers alike enjoy the varied courses Reimers Ranch offers its visitors. This also makes the park a great location for more experienced climbers to offer guidance to those, quite literally, learning the ropes.
With the Texas Hill Country's mild winters, it's no surprise that the most busy climbing seasons is between November and February, tapering off in March and April. That said, climbing at Reimers Ranch is popular year-round. Once you experience the terrain, you'll understand.
Directions, Parking & Regulations
From Austin, take Highway 71 West. Turn left onto Hamilton Pool Road (FM 3238) and follow that road for 12 miles. The entrance to Reimers Ranch will be on the right. The park is open from 7 a.m. to twilight, with no camping allowed. For those wanting to camp, Rock Dog Campground is nearby and Pace Bend State Park is a (beautiful) 40 minutes away from Reimers Ranch.
Tips
Difficulty

2 stars

Climbs range from 5.5 to 5.14, appeasing both beginners and experienced climbers. Most routes are above a 5.9.

Time to Complete

1.0 days

Distance

0.1 :miles

Seasonality

Spring
Summer
Fall
Winter

All seasons, though the busiest season for climbing is between November and March with less climbing traffic between April and October.

Website

Fees/Permits

True

$10 per car, although the entry fee covers entry at any Travis County Park within the same day (even more reason to visit nearby Hamilton Pool).

Dog Friendly

"On leash only"

Destination Highlights

Most of a day