Laughter might just be the best medicine. Have a good giggle at one of these Austin comedy clubs or events, where the humor flows freely.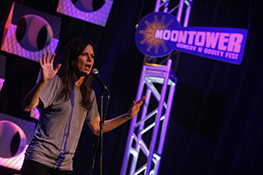 Moontower Comedy and Oddity Fest
April 22-25 This is one of those Austin events you won't want to miss.
The Moontower Comedy and Oddity Fest
is a four-day extravaganza boasting an all-star lineup of more than 100 comedians from across the globe. Presented by Paramount Theatre, this comedy festival offers humor for every type of fan, as national headliners, up-and-coming comics and local laughsters unleash hilarious wit in the form of musical comedy, stand-up, sketch and improv. Expect to see the likes of Ron White, Wanda Sykes, Marc Maron and many more.
Comedy Clubs For an improv comedy club that promises a rollicking good time, plan an evening atThe Hideout Theatre, where sharp-witted performers spin spontaneous jokes and plotlines with astounding ease, as they make up all their comedy, plays and sketches on the spot.
Struggling with a weekday slump? Order a pick-me-up with theGood Fight, a high-energy improv comedy show every Wednesday at The New Movement Theater. It's BYOB (and free!).
Looking for something a bit more structured? Try theCapital City Mystery Playersfor an interactive comedy murder mystery dinner party. You'll be asking "whodunit?"-if you can stop laughing long enough.
Did someone say musical comedy? AtEsther's Follies, catch Austin's longest-running sketch comedy and musical revue, where musical numbers are interspersed between satirical sketches and magical illusions for an all-around good time.
For a sidesplitting stand-up routine, don't missLive at ColdTowne, one of the oldest regular stand-up showcases in Austin, featuring well-known headliners every Friday night.
Open Mic Night Catch budding comedians and seasoned pros as they try out new material during an open mic night. Kick back in the relaxed patio atmosphere atCherrywood Coffeehouse, which hosts one of the longest running open mic nights in Austin, every Tuesday night. Or enjoy the freeMidnight Comedy Open Micevery Monday night.