It's that time of year when resolutions are made and motivation to adopt a healthier lifestyle can be at an all-time high. But then reality sets in, you return to the daily grind, and if you're like me, it's easier sometimes to forego that gym workout or outdoor frigid run in favor of a cozy night curled up on the couch (with a glass of wine - or two). And forget about a workout regimen if you have to factor in travel!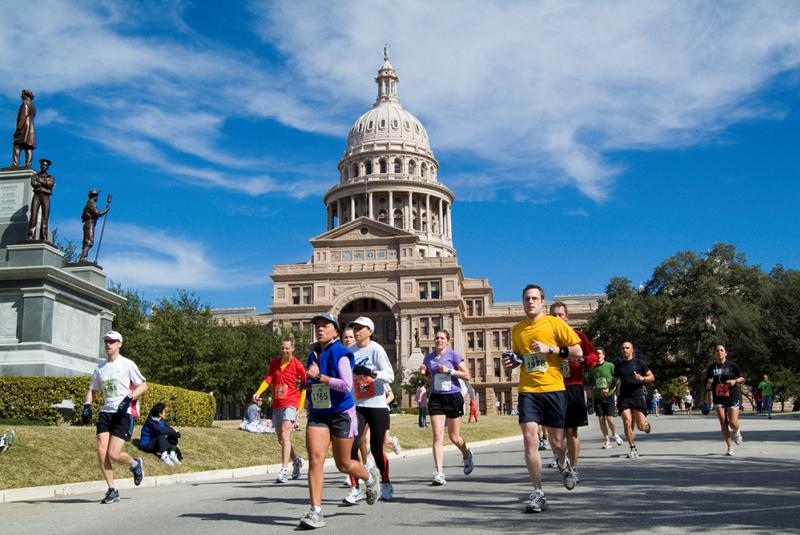 As someone who considers themselves an avid athlete in their spare time, even I have trouble maintaining focus in the winter months. To achieve athletic goals, make a commitment (and not just a verbal one to yourself). Bite the bullet. Sign up for a race or fun-run. Tell your friends or co-workers about it and encourage them to sign up with you. Join a team or local running group. Share your goals or race plans on your social media accounts. You'll be more likely to stick to a game plan when you've made the game date public knowledge.
While there are great events almost anywhere these days here are a few of my favorites right here in Austin to make the commitment painless (no promises however for pain-free training):
January
3M Half Marathon
Downtown Austin
3M Half boasts one of the fastest half marathon courses in the country. Enjoy a mostly downhill course that takes you past some of Austin's finest locations and finishes downtown near the Texas State Capitol.
www.3mhalfmarathon.com
February
Austin Marathon & Half-Marathon
Downtown Austin
Live music from local bands and a course that winds through Austin's most scenic neighborhoods make this race a must for runners and spectators.
www.youraustinmarathon.com
April
Cap10K
Congress Avenue to Auditorium Shores
Texas largest 10K race and one of the nations top runs draws some 23,000 serious and not-so-serious runners.
www.cap10k.com
May
The Rookie Tri
Walter E. Long Metropolitan Park
For true rookie triathletes and veterans alike. The Rookie Triathlon course is a 300 meter swim, 11.2 mile bike and 2 mile run. And don't miss the finish line party complete with food and drink (including beer!) needed to re-fuel.
www.therookietri.com
May
Life Time Tri CapTex
Lady Bird Lake, Downtown Austin
The Life Time Tri attracts all levels of athletes from top ranked professionals to first-time triathletes. The event includes the USA Paratriathlon National Championship, sprint and international distances, First Tri distance and sprint and international distance relays. 
www.captextri.com
Contributed by Jennifer Walker.