Looking to beat the Austin heat this summer? Chill out with some of the coolest treats in town, including artisan ice cream cones and frothy frozen cocktails, found everywhere from food trucks to hip lounges.
Ice Cream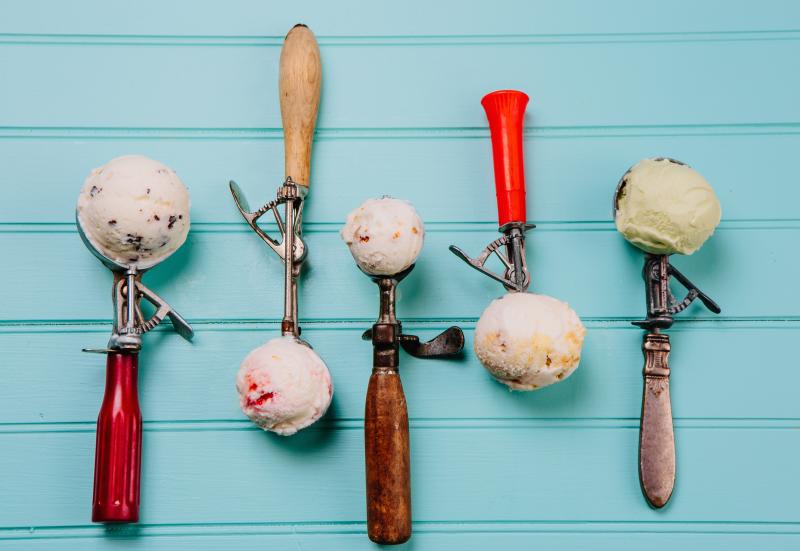 Lick Honest Ice Creams. Credit Annie Ray.
Holla Mode
This friendly food trailer brings the flavors of Thailand to Austin. Thai-style ice cream is made to order by pouring your choice of dairy or coconut milk onto a steel plate chilled to -30°F. Once frozen into a thin layer, the ice cream is scraped into rolls and garnished with your choice of "chops" that include fruit, cookies and candies, along with toppings such as whipped cream and rainbow sprinkles.
Amy's Ice Creams
In the mood for a classic scoop? Take a trip to one of the 12 Amy's locations found across town. There are 350 specialty ice cream flavors in rotation (the Mexican vanilla is a favorite), or you can build your own signature flavor with their crush'ns (toppings) that include everything from fresh strawberries to ginger snaps.
Lick Honest Ice Creams
Cool off with a cone from this artisan ice cream shop known for its seasonal confections (with flavor combos like sweet persimmon and sage). All of Lick's milk and cream is sourced from a family-owned Central Texas dairy farm. And everything from syrups to marshmallows and waffle cones are made in house.
Ice
Jim Jim's Water-Ice
Hit the Sixth Street shop for 34 flavors made fresh daily or snag a refreshing water ice from a cart outside Deep Eddy Pool. The classic Italian treat combines real fruit and other ingredients, using a quick freeze process to create velvety textured ice.
Casey's New Orleans Snowballs
Open since 1996, this family-run snowball stand cooks up more than 70 syrup flavors made with pure cane sugar. You'll find traditional New Orleans-style chocolate and cream syrups, along with customer favorites like Orchid Cream Vanilla and Boston Cream Pie. The flavored syrups are poured over snow and served up in a cup.
Steel City Pops
Steel City Pops is known for its variety of fruity frozen treats. The pops are made with fresh fruit and organic cane sugar, and include unique flavors like Champagne White Tea and Mango Habanero. Creamy pops like the citrusy Avocado and cookie pops such as Strawberry Shortcake are also offered. Customize your pop with a dip in dark chocolate or dust it with sea salt.
Chilly Cocktails
Strawberry Champ-jito. Courtesy of 77 Degrees.
Social Ice Pops
Who says popsicles are just for kids? 77°, a three-level rooftop bar located in the trendy Rock Rose entertainment district, has created wine-infused ice pops in popular cocktail flavors like strawberry daiquiri, mimosa orange and the classic margarita.
Frosé
Feeling fancy? The lounge at Hotel San Jose serves up their famous frozen Rosé with lemon. This sweet summery treat is delicious and pretty, and is best enjoyed in the leafy courtyard (which happens to be a great spot for people watching).
Spiked Shakes
Boozy ice cream creations are the specialty of the house at Prohibition Creamery. Small batch ice creams and vegan sorbets are blended with everything from bourbon to wine to create sweet combinations like Whiskey Chocolate and Sangria Sorbet.
Frozen Foods
Bananarchy
Austin's only frozen banana stand has revolutionized the art of dessert. Build your own banana with dips like chocolate or peanut butter and a food truck full of toppings (including coconut and candies). Or try the signature Afternoon Delight: all four dips swirled together and topped with nuts and graham crackers.
Blenders and Bowls
You don't have to feel guilty while enjoying chilly treats! If you want a healthier option, Blenders and Bowls serves up smoothies and Acaí bowls daily. Not only will these treats cool you off, they'll fill you with nutrients and energy.
Hay Elotes
There are lots of Mexican treats to choose from here, but don't pass up the Fresas Con Crema, a deliciously sweet confection of strawberries and cream. The cream is a mix of condensed milk, Mexican sour cream and sugar that's dotted with diced strawberries. Top it off whipped cream, chopped nuts and even more fruit, such as blueberries or raspberries.