Looking to beat the Austin heat this summer? Chill out with some of the coolest treats in town, including artisan ice cream cones and frozen cocktails, found everywhere from food trucks to hip patio lounges.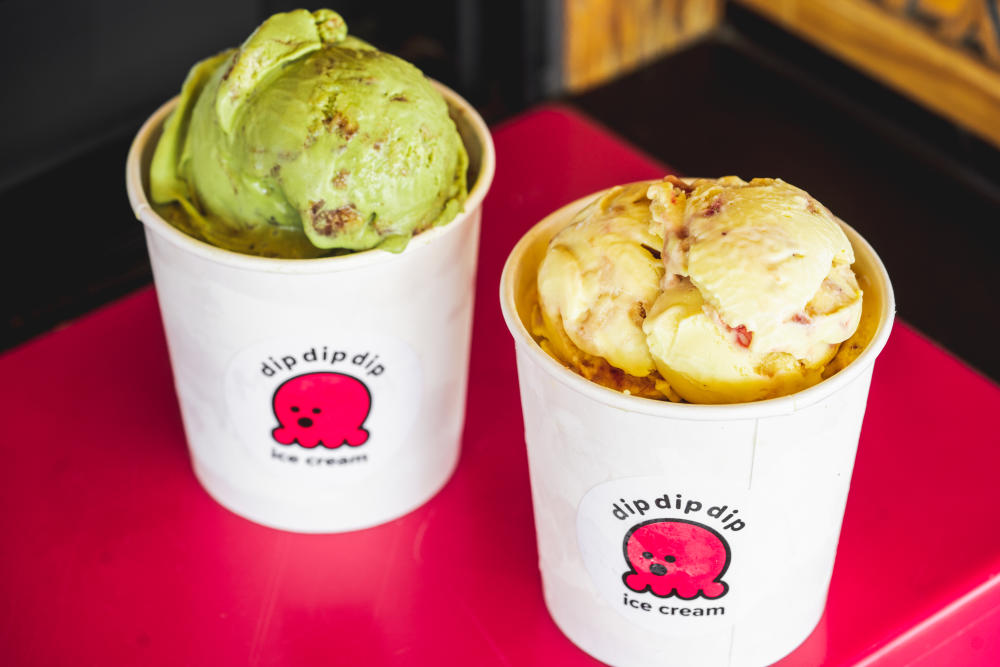 Dipdipdip Ice Cream. Credit Jane Kim.
Ice Cream
Lick Honest Ice Creams
Cool off with a cone from this artisan ice cream shop known for its seasonal confections (with flavor combos like sweet persimmon and sage). All of Lick's milk and cream is sourced from a family-owned Central Texas dairy farm. And everything from syrups to marshmallows and waffle cones are made in house.
Order curb-side or local & nationwide delivery: https://www.ilikelick.com/
Dipdipdip Ice Cream
The Tatsu-Ya restaurant family's latest concept, DipDipDip Ice Cream, offers funky fresh, artisanal ice cream from a window at  DipDipDip Tatsu-Ya. DipDipDip Ice Cream features composed ice cream creations with unique flavors like the Shroom of Doom with caramel, chocolate and shiitake, and the Miso PB&J with miso croutons, candied peanuts and angelino plum jam.
Order from the Dipdipdip Pop Up: https://tatsuya.revelup.com/weborder/?establishment=9
Sweet Ritual
For vegans and ice cream lovers alike, Sweet Ritual is nothing short of delicious. With 16 flavors ranging from classic vanilla soft serve to the sunbutter-based banana cinnamon flavor, cinnamonkey elephantastic, the skepticism surrounding vegan ice cream is thrown out the window. Sweet Ritual is proving that ice cream can be just as good - if not better - without the dairy.
Order for curb-side pickup: https://sweet-ritual.square.site/
Luv Fats
This small-batch ice cream is homemade by Austinite Chi Ndika, with flavors are inspired by her Kenyan and Nigerian roots. Luv Fats' dairy-free creations celebrate healthy fats by using avocados and coconut milk as a base to create yummy flavors with fresh produce, nuts and herbs found at Austin area farmer's markets. Find products at Bee Grocery, Mozart's Coffee and Texas Farmers Market at Mueller.
Pre-order for pickup: https://www.luvfatsicecream.com/pre-order
Holla Mode
This friendly food trailer brings the flavors of Thailand to Austin. Thai-style ice cream is made to order by pouring your choice of dairy or coconut milk onto a steel plate chilled to -30°F. Once frozen into a thin layer, the ice cream is scraped into rolls and garnished with your choice of "chops" that include fruit, cookies and candies, along with toppings such as whipped cream and rainbow sprinkles.
Order ahead for pick-up: https://hollamode.square.site/
Amy's Ice Creams
In the mood for a classic scoop? Take a trip to one of the 12 Amy's locations found across town. There are 350 specialty ice cream flavors in rotation (the Mexican vanilla is a favorite), or you can build your own signature flavor with their crush'ns (toppings) that include everything from fresh strawberries to ginger snaps.
Order curb-side & local delivery: https://amysicecreams.com/order/
Cow Tipping Creamery
Narrowing it down to one thing from this gourmet dessert menu might be the hardest decision you make all day. From signature Mexican Coke floats to layered "Stacker" sundaes with cakeball chunks and crunch toppings, this is where sweet-toothers die and go to heaven.
Open for in-store purchase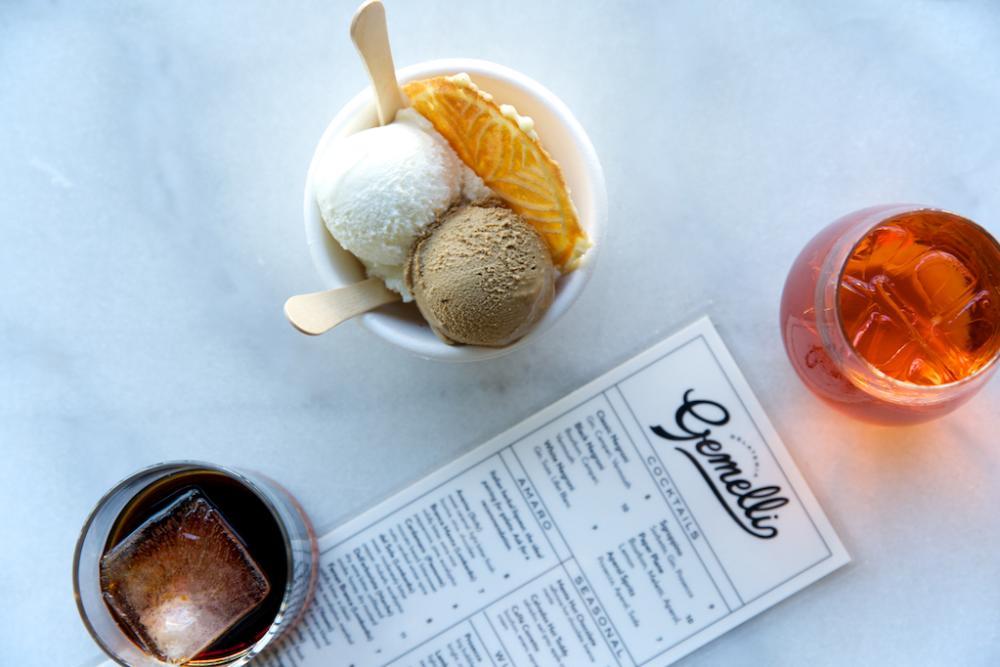 Gelateria Gemelli. Courtesy of Kate LeSueur.
Gelato
Dolce Neve
These three Italians are making gelato the traditional way, employing recipes and machinery from their native region and using a from-scratch mixing and freezing technique called "mantecazione vertical." You'll notice the creamier consistency in unique flavors like the savory yellow pepper and goat cheese.
Order online for curb-side pickup: https://dolceneve-gelato.square.site/
Tèo
Florence comes to Austin with Tèo's gelatos and sorbettos. The winner of "10 Best in the U.S." and "Best of Austin" awards, Tèo hand produces gelatos daily, churning out deliciousness like Nutella and peanut butter and salted caramel.
Find the local and handmade gelato at HEB and Central Market
Gelateria Gemelli
Experience authentic Italian espresso, gelato and amaro at this east side gelateria and try something new like olive oil or Vietnamese coffee gelato and a Paper Plane cocktail (bourbon, meletti, Aperol and lemon).
Open for patio seating and take-away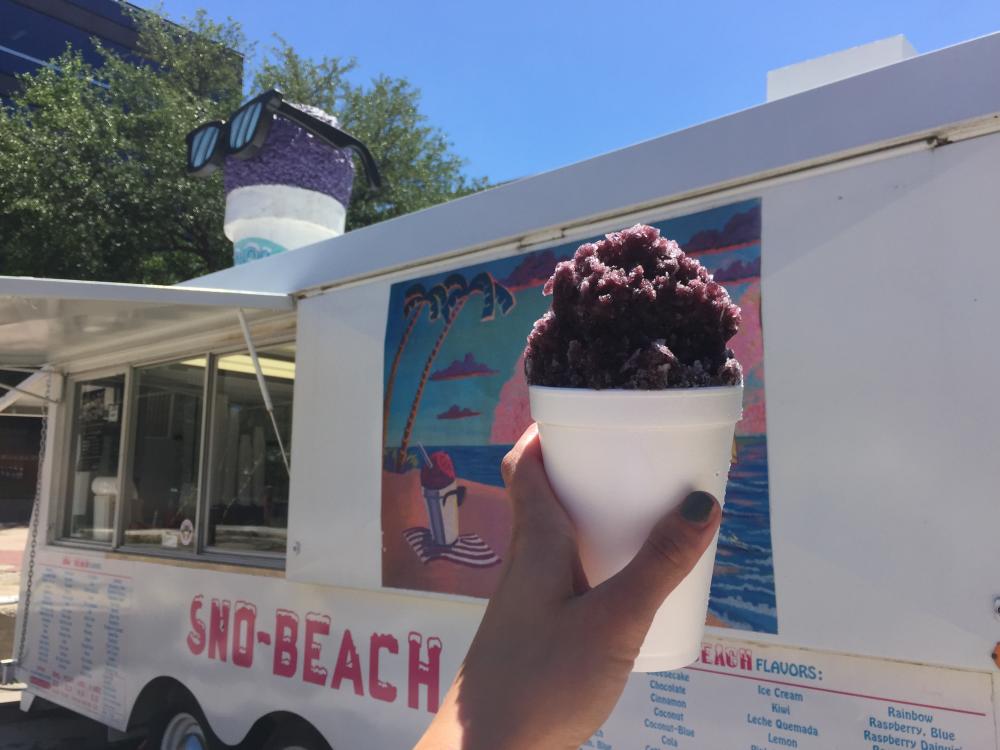 Courtesy of Sno-Beach.
Snow Cones and Ice
Jim Jim's Water-Ice
Hit the Sixth Street shop for 34 flavors made fresh daily or snag a refreshing water ice from a cart outside Deep Eddy Pool. The classic Italian treat combines real fruit and other ingredients, using a quick freeze process to create velvety textured ice.
Order online for curbside pick-up or visit the walk up window: https://my-site-105534-102476.square.site/
Casey's New Orleans Snowballs
Open since 1996, this family-run snowball stand cooks up more than 70 syrup flavors made with pure cane sugar. You'll find traditional New Orleans-style chocolate and cream syrups, along with customer favorites like Orchid Cream Vanilla and Boston Cream Pie. The flavored syrups are poured over snow and served up in a cup.
Advance online ordering required: https://caseyssnowballs.square.site/
Sno-Beach
An original Austin food trailer, Sno-Beach has been serving icy scoops since 1993. Flavors run the gamut and include cantaloupe, pomegranate, root beer, sangria and so many others.
Order online for pick-up: https://www.snobeachatx.com/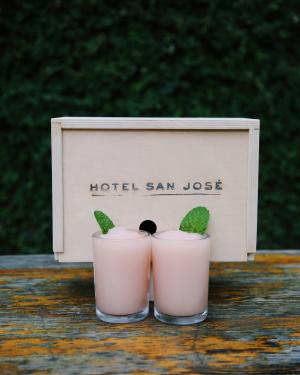 Frozen Cocktails
Kinda Tropical
Don't miss the liquid happy hour at this Eastside hang out spot with a colorful array of refreshing cocktails like the Frozen Spicy Pineapple Margarita or Frozen LaBoeuf Stuff (Watermelon, Mint, Gin). Food specials also on the menu and both are available dine-in on the patio.
Order online to enjoy on the patio or take home: https://www.toasttab.com/kinda-tropical/v3
Hotel San Jose
Feeling fancy? The lounge at Hotel San Jose serves up their famous frosé, frozen Rosé with lemon. This sweet summery treat is delicious and pretty, and is best enjoyed in the leafy courtyard (which happens to be a great spot for people watching).
Available in-person at limited capacity
Prohibition Creamery
Boozy ice cream creations are the specialty of the house at Prohibition Creamery. Small batch ice creams and vegan sorbets are blended with everything from bourbon to wine to create sweet combinations like Whiskey Chocolate and Sangria Sorbet.
Open for dine-in and patio service. Call for takeout: (512) 992-1449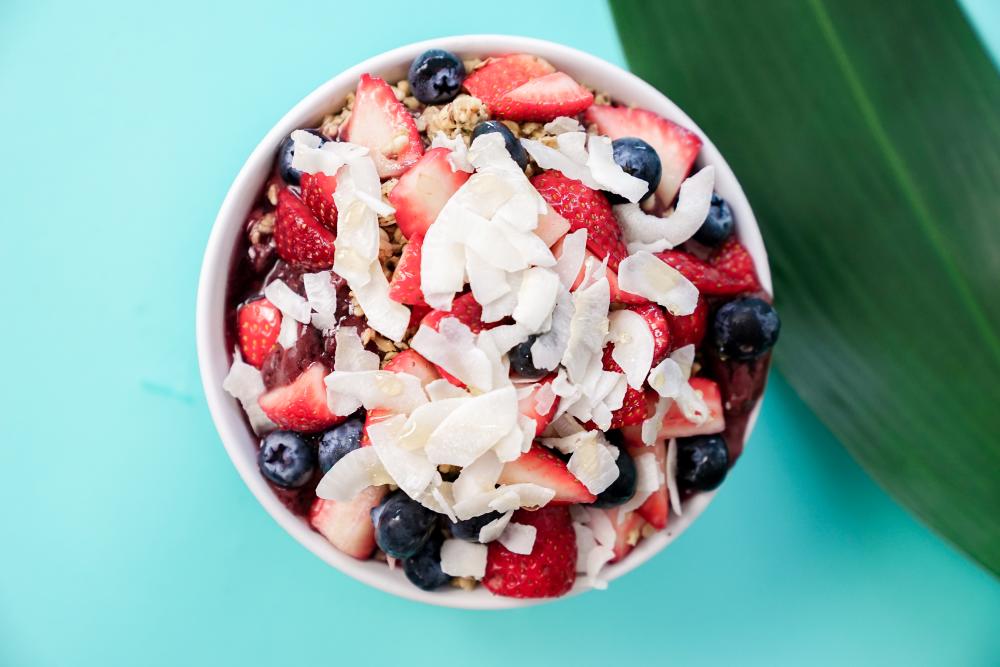 Blenders & Bowls. Credit Dos Mundos Creative.
Frozen Foods
Hay Elotes
There are lots of Mexican treats to choose from here, but don't pass up the Fresas Con Crema, a deliciously sweet confection of strawberries and cream. The cream is a mix of condensed milk, Mexican sour cream and sugar that's dotted with diced strawberries. Top it off whipped cream, chopped nuts and even more fruit, such as blueberries or raspberries.
Order for delivery from DoorDash or GrubHub
Bananarchy
Austin's only frozen banana stand has revolutionized the art of dessert. Build your own banana with dips like chocolate or peanut butter and a food truck full of toppings (including coconut and candies). Or try the signature Afternoon Delight: all four dips swirled together and topped with nuts and graham crackers.
Visit the food trucks around town to order
Blenders and Bowls
You don't have to feel guilty while enjoying chilly treats! If you want a healthier option, Blenders and Bowls serves up smoothies and Acaí bowls daily. Not only will these treats cool you off, they'll fill you with nutrients and energy.
Order online for curb-side pickup from your nearest location: http://blendersandbowls.com/
Photo of Hotel San Jose frosé, credit Alison Marlborough.