Looking to get your dancin' shoes on? Austin's unique nightlife experience has a unique flavor of fun. Since the '80s when Austin's new wave and punk scene lit up the dirt floors of former venue Liberty Bell, which led to the scene developing a taste for more electronic styles of dance music, the party has never stopped. Here are some of Austin's best dance clubs you'll never want to leave.
One of the Warehouse District's most prominent rooftop venues is Summit. At around 4,500 sq. feet, the venue features an incredible sound system and giant LED wall. It is well-equipped and accommodating of both big headline shows by touring talent and local DJs. Whether you want to pop some champagne or just dance, Summit is sure to make you feel like a celebrity just for stepping through the door. 
If you are in the mood for a high-end night with luxury bottle service, head up to the north side of town. In the heart of Rock Rose in The Domain NORTHSIDE is one of Austin's best upscale nightclubs featuring Vegas-style entertainment and live DJs, the Rose Room. The venue provides premium light and sound, voyeuristic architectural features, and table reservations on three different levels. Although it's certainly not a traditional live music venue, it provides a unique and one-of-a-kind experience in Austin.
Things always get a little weirder on the east side of town. Outer Heaven Disco Club fulfills its mission of providing an out-of-this-world experience. If you love disco balls, lasers, and light shows, there's plenty to love about Outer Heaven. In a word, this East 12th Street gem is vibey. Owned and operated by a local DJ, artist and photographer Sean Patrick Daigle, the club is a reflection of its ownership—artistic, fun, and loud in the best way possible. Outer Heaven features groovy DJ sets, dancing, karaoke, more dancing, and lastly, dancing. Make sure to apply some glitter before you enter.
In the heart of downtown is Cielo Nightclub, one of Austin's hottest Latin nightclubs. The venue's spacious dancefloor keeps you busy as you dance to the city's top DJs spinning the hottest salsa, merengue, bachata, reggaeton, cumbia, electro Latino and more. Whether you come for the bottle service (you can skip the line if you make a bottle service reservation!) or the poppin' music, make sure to take a picture in front of the club's signature neon pink "Peligrosa" sign.
If your typical nightclub experience is not your vibe and you're willing to try something different, check out Elysium, the unofficial home of Austin's alternative nightlife scene. For over 20 years, Elysium has outlived the typical music venue lifespan and has put on a great variety of events including SXSW parties, goth showcases and drag tributes to Béyonce. Stop by—it won't be your typical night out on the town!
If you enjoy a young, colorful and hip crowd, Coconut Club may be the place for you. Located in the Austin's LGBTQ+ friendly Warehouse District, Coconut Club is a tropical paradise themed queer bar with both dance floors and sitting areas, fun and fruity drinks, and a welcoming and inclusive environment. The rooftop bar is connected to sister venues Cuatro Gato and Neon Grotto, collectively called the Coconut Complex. The venue's well-curated selection of DJs as well as its off-the-top drag brunches have met rave reviews by a multitude of appreciative patrons since its inception in 2020.
In the Red River Cultural District, Cheer Up Charlies, once a hot spot for live local bands, is currently dressed in a slightly different outfit. With updates like a new neon art installation, the venue has also developed its music booking from being band-centric to including more DJ sets and dance music. With these changes, Cheer Up Charlies is now a super fun amped up version of its former self. However, despite the post-peak pandemic changes, it still features its mainstay vegan drink menu, unique charm, fun atmosphere, and remains a local favorite.
In 2014, Austin opened its largest gay club. Since then, standing three floors tall and six bars wide, Highland Lounge has offered its patrons plenty of space to dance. In fact, it has the largest dance floor in the Warehouse District! The club features local and touring DJs, drag shows, bottle service and go-go dancers. With what is undoubtedly one of the best sound set-ups downtown, the Ibiza-inspired sound and light system is unbeatable. Come enjoy the Highland experience for yourself!
New to the scene is Superstition, a 1970s-vibe night club with multiple rooms, a cocktail lounge and patio and world class entertainment. If you're looking for a spot that's primed for a photo op, this trending spot is the choice with hanging disco balls, laser lights and an elevated stage where the DJ spins until 2 a.m. Superstition is within walking distance from downtown, located on Riverside Drive just across the Congress Avenue Bridge. 
Another good choice for dancing is Barbarella, a local favorite for its large dance floor and late night hours. Though the bar itself closes at 2 a.m., the venue remains open for dancing until 3 a.m. so make sure to get through the door before the bar closes to enjoy an extra hour of fun. Barbarella specializes in non-top 40 music selections and special themed nights. On Tuesdays, the venue hosts Y2K night for music from the 2000s, and the first Wednesday of each month is usually Jimmy Eat Wednesday featuring pop-punk and emo music. Enjoy the intimate yet spacious indoor dance floor or go to the back and party it up to the DJ outside.
If strip mall nightclubs are more your thing, Austin's own OK Corral is a popular spot for DJ-spun Tejano, hip-hop, country & cumbia music. Despite its humble exterior, the club often draws a packed house and has become a very popular Latin dance club that features DJs and live bands. The club is located in South Austin off of Ben White Blvd. and is open Wednesday through Sunday.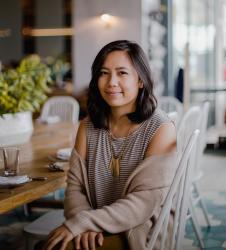 Contributed by Nathalie Phan.
Nathalie Phan is a local music connoisseur and the founder of On Vinyl Media and SoundSync Music. She is passionate about helping Austin musicians and the local music industry.
Twitter: @natphantastic