I will be the first to admit that I know next to nothing when it comes to Japanese cuisine (except for my love of sushi), but the growing trend of ramen in the city of Austin could no longer be ignored. Knowing I'd be downtown on the east side of Sixth Street checking out live music, I headed to Daruma Ramen, just across the street from Easy Tiger and Esther's Follies. Cue my eyes and stomach being completely delighted by the stylish and cozy interior (courtesy of Richard Weiss), as well as the perfection that was my bowl of miso ramen.
Daruma keeps a simple menu, with four traditional styles of ramen bowls: shio, shoyu, miso, and veg/vegan. Specializing in eggless tapioca-based ramen noodles,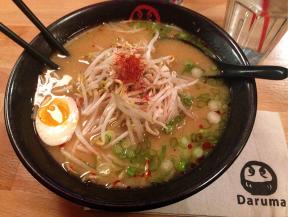 all of the restaurants stocks and bases for their soups are made freshly each day from scratch. My particular bowl was made with homemade whole chicken broth and miso-tare, topped with beansprouts, chicken breast meat, aji tamago, sesame seed, shredded dried red pepper, and homemade ra-yu oil. I topped this with some fresh avocado, and have made it a priority to go back soon for the potato croquettes and in-house ice cream cones. If you're into a lighter fare, I also shared a few bites of the shio ramen, which was as fresh and clean as the menu says, and a perfect broth for a warmer day. Since this little shop is close to our office and open Monday-Friday for lunch, I'm coming back soon to try every bowl. For a meal that costs less than a Hamilton (that's $10, my friends) with a perfectly quaint Austin-esque vibe, go check out this new noodle house before the line gets longer! Let us know your bowl of choice @VisitAustinTX so we can compare favorites.