From performance art and cultural happenings to twirling on ice and festive events, we've got your top things to do in Austin this December:
11/27/16 - 1/7/17 Ice Skating On The Plaza at Whole Foods Whole Foods Lamar
Spend an afternoon on the rooftop rink at the Whole Foods flagship store on North Lamar. Then head inside for a cup of cocoa or cider and live, local music on the weekends!
wholefoodsmarket.com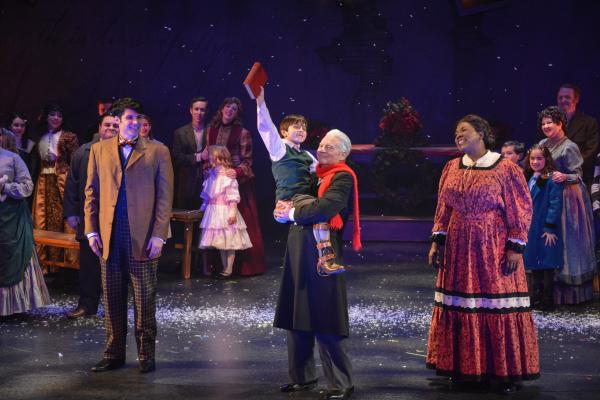 Production photo for "A Christmas Carol." Courtesy of ZACH Theatre, credit Kirk Tuck.
11/23/16-12/31/16
ZACH Theatre Presents: "A Christmas Carol" and "The Santaland Diaries"
ZACH Theatre
"A Christmas Carol" is back to ring in the holidays! This rockin' show provides a modern twist on the classic tale. In fact, this show has proven to be such a hit among locals and visitors that is it the most popular show in the theatre's history. David Sedaris' "The Santaland Diaries" is a holiday comedy adults that will make viewers laugh until they cry. 
zachtheatre.org
11/25/16-12/24/16 Blue Genie Art Bazaar Blue Genie Art Bazaar
The Blue Genie Art Bazaar is a fixture of the Austin holiday season. Shoppers can browse thousands of original works ranging from serious art to fun and kitschy items. A great way to buy hassle-free holiday gifts and support local artists.
bluegenieartbazaar.com
12/3/16 Elf Academy Domain II
Elf Academy at the Domain is a fun holiday celebration for the whole family. Bring the kids to get their elf certifications, take pictures with Santa's little helpers, enjoy face painters and games, and even write letters to the big man in red! Check the Domain's calendar for more holiday fun, all season long.
simon.com
12/3/16-12/23/16 Ballet Austin's "The Nutcracker" Long Center for the Performing Arts
Ballet Austin kicks off the season with the 54th annual production of "The Nutcracker." This family-frienldy show brings a fresh experience to the beloved holiday tradition.
balletaustin.org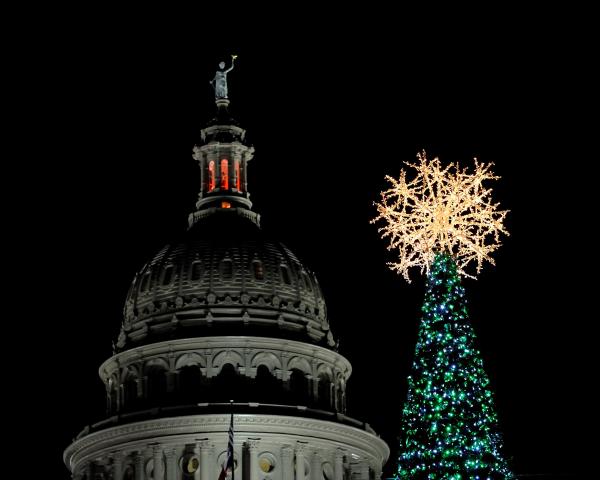 Holiday Sing-a-Long and Downtown Stroll. Courtesy Downtown Austin Alliance, credit Brian Gray.
12/3/16 Holiday Sing-Along & Downtown Stroll Texas State Capitol
Join hundreds caroling in front of the Capitol as the tree is lit before heading down Congress Avenue for live music, shopping, art and much more.
downtownaustin.com
12/3/16 German-Texan Heritage Society Christmas Market German Free School of Austin
The German-Texan Heritage Society's annual market offers shoppers handmade, imported crafts, decorations, ornaments and more. Browse the market, visit Sankt Nikolas, listen to traditional German Christmas music and enjoy a cup of Glühwein (hot spiced wine), gingerbread cookies and other sweet baked treats.
germantexans.org
12/6/16 Austin Symphony Orchestra presents Handel's "Messiah" Hyde Park Baptist Church
This night of musical magic will comfort you through its familiarity and fill you with the joy of rediscovery. Begin your winter celebrations with a performance full of rejoicing.
austinsymphony.org
12/10/16-12/23/16 50th Annual Trail of Lights Zilker Park
The Trail of Lights is part of the essential Austin experience, lighting up the season with a celebration of community, memories and fun. The annual Tree Lighting ceremony will be held on November 27th, then the 5k fun run will kick off the spectacular season on December 3rd. Plan your visit early and don't forget to take a spin under the Zilker Tree!
austintrailoflights.org
12/11/16-12/12/16 Cherrywood Art Fair Maplewood Elementary
This neighborhood fundraiser benefits the eastside arts scene. Enjoy local food artisans, live music, 80+ artists, kids crafts and a silent auction at the annual event.
cherrywoodartfair.org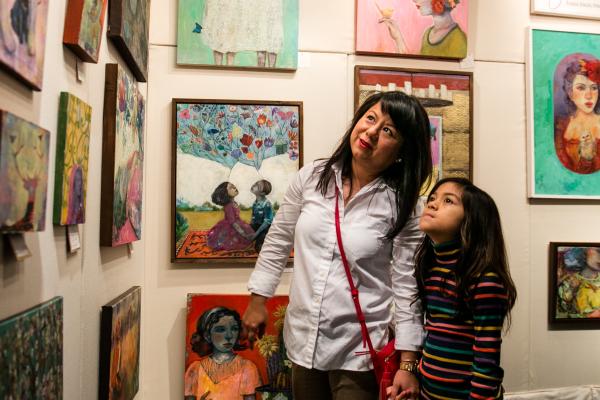 Armadillo Christmas Bazaar, credit Jennifer Ramos.

12/14/16-12/24/16 Armadillo Christmas Bazaar Palmer Events Center
This holiday shopping bazaar is a fun, authentic Austin experience – for 11 days leading to Christmas, visitors can shop national and local art, handmade gifts, stocking stuffers and more while enjoying live music from the Armadillo stage and sips from a full bar. This annual tradition and cultural icon is one of Austin's longest running art and music festivals, attracting around 40,000 shoppers each year. Don't miss the 2016 Armadillo Christmas Bazaar!
armadillobazaar.com
12/16/16 - 1/1/17 Annual Holiday Lights & Ice Omni Barton Creek Resort & Spa
Get in the holiday spirit by skating on the indoor ice rink that overlooks the scenic Texas hill country and is accompanied by a display of twinkling lights and festive activities for the whole family to enjoy. 
omnihotels.com
12/31/16 Austin's New Year Auditorium Shores
This alcohol-free, family-friendly event celebrates the diversity and creativity of the city with 4 stages, 22 bands, visual art installations, jugglers, storytellers, fire dancers and a grand fireworkds finale.
austintexas.gov
Looking for more holiday fun in Austin? See our Austin shopping guide, and keep warm when it's cold outside with these cozy restaurants and bars.