Once again, the PGA TOUR and the best 64 golfers in the world are coming back to Austin March 21-25 for the World Golf Championships-Dell Technologies Match Play, and tickets are still available to see the likes of Jordan Spieth, Justin Thomas, Dustin Johnson and Rory McIlroy battle it out in the only head-to-head, match-play event on the schedule.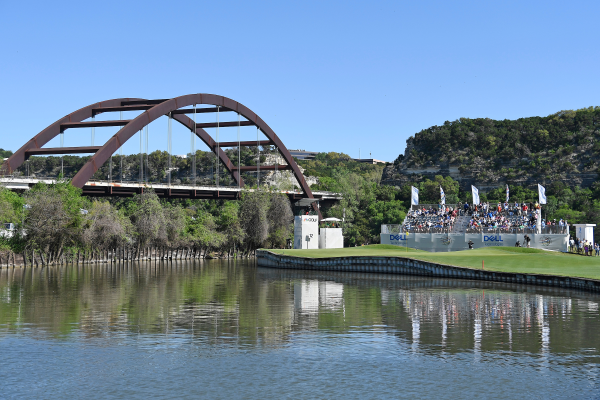 Courtesy of the PGA Tour.
The WGC-Dell Technologies Match Play is not only a showcase of the top 64 golfers in the world but also a showcase of one of the greatest cities in the world by embracing many elements of what makes the Austin community special. This year's event will once again showcase local Austin eats, with Torchy's Tacos, Mighty Cone, Micklethwait Craft Meats, Amy's Ice Cream and Austin's Pizza on-site.
Drink options abound too. Fans can check out the Wine & Dine presented by William Hill Estates or the Grey Goose 19th Hole, where they'll be serving the tournament's signature cocktail – the Pennybacker Press – in the tournament's signature Yeti cup.
Once on site, fans can flock to the Dell Technologies Fan Village to enjoy live music, decorate golf balls using a robotic arm, fly in a drone above the golf course thanks to virtual reality, or compete against friends on the Alienware gaming systems.
And it's all for charity! In the first two years in Austin, the Dell Technologies Match Play has generated over $2.1 million to five local charities, including more than $1.1 million in 2017. Following this year's event, these five Austin-based charities will once again be the tournament's local beneficiaries – Austin Parks Foundation, Boys & Girls Club of the Austin Area, The First Tee of Greater Austin, Helping Hand Home for Children and Keep Austin Beautiful.
With the match-play format comes brackets and who doesn't love filling out brackets? So join in the fun and test your PGA TOUR knowledge by participating in the Dell Technologies Match Play Bracket Challenge. The further your picks advance, the more points you earn. Create or join a league, make your picks following the live draw show on the Golf Channel, keep up with the event throughout the week to see how your players fare! Registration is live now at PGATOUR.com.
What: World Golf Championships-Dell Technologies Match Play
When: Wednesday, March 21 – Sunday, March 25
Where: The historic Austin Country Club (founded in 1899), situated on Lake Austin             
Limited tickets remaining! To purchase, visit www.delltechnologiesmatchplay.com
Contributed by Nick Parker, the PGA Tour.